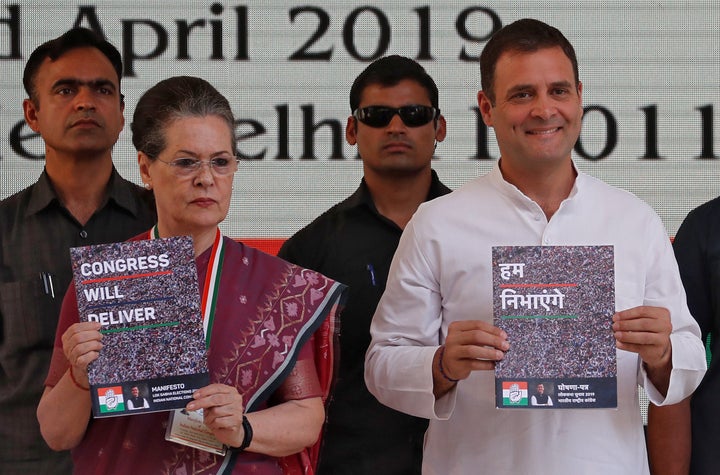 The Congress released its manifesto for the 2019 election on Tuesday, providing some more details about its NYAY minimum income programme as well as revealing quite a few new ideas it has promised to implement if voted to power.
Some of the key proposals include withdrawal of the controversial Transgender Persons Bill, replacing the NITI Aayog with a leaner Planning Commission, introduction of a new law against hate crimes like lynching, scrapping of sedition law, amendment of the Armed Forces (Special Powers) Act, discontinuing criminal defamation, introduction of a separate budget for farmers and review and replacement of the Goods and Services Tax with a revised law.
Here are ten key highlights from the manifesto:
1. Agriculture
Waiving loans in states where a waiver has not already been implemented.
Seeking to give freedom from indebtedness to farmers with a combination of remunerative prices, lower input costs and assured access to institutional credit.
Separate budget for farmers to give priority to issues affecting the agriculture sector.
Establishment of a permanent national commission on agriculture development and planning consisting of farmers, agriculture scientists and agriculture economists whose recommendations shall be binding on the government.
2. NYAY (Nyuntam Aay Yojana) or Minimum Income Support Programme
The programme will be rolled out in phases, so all poor families will be sought to be covered in the second year of implementation. In the first year, it will cost 1% of India's GDP and in the second year, it will cost 2% of India's GDP.
Independent panel of eminent economists, social scientists and statisticians to oversee the design, rollout and implementation of the programme.
The programme will be jointly implemented by central and state governments.
5 crore families will be guaranteed a cash transfer of Rs 72,000.
Primarily, the woman of the household will get the cash transfer in her bank account.
3. Jobs
Creation of a new Ministry of Industry, Services and Employment in order to underline the link between the growth of industry and services sectors and rapid creation of jobs.
Four lakh vacancies in the central government, as on 1 April 2019, will be filled in the Central government, central public sector enterprises, judiciary and Parliament before the end of March 2020.
Creation of new Seva Mitra positions, estimated to be 10 lakh, in every Gram Panchayat and every Urban Local Body to ensure effective delivery of government services to citizens.
4. LGBTQIA+ rights
The party has promised to "immediately withdraw" the Transgender Persons Bill, 2018, pending in Parliament. After withdrawal of this bill, a new bill consistent with the judgement in the NALSA case will be introduced after consulting the LGBTQIA+ community.
Directions to provide gender sensitivity training, especially for protecting the rights of the LGBTQIA+ community, will be given in government departments and organisations including the Armed Forces and police forces.
5. Minority rights
The party has promised to introduce a new law in the first session of the next Lok Sabha and in the Rajya Sabha for the prevention of hate crimes such as mob-engineered stripping, burning and lynching. It will provide for compensation to victims of such crimes and hold police and local administrations accountable for proven negligence.
The character of Aligarh Muslim University and Jamia Millia Islamia as minority educational institutions will be upheld.
The National Commission for Women and National Commission for Minorities will be given constitutional status.
6. Economy and business
The Congress will review and replace the current GST law with another one billed as GST 2.0 which will have a "single, moderate, standard" rate of tax for all goods.
Essential goods of mass consumption like foodgrains, life saving drugs etc will be exempted from the GST.
The party has also proposed to announce a 'make for the world' policy under which foreign and Indian companies can invest in 'Exclusive Export-only Zones' to "manufacture and export" their entire production, pay no direct taxes and a low rate of corporate tax.
7. Legal reforms
The Congress has promised to scrap the sedition law as it feels that the law has been "misused" and has become "redundant because of subsequent laws".
The Armed Forces (Special Powers) Act, 1958 will be amended in such a way as to "strike a balance between the powers of security forces and the human rights of citizens" and, more critically, "to remove immunity for enforced disappearance, sexual violence and torture".
8. Digital rights of citizens
The party has promised to protect the personal data of all by passing a law. This way, the right to privacy will also be upheld.
Use of open standards and free and open source software to ensure availability of government services and information for citizens will be encouraged.
Law to provide safeguards against unlawful or excessive surveillance will be passed. It will provide for independent and parliamentary oversight.
9. North Eastern States
Congress has promised to restore the Special Category status to the North Eastern States.
The Citizenship Amendment Bill will be withdrawn.
The party said it will ensure no citizen of India is denied inclusion in the final National Register of Citizens (NRC).
10. Women Empowerment
Congress has promised to pass the Constitution (Amendment) Bill to provide for reservation of 33 percent of seats in the Lok Sabha and State Legislative Assemblies in the first session of the 17th Lok Sabha and in the Rajya Sabha.
The party has also said that it will repeal any provision of law that prohibits night shifts for women.
Congress has also promised to expand ICDS and provide a crèche in every Anganwadi based on need and demand.