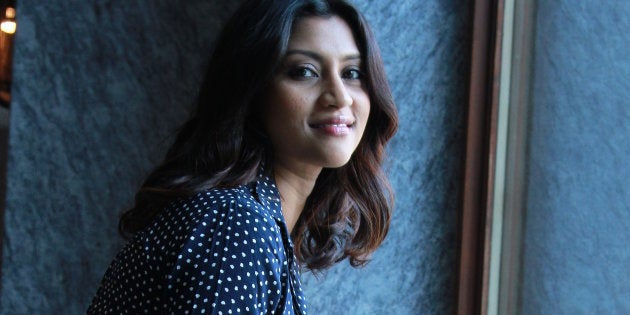 Konkona Sensharma, daughter of veteran filmmaker Aparna Sen, debuts as a feature film director, with A Death in the Gunj, a psychological thriller about a family vacation gone horrifically wrong, set in the late 70s in the faded town of McCluskiegunj, Jharkhand.
The film has an ensemble cast in Kalki Koechlin, Ranvir Shorey, Gulshan Devaiah, Vikrant Massey, Om Puri, and Tanuja. It will open the Mumbai Film Festival this year and has already premiered at the Toronto International Film Festival, where it earned rave reviews.
Not known to mince her words, Konkona, in this interview with HuffPost India, opens up about the genesis of her first feature-length directorial, Bollywood studios and their bias against independent cinema, the industry's ageist attitude, and it's skewed portrayal of gender roles.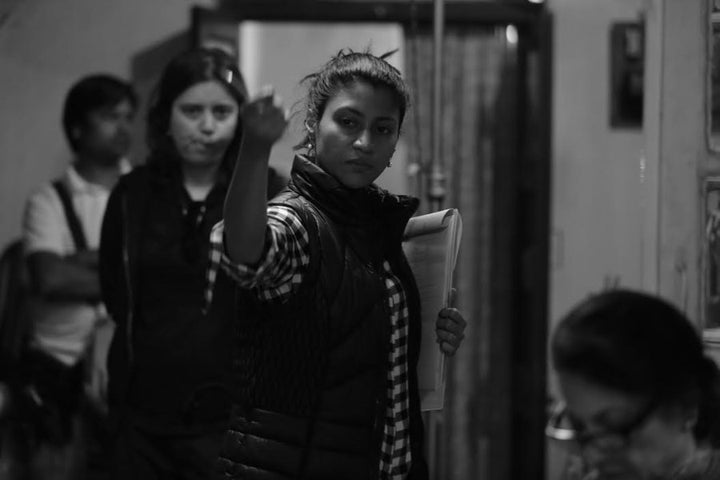 The genesis of A Death in the Gunjlies in a short story written by your father, Mukul Sharma, which in turn was inspired by your own family's vacations in McCluskiegunj. How much of the story is rooted in your own reality?
My father used to tell me stories from our vacations, although I myself have very little memory of it. I was about 4 or 5 when everybody would gather and holiday in the town with careless abandon. The idea has been to capture that with a twist. The story was with me since a very long time but I wasn't sure if it would go on to become my first film. Initially, I decided to hire a writer to script it for me but most were of the opinion that since I knew the story so well, I should do it myself. It took me about 2-and-a-half years to develop this script. Fortunately, I had just given birth to my son so found time to dedicate myself to the writing.
From the trailer, it appears that the film tells the story of how gender roles function and how men and women are expected to conform to certain norms. Would it be right to say that the film examines the way masculinity is perceived in the broader context of family?
That is part of it and yes, a lot of people could derive that out of the film. Having said that, the family that features in the film is an extremely progressive one but since the timeline is 1979, the differences are that starker when you watch their interactions in 2016. Things we take for granted now used to be a big deal then, even in the most forward-thinking households. So yes, the film surely explores that but it has a certain darkness to it, a strong intrigue value.
While there is a lot of discussion about the changing role of women today and how it is wrong to typecast them, there is almost no conversation about how we still label men and expect them to behave in a certain way. While that perhaps has to do with how men are seen as beneficiaries of patriarchy, it may not hold true all the time.
Men too can be victims of patriarchy and that is never a conversation that we have. A lot of things are just excused as 'Boys will be boys,' which breeds a very toxic form of masculinity. It's about what we allow and what we don't allow -- some people navigate it quite well, socially and personally and use it to their advantage. But that's not to say that there aren't victims of that setup.
Do you believe that Bollywood has a large role to play in the way it depicts masculinity and perpetuates it at a wider level?
Well, I'm not invoking Bollywood here but since you asked, I must say that the portrayal of gender roles in Bollywood is problematic. And that has to do with the fact that characterisation is not an important ingredient when it comes to writing.
A lot of mainstream Hindi films have a stereotypical representation of men and women and that does a great disservice to both genders. Bollywood has other strengths -- like production values, handling musicals, bringings in communities together -- but by-and-large it has stereotypical roles for men and women. I am not saying all of them do, but largely that is the case.

It lacks depth. And since Bollywood is consumed by a huge audience, the notions it sends out is then internalized by a lot of people, giving that form of toxic masculinity and women objectification, a sense of dangerous legitimacy.
While an immediate one-stop solution to this problem seems unlikely, and it is not even like those films are just going to go away, do you feel we could do with a better balance of both kinds of cinema?
Yes. But that is also part of the problem itself -- the fact that there are very limited original voices in the alternate space. We need more of those instead of it being just about the mainstream cinema. Indie films struggle to get a release and that should change.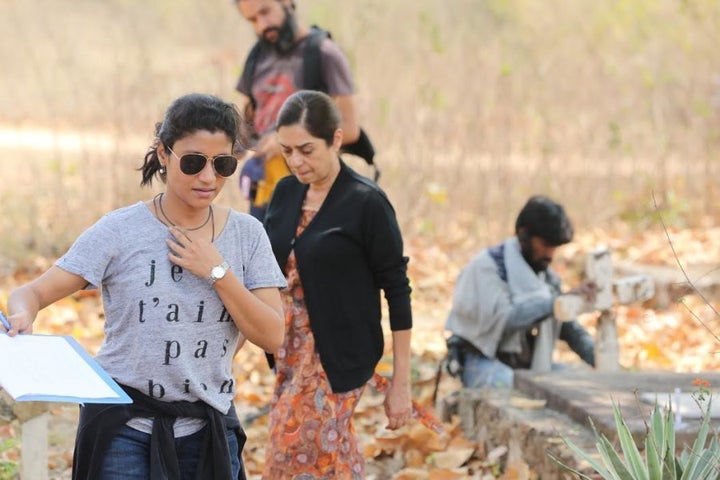 So it must have been difficult to raise money for this kind of 'niche' film that doesn't feature any big-ticket stars.
It was. But then you know what, I never expected the studios to fund this film. I was prepared to face rejection from them. My mother is a filmmaker herself and she's always made independent films -- it is so deeply ingrained and embedded in my system that I never expected anybody to give me money for this. Predictably, most studios said no to A Death in the Gunj because they think it's unmarketable, has no stars etc. I did go to them only to check that out from my list.
However, what came out of it was that it led me to Honey Trehan (renowned casting director) and Abhishek Chaubey (director; Ishqiya, Udta Punjab) who loved the script, wanted it to remain unchanged, and came onboard as producers and were also instrumental in getting other financiers (Studioz iDrreams) on the film.
You mentioned that you wrote the film after giving birth to your child as the roles that were earlier coming your way thinned down. Do you feel it was because you turned mother and that you entered in your 30s that Bollywood stopped offering you what it would when you were in your 20s?
I don't know, really. It's probably coincidental? Nobody came to me and said that we aren't giving you work because you've reached so-and-so age.
Nobody has to. The fact that the stream of roles thinned down is telling enough.
Well, I agree. I would say that the roles weren't as interesting as I was getting in my 20s. What does one do? It's just the way it is. It happens. That's the nature of the industry. However, while Bollywood didn't have much range to offer at that time, I did a lot of Bengali cinema, which was immensely fulfilling. I worked with the likes of Suman Ghosh and Saibal Mitra and that experience kept my acting exercised.
What are your expectations from the audience? Do you think the film will resonate widely and perhaps change the way we look at indie films?
I do expect a lot of people to watch and like it but obviously not in a drastically big way. It's reach is going to be limited because it's a small-budget indie with no stars as such. When you've a huge budget and big stars, the film, it is believed, gets more visibility.
Once you have (big) stars, you also get a big budget. Now, should it be like this? No. A film's budget should depend on its story and locations. Not on who's acting in it.
Now it's this system that we have, and it's a flawed system, and we just have to deal with it.
Since you enjoy a lot of goodwill in the industry, it perhaps wouldn't have been that difficult for you to get stars. Did you ever think on those lines, just for the sake of expanding the reach of your film?
I wanted actors who were good for the roles I had written. It didn't matter if they were big stars or not. I didn't approach any stars so I don't know how they'd have responded but when you have an ensemble cast, it's best to have a host of good actors and I'm very, very happy I found the actors that I did.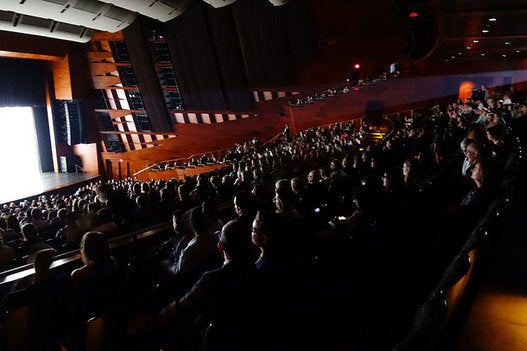 10 Films To See At The 2015 Calgary International Film Festival