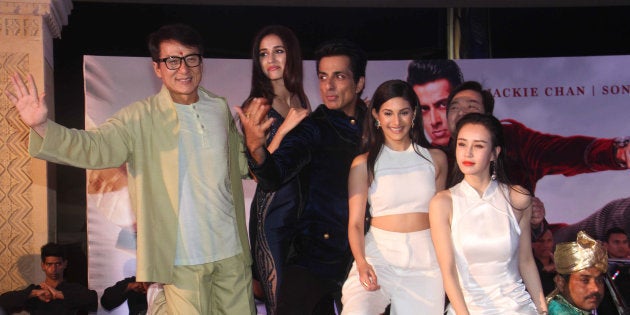 Kung Fu Yoga is an Indo-Chinese coproduction starring Jackie Chan in the lead role of a famous Chinese archaeologist who must collaborate with an Indian professor to hunt down an ancient Indian treasure. Directed by Stanley Tong, the film co-stars Sonu Sood, Zhang Yixing, Disha Patani and Amyra Dastur. The film is being looked upon as a celebration of two great cultures/civilisations i.e. Indian and Chinese. Needless to say, the world knows China for its kung fu and India for its yoga—at their core, both are as much about the mind as they are about the body. Indeed, it is the marriage of mind and body that makes a grandmaster and a yogi tick.
[The] action looks good on screen but fails to create any lasting impact.
Now, Kung Fu Yoga is more about kung fu and less about yoga. But it is neither the raw and gritty kung fu of Bruce Lee that action enthusiasts crave for nor it is the glamorised version that's often associated with Wuxia films. So, is it the Jackie Chan comedic kung fu that often involves a lot of props? Well, although many fight scenes in Kung Fu Yoga involve props we don't really get to witness the characteristic Jackie Chan flair that we witnessed in films like Police Story 4: First Strike (1996) or The Legend of the Drunken Master (1994). In Kung Fu Yoga, Stanley Tong tries his best to treat Chan fans to a mix of old and new, but the result is the kind of action that looks good on the screen but fails to create any lasting impact. Nonetheless, Jackie Chan looks as kickass at 62 as he did at 24. The master certainly has a few more action roles left in him.
Kung Ku Yoga basically comes across as a concoction of Indiana Jones, Mission Impossible, and the Fast and Furious movies. And the references are so direct that little is left to the imagination. The film also suffers from a disjointed plot and the transitions between the scenes are too abrupt. Still, there are some high points. At the heart of the movie is a car chase sequence set in Dubai that's high on adrenaline-pumping action; the scene also features some cool comic relief moments—vintage Jackie Chan. There is another breathtaking sequence involving hyenas, as well a lot of snake action, as one would expect in a treasure hunt movie set in India. Although, Kung Fu Yoga shows the uber-modern side of Dubai, it chooses to present a rather exotic picture of India, one that harks back to Rudyard Kipling's portrayals—full of vibrancy, colour and culture, but not necessarily mirroring modern reality.
Apart from the action scenes the movie also offers some cute comic moments. But the plot is a major letdown.
Apart from the action scenes the movie also offers some cute comic moments. But the plot is a major letdown. While Kung Fu Yoga is an out and out Jackie Chan film, as one would expect, it does feature memorable performances from Sonu Sood, who is also the movie's distributor for India, and the lovely Disha Patani who is a sight for the sore eyes. However, Kung Fu Yoga shouldn't just be seen from the point of view of entertainment and commerce. The film signals a step forward for Indo-China and will hopefully pave the way for more such collaborations in the days to come.
Overall, Kung Fu Yoga makes for a decent one-time watch for family audiences. Kids will love it in particular. As a matter of fact, had it been released during the summer vacations, it would have served as a perfect holiday blockbuster. But the Chinese New Year weekend didn't prove to be a bad choice either as obvious from the domestic box-office figures.