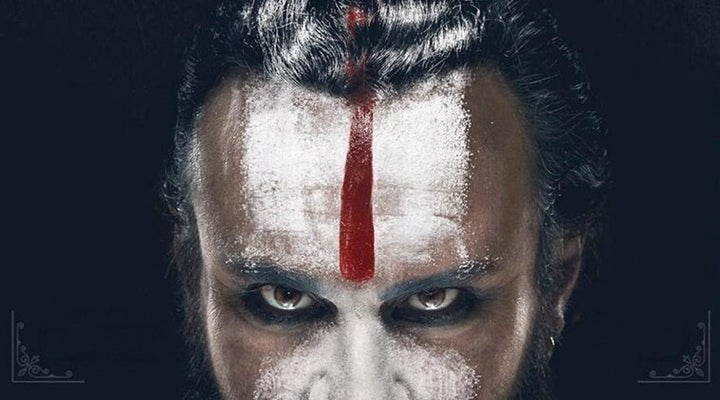 Navdeep Singh, who directed the deliciously tense Manorama: Six Feet Under and followed it up with Anushka Sharma's powerful drama NH 10, returns with Laal Kaptaan, a period revenge saga that inspires more yawns than gasps.
Set largely in the balding ravines of Bundelkhand (but shot largely in Rajasthan), Laal Kaptaan aspires to be a sweeping tale of bloody vengeance but lacks the emotional strength to make one care about its ash-smeared and dreadlock-donning leading man, Saif Ali Khan, who plays a Naga Sadhu.
For those unfamiliar, Naga Sadhus are generally Hindu ascetics who renounce worldly possessions and take a vow of celibacy. In Laal Kaptaan, Khan's Gosai is on a quest to smoke out Rehmat Khan (a stoic Manav Vij), a foot soldier who betrayed the Marathas and fled with their gold. However, Gosai's bloodlust to capture Khan isn't driven by his betrayal to Marathas but something much more sinister - a detail the film withholds till the very end.
With a wafer-thin plot (inspired by the Battle of Baxar) whose payoff hinges on the big reveal, Laal Kaptaan attempts to amp up suspense and tension but stunningly fails to sustain either. Within its first hour, the proceedings get dreary and dull, the imagery repetitive, and the dialogues (Sudip Sharma) increasingly banal.
It appears that Singh wanted Laal Kaptaan to be India's take on the Spaghetti Western and his influences from films of Sergio Leone are apparent but setting a film against the Northern badlands with a few eccentric characters riding horses doesn't quite cut it. The iconography of the film fails to compliment its inhabitants, who look like sword-wielding stock characters lacking both, authentic motivations and a compelling backstory.
Unlike Abhishek Chaubey's Sonchiriya (also set in the ravines of Bundelkhand), which examined the psychological toll and the karmic burden of crime on those who commit it, Laal Kaptaan doesn't quite know what it wants to be. It's a hollow period drama with nothing interesting to say. Its philosophical undercurrents reek of pretension ― this is a film that believes that adding intensely-worded commentary about karma and the circle of life will layer it with profundities, but the film's soul is just like its aesthetic backdrop: barren.
It's only redeeming quality is its play with light and colour. As dusk creeps in, cinematographer Shanker Ramen gently lights up his frames with hues of neon-blue, tungsten yellow, and dramatic amber. A scene where Gosai wards off an army of attackers is particularly memorable as their white-fur coats clash with the dark blues of the night, causing a highly cinematic effect. Another scene, featuring Vibha Rani as a mystic, is appropriately creepy and contributes to the film's strange universe.
But despite Singh's ability to create wildly satisfying-to-watch graphic violence - as was evident in NH 10 - he fails in doing so here, opting for generic combat sequences and seen-to-death sword fights. A pre-climactic battle sequence inspires some level of intrigue but soon fizzles out as one learns that a chunk of film is yet to unspool.
The film's strongest performances come from its female cast: Zoya Hussain and Simone Singh hold their own in an excessively male-dominated territory, but their characters are only seen in context of the men in the film. Hussein, a competent performer who was exceptional in Mukkabaaz, appears desperate and disheveled, as per the requirement of her part, and is a haunting presence on screen. Simone Singh, too, has an arresting presence, but her role doesn't have enough meat to chew on. She's pretty much reduced to a bickering wife.
Which brings us to Saif Ali Khan.
While it's commendable that the actor is consistently challenging himself by embracing morally ambiguous roles, the actor is too wooden, bereft of any allure or mystery, both key components for a character such as this to work. Despite the physicality, Khan looks disinterested, his lines sound forced - as if dubbed in a hurry.
The only character who's having fun in Laal Kaptaan is Deepak Dobriyal's. In another nod to magic realism, his is a part who can sniff and track people and does so for anyone who's willing to pay. He's also accompanied by two dogs: Sukhiram and Dukhiram and it's hilarious to watch the three sniff and prance around. In some ways, Dobriyal is an extension of the audience: trying to figure out where the film is headed but never quite certain although towards the end, he is the happiest.
Unfortunately, the same cannot be said about the ones watching the film.
Popular in the Community