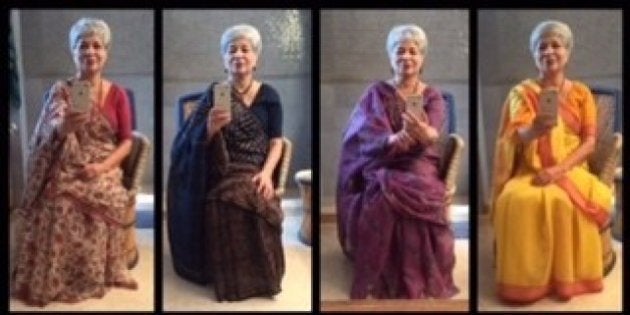 Laila Tyabji, the founder of Dastkar, is almost as well-known for her personal collection of saris as she is for helping revive India's craft traditions. In an email to HuffPost India, she declared herself as "an almost extinct species who only wear saris."
So when Tyabji was invited to join Kai Thari-Karigar, a Facebook group devoted to promoting handlooms and saris, she decided to liven things up by posting an image of herself attired in a cotton sari for a few days.
"I deliberately avoided the fancy, festive and heirloom sari in favour of the cottons one wears to work, and that usually get discarded and forgotten once they fade or tear," she says.
Tyabji would take a selfie in her bathroom mirror in what she describes as "unglamorous" settings to ensure that the spotlight was on the sari she was wearing. The response to the first image she posted on Facebook was so encouraging that she decided to extend this into a month-long exercise. "One month seemed a good span to show the range of different weaves, techniques and designs of everyday cotton handloom saris – from the subtlety of Chikan embroidery to the drama of a tribal Kotpad, from palest pastel to a hot chilly-red," she says.
Tyabji, who has been dealing in handlooms for over three decades, was still amazed at the extraordinary variety and colours available in cotton saris. Encouraged by the huge response, she plans to repeat her experiment in the winter for silk saris.
Tyabji says that the sari she chooses to wear on a given day depends on her mood and the day's weather. She is impressed by how well her cotton saris -- mostly acquired over a decade ago, from artisans across the country -- have lasted. "There are only two designer saris [that she wore in this series]: one gifted by the Goan designer Wendell Rodricks, and another from Brigitte Singh. There is quite an unrealistic difference in the price of a sari bought from the weaver crafts-person, and one with a designer label. We need to narrow that gap," says Tyabji.
She is encouraged that saris are making a comeback in middle-class urban India, even if more as the favoured attire for special occasions such as weddings, festivals, and official functions. "Which is another reason why I wanted to show that you can wear saris every day, and they can look appropriate, contemporary and fun," she says. "There is a conception that a sari is a rather stiff formal attire and it stereotypes you as a traditional 'behenji' and it's a bit boring because it always looks the same."
Just how right Tayabji is, is apparent in these photos of elegant and beautiful saris that she wore over four weeks. Each image is accompanied by a detailed description of the featured sari.
Laila Tyabji's selfies in the saris: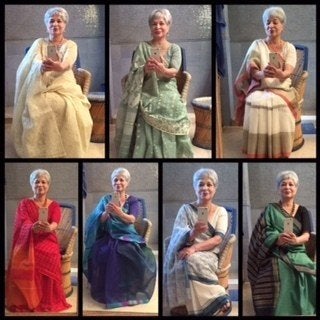 1 Chikan embroidery on pale lemon kota doria, ( the closeup looks pink because of the light).
2 Jade-green Dhaka jamdani.
3 A gift by designer Wendell Rodricks -- one of his Kunbi revival sarees.
1 Flaming tomato-red Chettinad to celebrate the only cool rainy day in the week.
2 A Maheshwari which changes shades of blue every 1 metre, with a simple ikat border.
3 Ponduru off-white Khadi with woven blue border, with Lambani embroidery.
4 Orissa green-check cotton with black pattern weave border (this sari is approximately 35 years old, and is not woven these days).
Close-up images of the saris: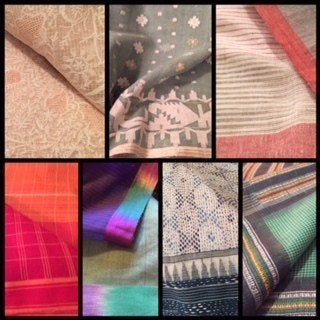 Laila Tyabji's selfies in the saris: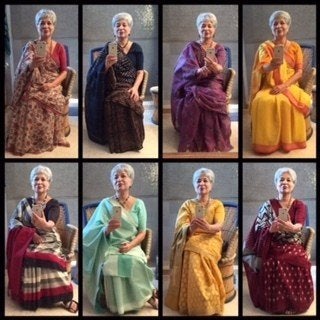 1 A piece by Brigitte Singh featuring beautiful hand block prints on superfine Kota. No one does block printing the way she does. There are 6 different block impressions in this amazing print.
2 An interesting half-and-half chanderi sari with Bandini on the top and Ajrakh printing below. This sari (from Kutch) has been crafted by the the alumni of the Kala Raksha Vidyalaya craft school.
3 A Kota Laheria tie-dye from Udaipur.
4 A Bengali Shantipur sari.
5 A dramatic weave from Andhra that is partly striped and partly in checks, and is set off by the plain crimson border.
6 This piece is actually two Banarsi cutwork dupattas worn like a Mekhela chador. (I often do this. It's an advantage for women who are not too tall)
8 A striking and contemporary Andhra ikat sari that is also half-and-half: it has chevron grey and black stripes on the top half, and white diamonds on a deep red ground in the bottom half.
Tyabji's bonus tip: "Half-and-half works well for shorter women, as it doesn't cut us into too many bits like a contrasting border at the top & bottom does."
Close-up images of the saris: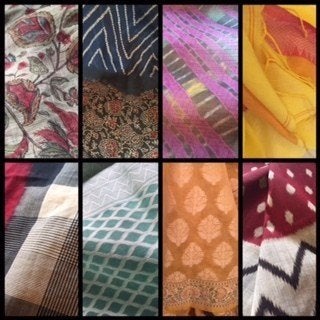 Laila Tyabji's selfies in the saris: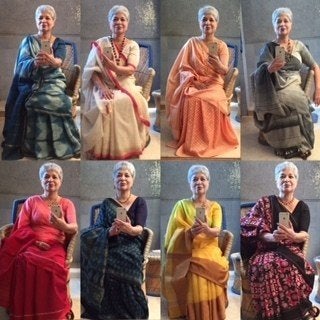 1 A Shibori indigo on Chanderi. The fine lines are crafted in a technique that's currently very popular as it's a simple way to achieve intricate yet asymmetrical designs. The required design is loosely machine-stitched, following which the cloth is dyed and then the stitching is unpicked... and Voila! There's the design in white! The broader zigzags are done in the traditional Shibori fold-and-dye technique.
2 A Bengal sari from Phulia. I love its classic off-white with the narrow red ambi border, and the occasional tussar threads running through it. These provide some relief from the white hue, and give the sari body.
3 A peach Banarsi cotton with cream butis and pallav motifs.
4 One of my favourites: a shaded grey sari made by the Vankar weavers in Kutch, who traditionally only made woollen shawls, but now are experimenting with all kinds of things. It has gorgeous tassels and motifs in the pallav, and is shaded both horizontally and vertically from charcoal to pale grey and back again.
1 A shaded pink red half-and-half weave from Orissa, with a very interesting Ikat transition where the pink meets the red, & a white Ikat line at the top & bottom.
2 A blue-green ajrakh print on Maheshwari.
3 A sunny yellow finely-woven cotton sari from Jharkand with missing vertical threads and thicker tussar threads in the pallav, along with pista green and brown ganga-jumna borders.
4 A classic Telia Rumal from Andhra. This double Ikat weave in sturdy, densely woven cotton, with its motifs set in a typical chequered format, is always done in red, black & white. Telias were originally made as headscarves for the African market a couple of centuries ago. Developed into sarees and dupattas, telias are now occasionally done in silk as well. The complexity of the mathematically calculated Ikat weaving makes it a collectors item. The little gingham check details within the bigger motifs are an established characteristic of this style.
Close-up images of the saris: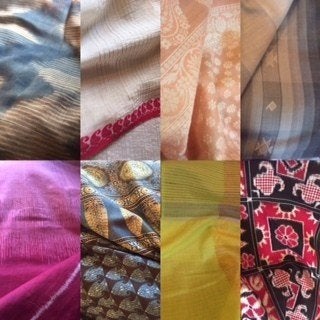 Laila Tyabji's selfies in the saris: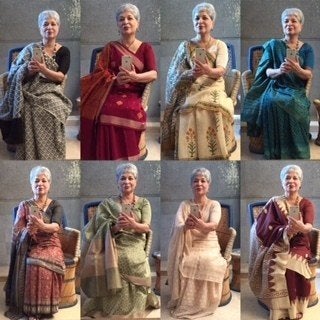 1 A black and white woven cotton Banarsi. It's actually just running material that I really liked. Since it was only 4.5 metres I added a bit of the same weave in black to the two ends of the sari.
2 A vibrant red and orange Orissa weave. With the coming of the jacquard loom motifs and styles are getting so mixed up - there is nothing traditional about the weave except the border. In fact, from a distance the butas look like Kasuti embroidery!
3 A Bandini sari from Gujarat in two shades of peacock blue.
4 A Rajasthani blockprint on chanderi from Sanganer. The big floral butas are overprinted on a ground of a fine all-over line print (dutta), giving a 3-D effect. This is a style of printing revived by designer Brigette Singh.
1 A Macchlipatnam Kalamkari blockprint done on a Pochampally Ikat
2 A finely woven pale pista-green Banarasi. A useful sari to wear from office to a more formal evening occasion, as the tussar in the pallav and border gives a dull gold effect under lights.
3 A pale peach Chikan embroidered kota doria. In the closeup you can see the beautiful daraz applique cutwork, which is traditionally used for joining seams on kurtas.
4 The onset of the monsoon (and a cooler Delhi) meant I could wear my thicker Kotpad tribal sari. It is a lovely deep brown, dyed with madder from the Aal tree; with the traditional borders and heavy pallav.
Close-up images of the saris: