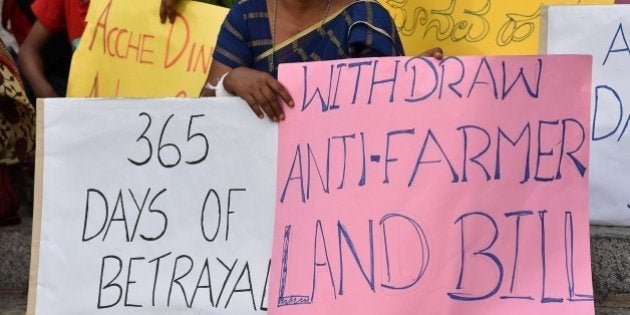 NEW DELHI -- The deadlock over the proposed amendments to the Land Acquisition Bill may finally end with the Bharatiya Janata Party (BJP) government blinking, reported The Economic Times. According to the report, the central government was planning to remove the clause allowing for blanket exemption to industrial corridors when acquiring land, which was a big bone of contention.
While the report quoted various unnamed government sources who indicated that the "decision" would be conveyed to the Joint Parliamentary Committee meeting scheduled on July 16, the committee's Chairman SS Ahluwalia told ET, "I will believe anything from the government only when it's officially said before the committee."
The committee was set up in May this year after the bill was opposed in the Rajya Sabha and opposition parties joined hands protesting that the bill was "anti-farmer".
However, whether this latest move by the BJP would convince the Opposition to agree to the passage of the land bill, which was not passed in two Parliament sessions, remains to be seen.



Popular in the Community