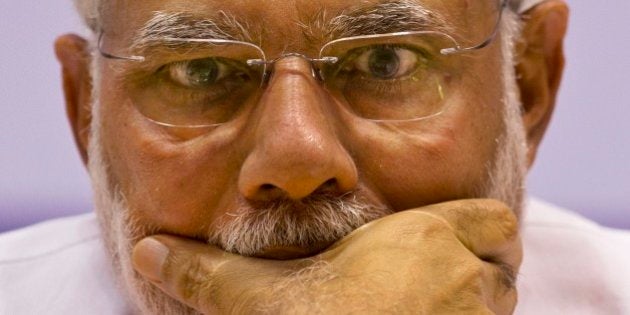 NEW DELHI - Striking the first conciliatory note in the bitter political war over amendments to the Land Acquisition Bill, Prime Minister Narendra Modi said on Friday that he was ready to make changes if his government's ordinance was deemed anti-farmer.
Modi fought back in perhaps what was his most aggressive speech in Parliament since becoming PM, as he grasped the political danger of being painted anti-farmer by the opposition and some allies of his own party, such as the Shiv Sena and the Shiromani Akali Dal.
This last week, Delhi has witnessed several rallies and agitations against the proposed amendments to UPA's 2013 Land Acquisition Act. As the opposition and groups such as painted the BJP to a corner, saying its amendments were meant to benefit the industry and will hurt the farmer, finance minister Arun Jaitley and today the PM himself have stood up to fight the perception in Parliament.
Modi was replying to the discussion on the motion of thanks to the President's address in the Lok Sabha when he mentioned the bill. "If there is anything against farmers in Land Act, I am ready to change; we should not be so arrogant as to not correct any wrong," he said. "We are ready to fix anything that is against farmers."
While the government's ordinance is aimed at unlocking hundreds of billions of dollars worth of projects stuck for want of land, opposition parties and rights activists say it discriminates against farmers. The ordinance is a temporary order and needs the approval of both houses of parliament to take permanent effect. It will lapse if parliament does not ratify it in this session.
Modi also made his first remarks in Parliament against the perception that there was rising instances of communal intolerance since his government came to power. He said he denounced communalism, and that nobody has any right to discriminate on the basis of religion.
"My government has only one religion... And that is India, my government has only one holy book--our constitution. Our aim remains, Sabka saath, sabka vikaas," Modi said.
Modi also said that his government had "compelled" the nation to talk about black money.
"We have compelled the nation to talk about black money. This is a big thing," Modi said. "Our first decision in our first cabinet meeting was the decision on (forming) SIT on black money."
Modi said corruption had "ruined the nation" and the issue should not be discussed through political prism.