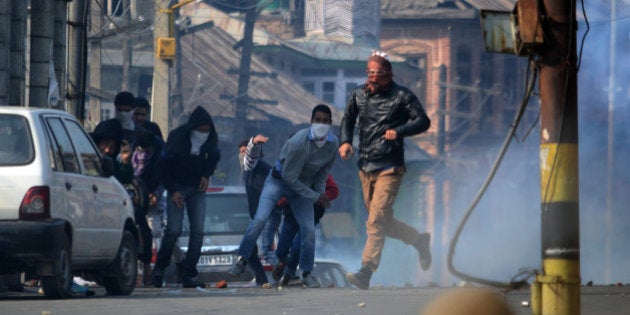 SRINAGAR -- Residents of two villages of Kashmir clashed with each other today over the right of burial of the body of Pakistani terrorist Abu Qasim, a top commander of Lashkar-e-Taiba outfit, who was killed in an encounter yesterday.
Qasim's body was buried in Bugam village of Kulgam district but people from the same district's Khandaypora, where he was killed, wanted the body to be exumed for burial in their village, police sources said.
Before the burial in Bugam, thousands of people participated in the funeral prayers for Qasim, whose real name was Abdul Rehman and hailed from Bahawalpur in Pakistan's Multan district.
However, residents of Khandaypora went to Bugam, demanding that the body of Qasim be exhumed so that he could be buried in their village where he died, police sources said.
To lay claim over his body, a family from Khandaypora village even claimed that Qasim was their "long lost son" who had joined militancy 15 years ago.
The residents of two villages then clashed over this issue, they said.
Inspector General of Police (Kashmir) S J M Gillani said the two villages have resolved the issue and no exhumation will be done.
Asked about the claim of a family from Khandaypora that Qasim was their son, Gillani said these claims were incorrect.
"It (the claim) was only an attempt to get the man buried in Khandaypora," he added.



Popular in the Community