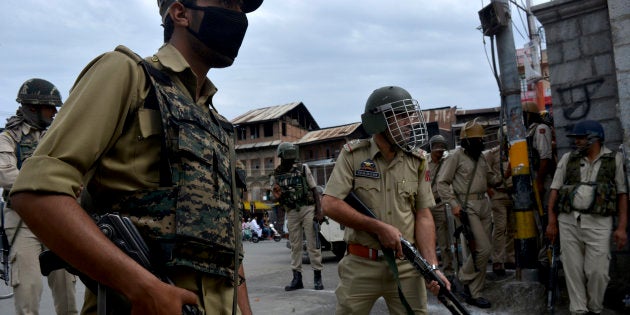 SRINAGAR — Late last month, 11 people were abducted by militants from four districts in south Kashmir. All of them, relatives of policemen in the state force, were released on 31 August, less than 24 hours after they were picked up. Before that, the kidnappers released video clips in which the captives urged the state's police chief SP Vaid (who has since been transferred) not to harass the families of militants. On the same day, Hizbul Mujahideen commander Riyaz Naikoo warned policemen through an audio recording that if they continued to harass militants' kin, their relatives wouldn't be released unharmed the next time.
"It would be tit for tat," said Naikoo.
It has been almost 30 years since Kashmir's insurgency began, but this is the first time the families of policemen were targeted by militants on such a large scale. Now, political observers fear that the Valley may be on the brink of a new, more dangerous chapter.
The immediate trigger for the kidnapping appeared to be the burning of the houses of two militants in Shopian, and the arrest of Naikoo's 70-year-old father Asadullah Naikoo, along with the father and two brothers of another Hizbul militant. They were freed hours before the militants released the 11 family members of policemen. On 29 August, two militants, including Altaf Ahmad Dar, whom the police called "one of the most important commanders of the Hizbul Mujahideen", had been killed by security forces in Anantnag. A few hours later, militants struck back, killing four policemen in Shopian. Observers say this could have spurred the arrests of Naikoo's father and the others.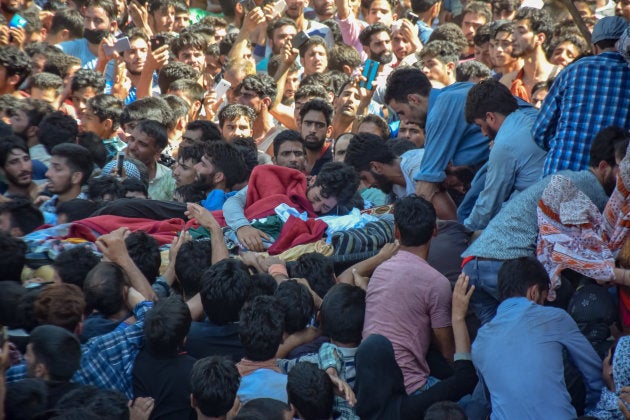 This was not, however, the first time that Naikoo, who took over as Hizbul commander in May 2017, has warned policemen against targeting militants' families. In October last year, in another audio message, he said, "You would see the consequences of harassing our families and relatives. But remember Islam has tied our hands. Islam allows us to act in certain ways during guerrilla wars."
A report in a local newspaper added that he said that militants did not want to harass the families of policemen, "but don't compel us to do that".
This year, in May, a video that went viral on WhatsApp showed villagers in Kakapora, in Pulwama district, dousing bundles of burning grass. One of them can be heard saying that soldiers of the Rashtriya Rifles, the army's counterinsurgency force, had sprinkled kerosene on the windows of a militant's house and tried to set it on fire after laying grass bundles around it during the night.
"Since they failed with bullets, they are now burning homes," says a man who seems to be filming the video.
'Things have changed now'
In the Midoora locality in Tral, people, mostly women, came in ones and twos to the house of Ghulam Hassan Mir, a cook at a police-training academy in Kashmir, on 5 September. His son, Nasir Ahmad Mir, who teaches at his own private school, was one of the 11 people abducted by militants. The father-son duo were at the police station at the time in connection with the investigation into the kidnappings. Nasir's mother and young sister were receiving the guests, who had come to express their sympathies. Mughli, Nasir's mother, has a neurological condition which was exacerbated by the recent trauma. Her left arm was constantly shaking, and the women around her had to help her answer my queries. Another of her sons, Mushtaq Ahmad Mir, who runs an information service centre, said that this was the first time his family had been targeted for having a policeman as its head. Of course, technically, Ghulam doesn't qualify for the tag of a policeman.
"Things have changed, of course. I am home by dusk now. Earlier, it didn't matter," said Mushtaq.
Things have changed, of course. I am home by dusk now. Earlier, it didn't matter
Initially, the family thought Nasir had been detained by the army, their fears raised by the presence of army trucks in the village. But in reality, the vehicles had been sent after militants forced their way into the home of a special police officer (SPO), Bilal Ahmad Kumar, in a nearby hamlet. Kumar has quit his job since then.
I asked Mushtaq if there were families of militants in this village that had been targeted by security forces. He named two.
A five-minute walk from Mushtaq's home led to a hilly locality, where Muhammad Hussain, an MBA, greeted me. His brother, Syed Muhammad Qasim, who was studying engineering at a Haryana college, joined the Hizbul Mujahideen last year. Since then, said Hussain, the army and police had visited their home many times and questioned family members.
"I told them frankly that since he became a militant, he came home only once and we have no contact with him," he said. The family, however, doesn't regard these occasional visits by security forces as "harassment". No family member has been called to the local army camp, harassed or beaten up, nor have household goods been destroyed, the usual methods employed by security agencies. In fact, said Hussain, the soldiers usually stayed in the courtyard, never entering the house.
"The only time an officer entered our home was on Thursday, the day the policeman's (Ghulam's) son was kidnapped. The officer asked me to gather the flooring of all rooms at one place. He then clicked pictures of the bare floors with his cellphone camera. My elder brother is a doctor and lives in a separate house with his wife, baby and a maid. Soldiers hover around that house but they never harass them," he said.
But Hussain's family is one of the lucky ones. Their neighbour Farooq Ahmad Khan, says Hussain, has been through hell since January this year when his son Mudasir Khan left a well-paying job with a cellphone company to join the Jaish-e-Muhammad (JeM) outfit. His house was raided again on the day the policemen's relatives were kidnapped.
Since his son became a militant, Farooq has been summoned to a local army camp, to an infamous interrogation centre in Srinagar, 60km away from his house, and to the police station in Awantipora. He has lost track of the number of times soldiers have raided his home and "harassed him".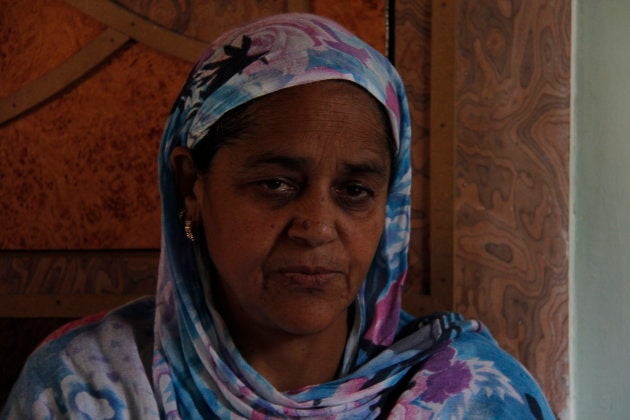 "I told them I will assist them in searches. I told them I would vandalise my home myself if they desired but spare my other son, who has a neurological disorder and had been prescribed complete bed rest for spinal disc problems. But they insisted on having him search the house, climb the stairs, lift heavy articles. I told them two months of his bed rest would go waste but they didn't listen," Farooq said.
Mudasir, says Farooq, has visited his family only once since he joined the JeM. That time, his father asked him to give up militancy so the family could have some peace.
"He got angry. He has not contacted us since," he said.
Army spokesman Col. Rajesh Kalia, who is based in Srinagar, said the allegations of harassment are "baseless".
"We carry out our task in a professional manner. Army is not involved in any vandalism and ransacking of properties," he said.
We carry out our task in a professional manner. Army is not involved in any vandalism and ransacking of properties
The family angle
The story of persecution is common to the families of all militants. Only the details are different.
Ghulam Qadir, the uncle of Hizbul commander Naikoo, narrated the details of the police raids, detentions and harassment the family has undergone as if he was reciting an epic from his memory. Qadir and Naikoo's father Asadullah claim that between them, they have spent more than a year in prison since Naikoo became a militant in 2012. Qadir was jailed in 2016 for six months under the Unlawful Activities Prevention Act, under which five prominent civil rights activists were arrested recently. Asadullah and his nephew were once detained at the Awantipora police station. After each detention—which the police refer to as "questioning" and can last anywhere from one day to 15 days—each detainee is billed Rs 125 a day for food. Naikoo's family members claimed that all anti-state protesters were made to pay for their food during detention.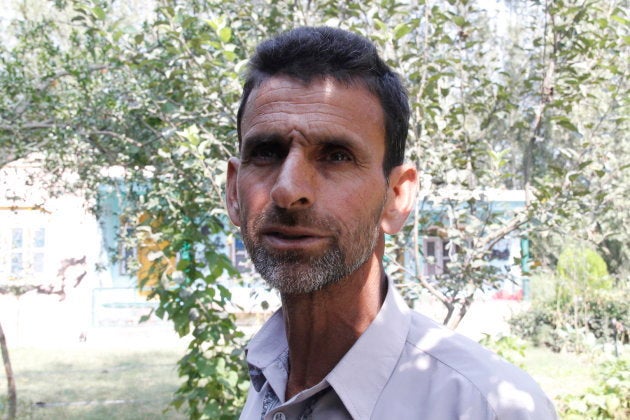 During one raid on the Naikoos' house, which is in Beighpora, in Pulwama district, policemen damaged their property: a washing machine, refrigerator and windowpanes. The case file for compensation is pending with the deputy commissioner's office. Qadir's teenage daughter's arm was fractured when she was hit by a policeman during a raid. Asadullah said the police have painted Urdu slogans on the walls of his house hailing Zakir Musa, a former Hizbul commander who now heads the Kashmir unit of an Al-Qaeda affiliate.
"These slogans are aimed at pitting my son against Zakir," he said. "We painted them over once. They wrote the slogans again. We can't afford the paint every time," he said.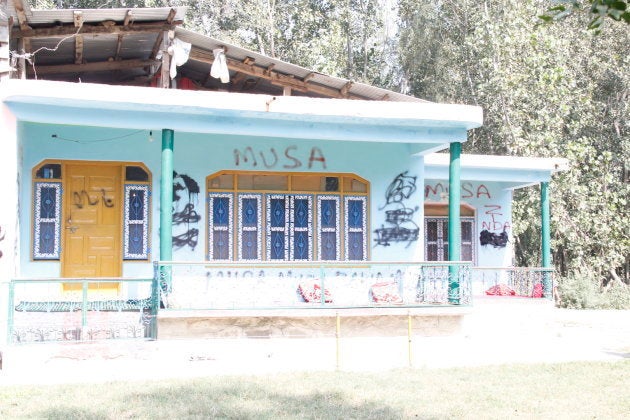 The Naikoo brothers, however, were at pains to stress that this time, they were "treated well" by the policemen, contrasting it with past unsavoury episodes, including one which culminated in a fight with an SPO at Awantipora station.
"I and my nephew beat him up. He was very abusive and rough," said Asadullah.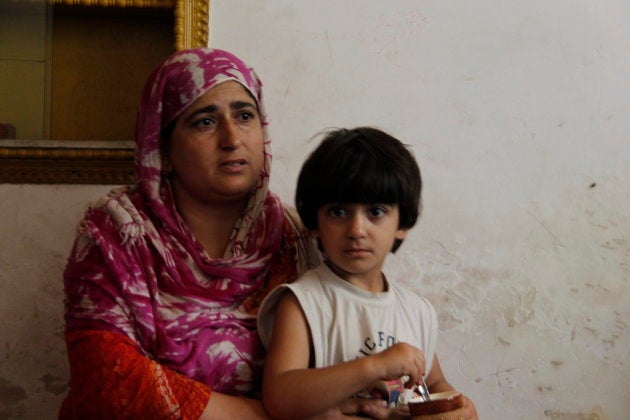 Asadullah said he did not think it was right to target policemen's families, but added, "what other options are militants left with?"
State policy or routine policing?
Human rights activist Khurram Parvez said the persecution of militants' families was like an undeclared state policy.
"That is probably why things came to this pass," he said.
SP Pani, Kashmir's inspector general of police, said that family members of militants are questioned at police stations "under the ambit of rule of law". He said the Jammu & Kashmir police were a professional force and that allegations of harassment by militants' families "can't be taken at face value".
Another senior police officer, who spoke on condition of anonymity, said the police had an "organic link" with Kashmiri society, as they were a part of it. He added that family members of militants were intimately linked to the larger militancy network. As an example, he pointed to the fact that many militants have been killed in their own villages or the houses of their relatives.
Widening divide
Until now, the families of policemen had been spared by militants. The reasons are many. Neither religion nor international humanitarian laws allow non-combatants to be targeted. An overwhelming majority of policemen and almost all militants belong to closely-knit village communities. Both can say about each other that they are the "enemy we know". Of all security forces, the state police are the most accessible. Several militants were children of policemen.
The police were not the primary target of the insurgents and public ire until 2002, when the Mufti Mohammad Sayeed-led government claimed to have disbanded the Special Task Force (STF), an extra-legal group believed to have drawn personnel from the police, paramilitary forces, army and the notorious counterinsurgent militia called Ikhwan during the initial years of insurgency. In reality, however, the move meant the entire police force could now be called on for counterinsurgency work. In its new avatar, the STF became SOG (Special Operations Group), though the police dutifully avoided using the term to emphasise that it was not an independent entity.
The police were also at the forefront of uprisings in 2008, 2010 and 2016, when dozens of street protesters were killed and thousands injured and arrested. Since 2016, when people began protesting near the site of gunfights, the police, along with the Central Reserve Police Force, have been tasked with crowd control. In the past 18 months, as many as 107 civilians have been killed during such protests, according to a report in Greater Kashmir newspaper.
A rebellious population no longer sees the police as distinct from other agencies, and this is especially true of the militants whose families get directly caught in the fight. An outright confrontation between militants, currently at the zenith of their popularity, and the families of 37,000 policemen in the Valley, would lead to dangerous consequences for a society that is largely untouched by violent internal dissensions despite differences and the pressure of a raging conflict. Now that the government has incentivised counter-insurgency (CI) service—an SPO, hired for Rs 6,000 a month, can be recommended for a regular job if he performs well during CI operations—the rift between the police and public is only set to widen. There are about 31,547 SPOs, the majority of them in Kashmir Valley. Recently, about two dozen of them announced through their local mosques that they have quit their jobs.
PTI reported last week that Kashmiri policemen are disguising themselves as stone-pelters to identify and arrest protesters. While this is not the first time this strategy has been used, protesters claim that this time, the police also brandished guns to intimidate the crowds (the police claim these were toy guns).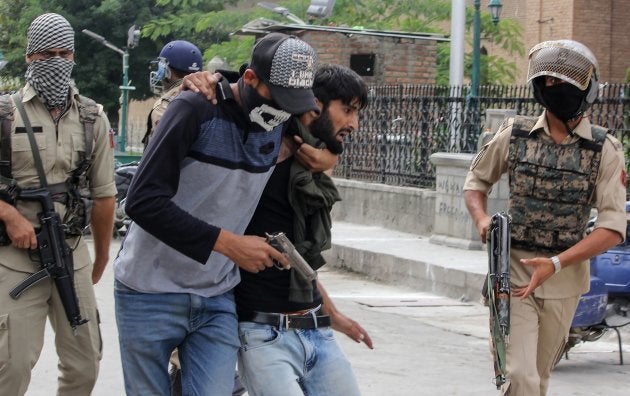 As many as 34 policemen have been killed so far this year, several of them while visiting their homes, prompting the police to curtail the visits to just two hours, and that too in case of emergencies and after informing the concerned police stations.
Dangers ahead
Javed Ahmad Mir, a former militant commander of Jammu and Kashmir Liberation Front and now a separatist leader, said, "Everybody should be wary of a spark that could lead to a civil war."
He said that in 1989, his father was detained at the PAPA 2 prison, once notorious for horrific tales of custodial torture (it is now the state's chief minister's residence). Mir's family was not aware of his whereabouts for nine months.
"Father was shifted to Srinagar central jail and held under the Public Safety Act for two years. He was arrested to pressurise me into surrender. And when he fell ill, the police admitted him to a hospital where he succumbed. My six brothers were once detained at Badami Bagh Cantonment for a week. My eldest sister-in-law was held for 72 hours in 1991. Family of every militant has been persecuted and they have shown exemplary restraint," Mir said.
The fallout of the tit-for-tat kidnapping is still playing out in Kashmir. On 6 September, police raided the house of Hizb militant Latif Ahmad Dar alias Tiger in Dogripora, half a mile from Naikoo's village. This may have been done to deprive the militants of any sense of victory and to keep the morale of the policemen high. Three of Dar's brothers and three neighbours were beaten up, Greater Kashmir newspaper reported. The raid came in the wake of news reports that the Indian home ministry was not happy with the informal prisoner swap.
There have been administrative changes as well. AG Mir, the Kashmiri head of the J&K Police's intelligence wing, has been replaced by B Srinivas, a non-Kashmiri officer. Vaid has been removed from his post as the state's police chief.
Kashmir is currently under governor's rule after the Bharatiya Janata Party (BJP) pulled out of its alliance with the People's Democratic Party. Satyapal Malik is the first career politician (affiliated to the BJP) to hold the governor's post. This has raised concerns that his task is to ensure that the BJP's agenda is implemented in the state.
As Kashmiris keep a wary eye on which direction the conflict will go next, on social media, one message resonates more than ever now: "leave the families on both sides alone".