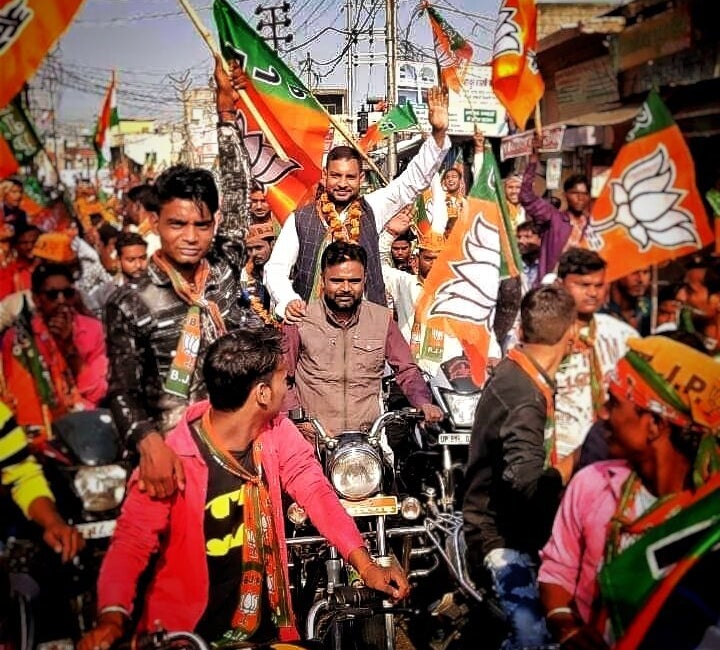 ALIGARH, Uttar Pradesh — Mukesh Singh Lodhi, whose favourite show growing up was Shaktiman, India's first superhero, believes he is "destined" to lead an extraordinary life.
As he watched Prime Minister Narendra Modi chanting "Bharat Mata ki...." three times and the crowd roaring 'jai'," Lodhi said, "I dream of becoming prime minister. The kind of power that I want, the power to get things done, I can only achieve as the PM, not as a minister, an MP or an MLA."
As people craned their necks to look at the tall, bearded man, dressed in a blue kurta, he said, "If I can dream of being the PM, then I can be the PM, just like Modi ji."
The Bharatiya Janata Party (BJP) youth leader had worked 15 hours a day for a week, preparing for Modi's election rally at Aligarh's Numaish grounds on 14 April. On the day of the rally, he looked relaxed, sitting 500m from the stage, signing VIP entry passes and handing out T-shirts that said, "Nation with Namo."
Lodhi is counting on Modi to win the 2019 Lok Sabha election so that he can continue pursuing his own dreams of greatness. This election, he is convinced, will be won on the back of Hindutva and Pakistan. Else, he just might have to give into his mother, who is frantic about him finding a job and getting married.
In 2011, Lodhi was inspired to join politics by the Anna Hazare anti-corruption movement. Eight years on, he is championing Hindu nationalism.
Like all BJP workers, Lodhi has a ready script on Aligarh Muslim University (AMU), the Babri Masjid, Article 370, and the many alleged wrongs perpetrated by Muslims on Hindus. He has, in the past five years, stoked controversy over the portrait of Mohammed Ali Jinnah at AMU, lobbied for a temple to be built on its campus, and had its students book for sedition.
Yet, what sets him apart is his wide-eyed and absolute obsession with the nitty-gritty of politics and the occasional melancholic cynicism that comes with seeing one's revered leaders up close.
Lodhi knows that he is one among thousands of men working for the BJP, but the 34-year-old feels that the ruling party is one of the few non-dynastic parties in India, which gives him — and anyone who wants it badly enough — a shot at the ultimate prize in politics.
"In the BJP, one has a shot at becoming Prime Minister," he said. "I know that I was born to go down in the history books."
"In the BJP, one has a shot at becoming Prime Minister."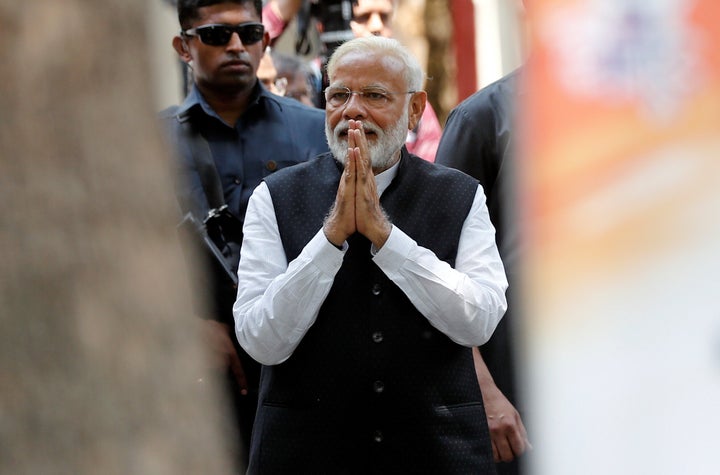 Godfather or his mother
As Modi's departing aircraft kicked up a dust storm, Lodhi explained how his fate rests on everything from local political rivalries to world events.
If Satish Kumar Gautam, the Member of Parliament (MP) from Aligarh, is re-elected, then Lodhi has five more years to reach the second rung of the political ladder, perhaps even higher. It was Gautam, he said, who had raised him from ground zero by appointing him president of the BJP Yuva Morcha in Aligarh.
In the ruthless political environment in which he operates, there are not a lot of second chances for someone without money or connections.
Lodhi needs a godfather. He has campaigned hard for Gautam, but knows that "people don't like him." He is nervous about the formidable Bahujan Samaj Party (BSP)-Samajwadi Party (SP) caste-based alliance in UP.
Observers of UP politics say that the BJP's sweeping tally of 71 seats in 2014 could be reduced to a little less than half by the alliance of the two regional parties.
Lodhi is counting on Modi.
Meanwhile, his mother wants him to "give up the madness."
There is always "tension" in his house, Lodhi said. He goes home late and leaves early, hardly speaking to his parents because "the conversation always comes back to marriage."
Lodhi doesn't see it as "madness." He is convinced that if there is one party that even a grassroots worker can rise to the top, it is the BJP.
Modi, he said, was just a foot soldier of the Rashtriya Swayamsevak Sangh (RSS), and BJP president Amit Shah was a booth worker once.
"When I was a kid and someone died, I would think he was born, grew up, got a job, got married, had children and died," he said. "That is not what I want to do with my life. If that is to be my life, then god, please take me now."
When he dies, Lodhi wants the crowds that showed up to bid farewell to "mass leaders" like Jayalalithaa and Bal Thackeray.
Like Modi, Lodhi hails from a marginalised community in the Other Backward Classes (OBC).
His father worked as a patwari, a low-ranking yet important revenue official, who maintains and updates land records. Politicians and their henchmen bullying his father, he says, are his "first political memories."
While Modi is estranged from his wife, Lodhi wants to steer clear of marriage altogether. He isn't trying to model himself on Modi, Lodhi said, but he "gets him."
"I want to think about politics, morning and evening. I want to give it 24 hours so that people can call me at three in the morning or at ten in the night. This will not make for a happy marriage," he said. "If Modi can do it, so can I."
The days when wives were submissive and waited patiently for their husbands to come home, he feels, are over. "These days, if your wife is not happy, she will divorce you," he said.
"I want to think about politics, morning and evening."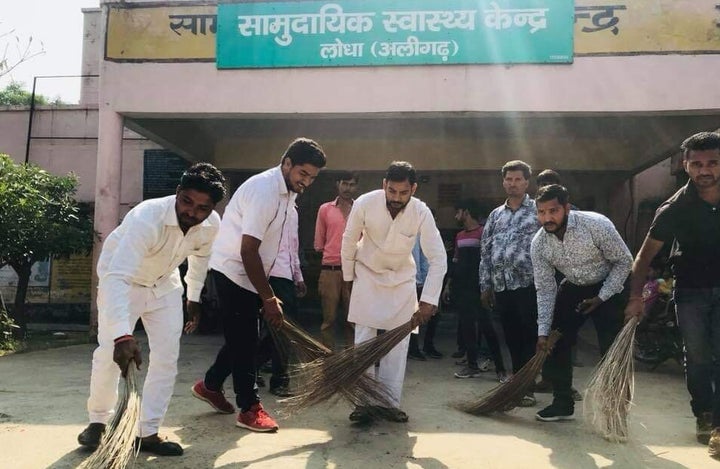 Grassroots worker
While naming leaders whose next of kin have followed them into the BJP, Lodhi said there was no denying that his party was plagued with nepotism, but it was still better than that "dynastic" BSP, SP and the Congress.
"Mayawati is supreme in the BSP. The same goes for Mulayam Singh Yadav's family in SP and the Gandhi family in the Congress. Until they are there, no one else can come up in the party," he said. "There is no family in the BJP. There is a sangathan."
Lodhi continued, "The person who can win people, make the right political connections, and have a good relation with the sangh and sangathan, will succeed."
As district president of BJP's Yuva Morcha in Aligarh, Lodhi oversees 22 mandals, 2,200 booths (where voters are cast), 2,800 villages and approximately 22,000 workers.
The MBA graduate is fourth in the chain of command, below the president of BJP's youth wing, the state president and four divisional presidents.
"The Yuva Morcha tries to find at least 10 volunteers for each booth. Their work is to take voters to the booths and make them vote. The more workers, the more campaigning. But sometimes it does not work out, say due to caste dynamics, and there are five workers," he said.
Lodhi is responsible for implementing the programmes of the BJP Yuva Morcha, which feed into a never-ending cycle of campaigning for state or national elections.
"The preparation for this Lok Sabha started right after the Assembly election (in 2017) and the preparation for the Assembly election (in 2022) will start right right after this election," he said. "There is no interval in the BJP."
In the run up to the 2014 election, Yuva Morcha has organised events like lighting oil lamps in front of the toilets built under the Swachh Bharat Scheme, taking photographs of women who have received a free gas connection under the Ujjwala scheme, and a mass wedding of persons of all faiths.
The BJP is counting on the Modi government's welfare schemes, providing LPG (liquefied petroleum gas, crop insurance, bank accounts, and electrification, to win the 2019 election).
Lodhi said that Modi had taken "BJP into the villages."
"The preparation for this Lok Sabha started right after the Assembly election..."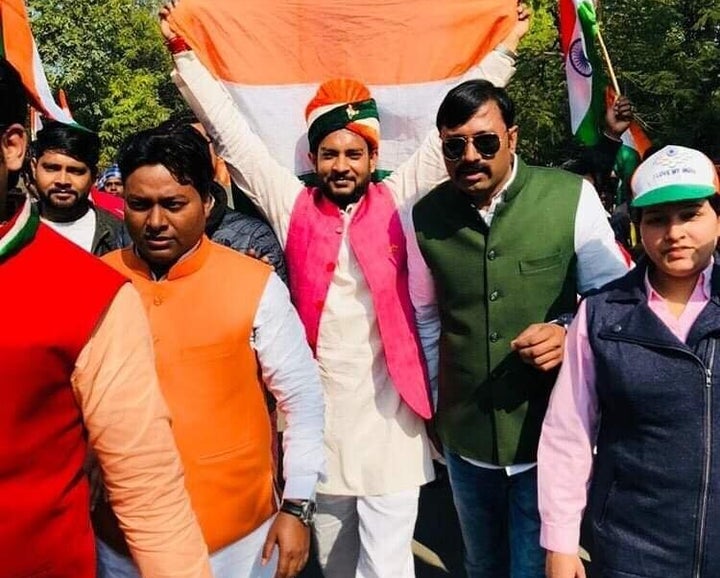 Buttering, buttering
Lodhi knows that hardly anyone outside Aligarh has heard of him. He has, however, achieved notoriety in Aligarh from his Hindutva activities.
Lodhi's choices were in some ways determined by his godfather, Satish Kumar Gautam, who made targeting AMU the mainstay of his time in power.
"If I'm district president today, it's not because of my hard work, it is because he made me," he said. "Hard work helps but someone has to pick you and you have to stick to them."
But it's not just Gautam that he needs to keep happy. The BJP youth leader knows that at this point in his nascent political career he must hedge his bets.
Lodhi said that it was not Hindutva, but "buttering" powerful people that was the key to moving up the ladder. Sucking up to all kinds of people, holding varying degrees of power, was exhausting work, but Lodhi has found there is no getting around it.
"If you are in the Sangh, like Modi ji was, you do the work and you will get promoted. But if I join the Sangh now, my hair will be white before I get anywhere," he said. "The second way is harder. You need to work hard but you also need a godfather. It needs a lot of buttering."
"You need to work hard but you also need a godfather. It needs a lot of buttering."
"Buttering," he feels, has more layers in the BJP than other political parties.
"In the Congress, SP and the BSP, you are eventually working to impress a few people in the same family. In the BJP, you don't know who will rise or fall, so you have to butter a lot of people all the time," he said.
Some experiences can be "humiliating," Lodhi said.
"Say that you have gone to pick up this neta, you wake up at three in the morning, got everything ready, and you are waiting with folded hands and smiling. And then, he makes someone else sit next to him. Those moments feel bad," he said.
When asked if it gets overwhelming, Lodhi said, "Politics is dirty work. You have to get in the mud with a lot of crocodiles, but this the path I have chosen and there is no going back."
"You have to get in the mud with a lot of crocodiles, but this the path I have chosen and there is no going back.""
Bullet-proof jackets
Lodhi believes that the meticulously spun narrative around the Modi government's response to the Pulwama attack has moved people to the extent that it can win BJP the election.
"He took revenge. He got back (Wing Commander) Abhinandan from Pakistan within 24 hours. People love this," he said. "This is what they will remember when they vote. All those other issues, like unemployment, will fade into the background."
This has led Lodhi to believe that national security and India's standing in the world has immense traction in a country undergoing rapid digitisation and a social media revolution.
Modi, he says, has won the messaging battle on WhatsApp.
"If I were to be PM, I would focus on national security. This is my perspective right now as a hot-blooded youth leader. I would want the best weapons for our soldiers, the kinds of bullets and the bullet-proof jackets which they use in America," he said.
When it was pointed out that India should be bettering health and education for millions of its citizens, Lodhi deplored the state of village schools, where he said teachers did nothing but knit sweaters all day. The youth leader, however, insisted that none of this took precedence over national security and national pride.
"The youth has hot blood. Forget education and health, we want India to be a strong country. Even you, if war breaks out tomorrow, even you will go to the border and say give me a gun, where is the trigger?"
"I would want the best weapons for our soldiers, the kinds of bullets and the bullet-proof jackets which they use in America."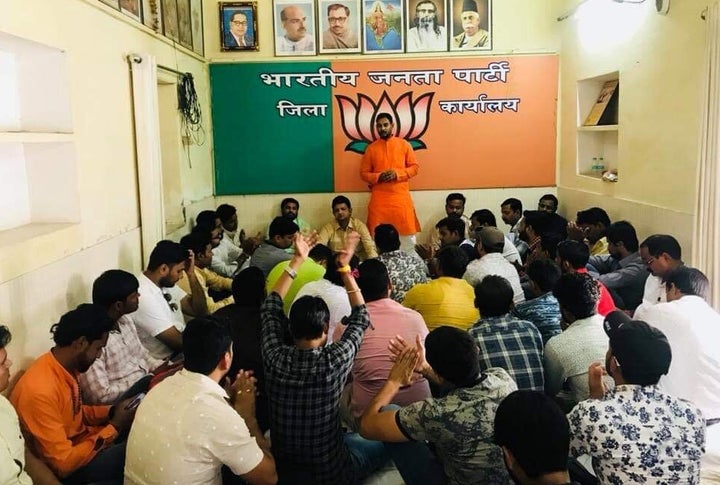 'Caste is the worst'
Lodhi might have joined the Aam Aadmi Party (AAP) if it had existed in 2011. But a social movement without any political moorings, he believes, was doomed to fail.
"I thought that Anna Hazare had a gun but he did not have a bullet. A bullet is either Lok Sabha or the state Assembly," he said.
Then, Lodi contested as an independent from the Charra Assembly constituency in Aligarh in 2012. He wanted to know "how one asks for votes." His friends contributed money and a jeep, which he used for the campaign.
Out of the 23 candidates who contested from Charra Lodhi, who was 28-years-old at the time, finished tenth. He received 1,263 votes.
His key takeaway from the 2012 Assembly election was that "politics takes time."
"I want to be a leader like Modi, but I don't know when I will get out of this well. It's not impossible, but I don't know when it will happen," he said.
On the days that he does end up brooding, Lodhi is thinking of "Raju bhaiyya," Member of Parliament (MP) from Etah, who is better known as Kalyan Singh's son.
Kalyan Singh was chief minister of UP when the Babri Masjid was demolished.
Etah, a BJP bastion, is a constituency that Kalyan Singh won in 2009 after he had left the BJP. Even though his son Rajveer Singh won with a significant margin of two lakh votes, Lodhi finds him lacking.
"I just know with that kind of money and power, I would be doing a better job. He does not have any real connect with the people, I would work for it," he said.
The most important lesson Lodhi has learnt is that local leaders from the same caste are a nightmare for a budding politician.
Having joined forces with Gautam, Lodhi has made enemies of Kalyan Singh and his kin. Singh's grandson, is an MLA from the Assembly constituency of Atrauli in Aligarh, and a minister in the Yogi Adityanath government.
Sounding gloomy, he said, "Caste is the worst thing. They won't let me get head. It's okay if it's a Thakur or a Pandit, but not a Lodhi. Politicians like people with jobs and businessmen from their own, just don't try to be a leader. If you put one step forward, people pull you back."
For the 2019 election, Kalyan Singh wanted the Aligarh seat for his son. BJP president Amit Shah picked Gautam.
When it wasn't clear whether Gautam would get the Lok Sabha ticket for Aligarh, Lodhi was in a state of panic. It didn't help that Singh's followers were taunting him.
"They said, 'hero, you have six more months as president then you better watch yourself'," he said.
Continuing in this pensive vein, Lodhi said that he does have moments of extreme anxiety and ends up imagining himself with no job and no political career.
"So many people are trying to doing politics. So many have white hair and they have reached no where. I don't want to live very long. I want to reach the stars while I'm still young," he said.
"Hero, you have six more months as president then you better watch yourself."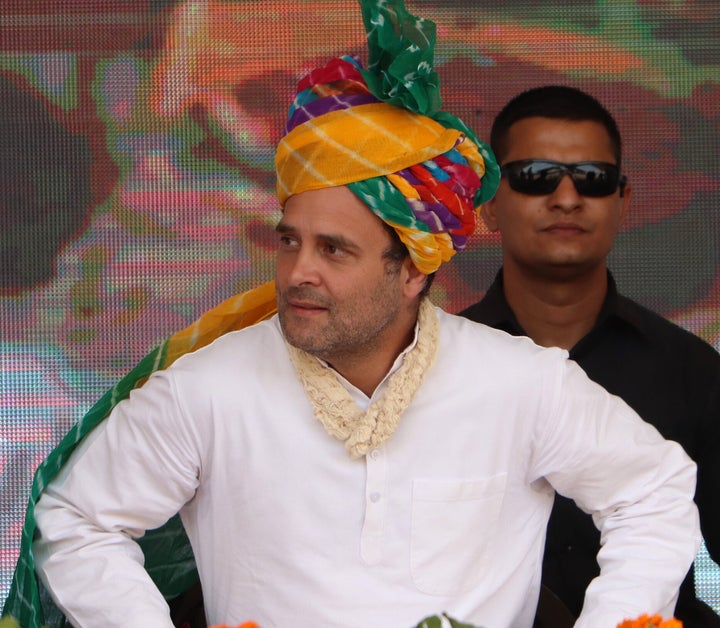 Rahul Gandhi is not the competition
As the dust settled after Modi's departure, the conversation turned to Rahul Gandhi.
BJP youth workers, who were watching the thinning crowd, cracked stale and humourless jokes about the Congress president.
When one BJP worked said, "Rahul Gandhi has neither the interest nor the wisdom of leading the country," Lodhi cut him off.
"That's not true. I don't know if he was interested in leading the country earlier, but now it seems that he is getting ready for it," he said.
While Lodhi is stuck at the bottom of India's competitive political landscape, the 48-year-old Congress leader has inherited a political dynasty and power.
When asked if he envies Gandhi, the BJP youth leader shook his head.
Lodhi called it "destiny."
"Rahul ji might have this sense of surety that he will become prime minister one day. Congress is still all over the country," Lodhi said. "I'm struggling. I don't know when I will get out of this district, this state, and reach the centre."
"But there is nothing personal. He was born in that house, that is his work. I was born in my house, that's my work. God has given me two hands, two eyes, a mouth to speak with, and the most important thing, a vision to think big things," he said.
As some BJP workers laughed at his outburst, Lodhi joined them.
"I don't know when I will get out of this district, this state, and reach the Centre."
The BJP, the youth leader added, had outwitted Gandhi in this election.
While Gandhi had tried to get his act together, Lodhi said, the BJP had never missed any opportunity to "highlight his mistakes."
As the "Pappu" jokes crossed their sell-by-date, Lodhi said, the BJP tweaked the narrative to someone who was not ready to be prime minister.
Gandhi's decision to hug Modi and then wink in Parliament had been a godsend for the BJP, Lodhi said.
While Modi had projected himself as a decisive leader, who exacted revenge for the death of 40 Indian soldiers, Gandhi was talking about "removing guns from Kashmir," Lodhi said, referring to the Congress's election promise of reducing army personnel in Kashmir and reviewing the Armed Forces Special Powers Act (AFSPA) to balance national security and human rights.
"Rahul ji is not being able to catch the pulse of the nation," he said. "In politics, body language is the most important thing. His body language and his concepts are not clear. Can he answer one simple question: Why does he want to be a politician?"
When asked to explain "pulse of the nation," Lodhi said, "He will have to understand what people really want. BJP has awakened the feeling of Hindutva and nationalism in people, especially the hot-blooded youth."
When it was pointed out that this "pulse" might be confined to the Hindi-speaking belt of northern India, Lodhi disagreed.
""Rahul ji is not being able to catch the pulse of the nation."
And still, Lodhi said, the BJP was rattled by the Congress's sustained attack on the Modi government over unemployment.
Until the Pulwama attack on 14 February changed the narrative from unemployment to national security, Lodhi was not sure where the election was heading.
Now, he is confident that Modi can win.
His voice booming against the quiet of the rally ground, Lodhi said, "Modi ji , will do everything to win, saam, daam, dand, bhed. Rahul ji, still has to mature. Modi ji, like Krishna in Mahabharata, will use his wits and guile. Rahul ji, still has to learn. Who knows — if it is his destiny — he will be PM."
"And if it is mine, then I will be too," he added. "Everything that I'm doing is a step in that direction."