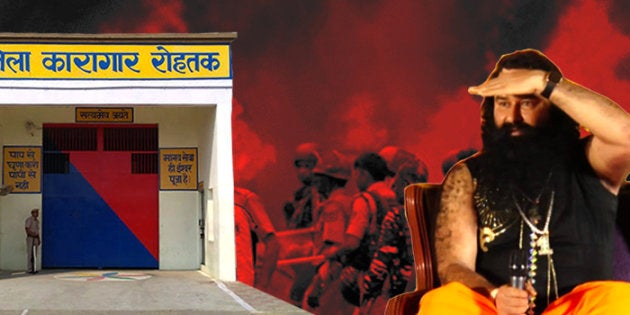 Dera Sacha Sauda chief, Gurmeet Ram Rahim Singh, was today sentenced to 10 years in jail by Central Bureau of Investigation (CBI) special court judge Jagdeep Singh for the rape and sexual exploitation of two women disciples at the highly secretive cult that has been accused, among other things, of murder and mass castration. He was flown to Rohtak jail and the sentence was announced inside the jail by Singh.
Here are the live updates:
7: 30 pm: Gurmeet Ram Rahim Singh sentenced to 20 years in jail, his lawyers confirm
Haryana chief minister Manohar Lal Khattar announced that Dera chief Gurmeet Ram Rahim Singh has been sentenced to 20 years in jail. He has been awarded a 10-year jail sentence and a Rs 15 lakh fine for each of the cases of rape against him, taking the total jail term to 20 years and the total fine to Rs 30 lakh.
Singh has to pay Rs 14lakh to each victim as well, his lawyers told the press.
Singh's lawyer SK Narwana said that both the sentences are not consecutive.
CBI spokesperson Abhishek Dayal confirmed reports that Singh has got 20 years in jail.
5:30 pm: Army conducts flag marches in Haryana, Punjab
Shortly after Gurmeet Ram Rahim Singh's sentencing, the Army conducted flag marches in Haryana's Sirsa among other areas. There were flag marches conducted in areas of Punjab, like Barnala. During a press conference, the Haryana Police said that there was no confirmed incidents of violence today. They added that they are in the process of identifying the instigators of the violence that unfolded in Panchkula over the weekend and said the criminals won't be spared.
4:20 pm: CBI to demand a harsher sentence?
Citing unnamed sources, NDTV reported that while Gurmeet Ram Rahim Singh pleaded for clemency, the Central Bureau of Investigation is actually pushing for a harsher sentence. It is being said, that the CBI has already drafted an application and will move court demanding the convict be granted ten more years in prison. They are also planning to press other charges against him.
However, Singh's lawyers will move High Court against the lower court's verdict.
3:35 pm: Gurmeet Ram Rahim Singh sentenced to 10 years in prison, say reports. Other reports suggest that Singh broke down in court after the sentence was announced.
ANI reports that medical examination is being conducted on Singh and he will soon be handed over jail clothes. One should be reminded that the CBI had set up a special court inside the Sunaria jail to pronounce the sentencing.
3:30 pm: Certain media reports suggest that Gurmeet Ram Rahim Singh broke down before the CBI judge and pleaded for clemency. NDTV reports that Singh's lawyers pleaded the judge to take into consideration that Singh is a 'social worker' and hence appealed for his sentence to be not harsh. They argued that he has built rehabilitation centres for drug addicts and alcoholics and added that he has married off prostitutes and helped them reconcile with mainstream society.
3:00 pm: Hearing concludes in the sentencing of Gurmeet Ram Rahim Singh. A makeshift court was set up at Sunaria Jail on the fringes of Rohtak where CBI judge Jagdeep Singh was flown in on a helicopter to read out the sentence. A helipad was created in the jail itself.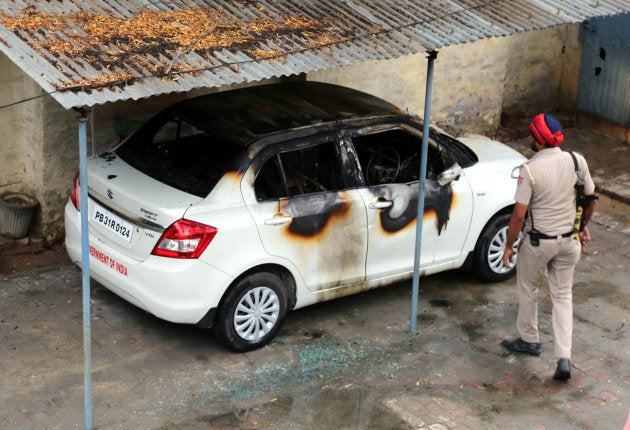 A decade and half after allegations of rape first surfaced against him, self-styled 'godman' Gurmeet Ram Rahim Singh was pronounced guilty of the crime on 25 August.
The conviction has been pronounced in the special CBI court in Panchkula, Haryana.
Soon after the verdict was read out on 25 August and Sigh escorted to jail on the outskirts of Rohtak, Panchkula fell prey to mindless violence. Thousands of followers of Dera Sacha Sauda, the outfit Singh heads, unleashed their wrath on the city setting public and private property on fire, attacking security personnel and civilians alike. Thirty eight people were left dead in the violence.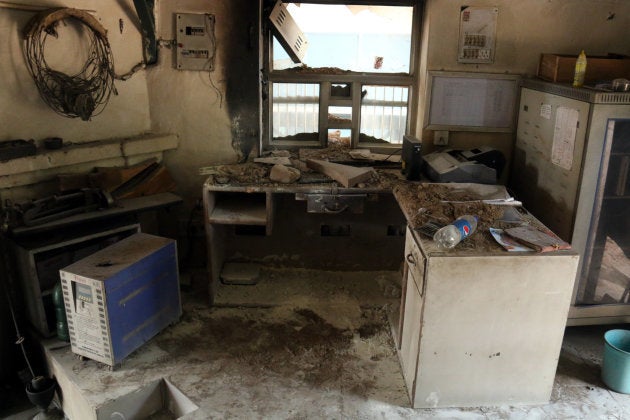 Soon after, the Punjab & Haryana High Court pulled the governments at the Centre and the state up accusing them of colluding with the rioters and protecting them for political gains. They questioned how the Haryana government let 1.5 lakh Dera followers descend upon the city when restrictions had already been imposed on large gatherings in view of the verdict. Warning politicians against interfering with the law, the court also asked the government to make sure that the CBI judge and his associates, who will be sentencing Singh, be provided with tight security.
The court also directed the government to attach all Dera properties to compensate for the damages wreaked by its followers on public and private property.
In view of the security, internet services were shut down and riot police were employed in parts of Punjab and Haryana ahead of the sentencing. Schools and colleges have been shut and Sirsa, where the Dera headquarters are located, has been under a lockdown. It has also been reported that shoot-at-sight orders have been issued against miscreants in Rohtak.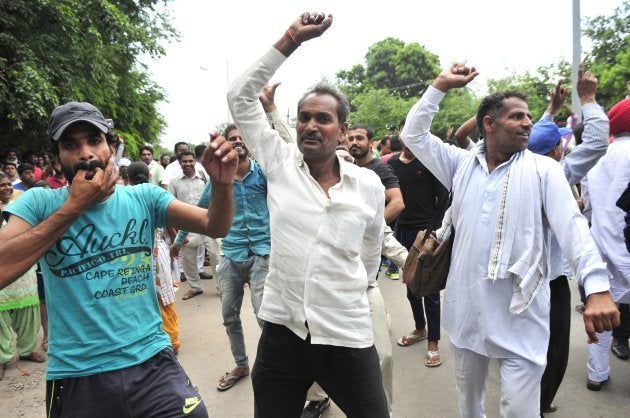 In April 2002, an anonymous letter was sent to the Punjab & Haryana High Court alleging that the Dera chief had sexually exploited two women in his Sirsa den. Anshul Chhatrapati, the editor of a local vernacular paper Pooa Sach published the letter in his paper. Chhatrapati was shot down outside his house.
The leader's followers have vowed to challenge the conviction in higher courts.
Following is a timeline of the case, published by PTI:
April 2002: Anonymous letter written to Punjab and Haryana High Court chief justice complaining about the sexual exploitation of woman followers at Dera Sacha Sauda in Sirsa.
May 2002: High court directs Sirsa district and sessions judge to probe the allegations in the letter.

September 2002: High court hands matter to CBI after district court indicates possibility of sexual exploitation.

December 2002: CBI registers a case of rape and criminal intimidation against Gurmeet Ram Rahim, head of the Sirsa headquartered Dera Sacha Sauda.

July 2007: CBI files chargesheet against the Dera head in an Ambala court. The chargesheet refers to the sexual exploitation of two 'sadhvis' (women followers) between 1999 and 2001.

September 2008: The special CBI court frames charges against Gurmeet under sections 376 (rape) and 506 (criminal intimidation) of the IPC.

Between 2009 and 2010: Two complainants record their statements before the court.

April 2011: The special CBI court shifts from Ambala to Panchkula. The case against the Dera chief also transferred to Panchkula CBI court.

July 2017: Special CBI court orders daily hearing

August 17, 2017: Arguments of prosecution and defence concludes. Special CBI Judge Jagdeep Singh fixes August 25 as date for pronouncement of verdict. Gurmeet asked to appear in person before the court the same day.

August 25, 2017: The special CBI court convicts Gurmeet.
Popular in the Community