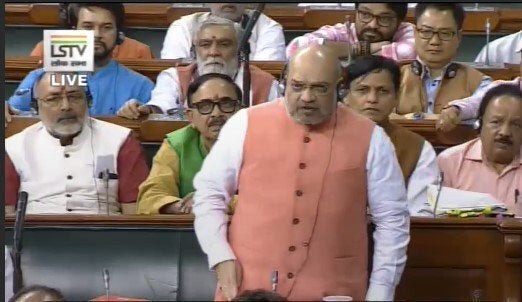 The government on Monday revoked Article 370, which gave special status to Jammu and Kashmir, and proposed that the state be bifurcated into two union territories — Jammu and Kashmir, and Ladakh.
The bill to reorganise the state and the resolution to abrogate Article 370 is being debated in the Lok Sabha today.
LIVE UPDATES:
7.35pm: Jyotiraditya Scindia supports govt on Kashmir
7.05pm: Lok Sabha passes Jammu and Kashmir Reorganisation Bill
The bill was passed by the Rajya Sabha yesterday.
6.40pm: 'It Was Like A Nuclear Bomb,' Shah Faesal On Aftermath Of Amit Shah's Announcement
Talking to Huffpost India, Faesal said, "It was like a nuclear bomb had fallen on Kashmir. Everyone was frozen."
"I have no words to describe how it was. Hundreds of people were crying and mourning, but there was such a feeling of helplessness. This has been done to impose a sense of defeat in the entire people."
6.38pm: We will go to court against Modi govt's decision, says Farooq Abdullah
Comparing the revocation of Article 370 by the Centre as "body being carved", National Conference chief Farooq Abdullah said they will fight and go to court against the Modi government's decision.
Abdullah said a "dictatorial" authority has been invoked and not a "democratic" one, according to PTI.
6.19pm: When normalcy returns to J-K, govt will have no hesitation in restoring its full statehood: Amit Shah
In the Lok Sabha, Shah said that as soon as normalcy returns to Jammu and Kashmir, government will not hesitate to restore its full statehood.
6.12pm: China takes note of India's decision on Jammu and Kashmir
China has voiced "serious concern" over the situation in Kashmir and asked both India and Pakistan to exercise restraint.
"The parties concerned should exercise restraint and act with caution, especially to avoid actions that unilaterally change the status quo and exacerbate the tension," said Foreign Ministry spokesperson Hua Chunying.
5.57: Modi, Shah earn place in history, says Arun Jaitley
PM Modi and Home Minister Amit Shah have earned a place in history, former Union minister Arun Jaitley said, adding that a separate status for the state led to separatism and that no dynamic nation can allow this situation to continue.
Jaitley said "popular support" to the government's move has compelled several opposition parties to support it as they have sensed the ground reality and do not want to face the wrath of the people.
5.26pm: Will look to approach the International Criminal Court, says Imran Khan
"Pakistan will look at how to approach the International Criminal Court. We will also go to the UN General Assembly and the Security Council. We will raise this issue on every international forum," Imran Khan says.
5.06pm: PM Imran Khan addresses Pak Parliament
In the Pakistan Parliament, Imran Khan says he tried to improve relations with India but soon "realised that India was not interested in talking to us."
"They took our overtures for peace as weakness, so we stopped extending offers to hold talks," Dawn quoted Khan as saying.
In his statement to the Pakistan Parliament, he said:
— "Their (BJP government's) ideology is based on RSS ideology. It is a racist ideology. They went against their own Constitution, against their Supreme Court's verdict, aginst the J&K High Court's verdict, the UNSC resolutions, UN General Assembly resolutions and the Simla Agreement."

— "They want to change the demography (of Kashmir). This is against Geneva conventions and is considered a war crime."

— "They don't consider Muslims their equals."

— " A Pulwama-type incident can happen again and they will blame us. They will oppress Kashmiris and then they will blame us."

— "They will carry out ethnic cleansing in Kashmir. There will be serious consequences and they will blame us."
4.40pm: Kashmiris fear for their families amidst blackout
As communication blackout continues for a second day in Kashmir, HuffPost India's Betwa Sharma spoke to Kashmiris in Delhi and Mumbai who are desperately trying to reach their families in Srinagar.
4.25pm: Amit Shah again says Farooq Abdullah has not been detained
4.15pm: Petition against Article 370′s revocation in Supreme Court
A petition was filed in the Supreme Court challenging the Presidential order on Article 370 by advocate M L Sharma who claimed that the order was "illegal" as it was passed without taking consent from the state assembly.
Sharma is likely to mention his plea for urgent listing before the court on Wednesday.
3.59pm: Pak Army Says it will 'go to any extent' to support Kashmiris
Pakistan's army chief said the country's military will "go to any extent" to support people in the Kashmir region, after a meeting with top commanders in Rawalpindi. Read full story here.
3.45pm: I was detained, Amit Shah is lying, says Farooq Abdullah
"I was detained in my house... I feel sad that Home Minister can lie like this," Farooq Abdullah told NDTV.
"I have a big padlock on my door," he told the news channel.
3.10pm: Released jailed leaders in Kashmir, says Rahul Gandhi
2.55 pm: Farooq Abdullah not detained nor arrested, says Amit Shah
Amit Shah says Farooq Abdullah has neither been detained nor been arrested. "He is at home of his own will," Shah tells Lok Sabha.
2.48pm: Pak govt says it stands with the people of Kashmir
The Pakistan government tweeted out a video with images and clips purportedly from protests in Kashmir.
2.40pm: UN urges India, Pakistan "to exercise restraint"
UN chief Antonio Guterres has said he was following "with concern" the tense situation in the India-Pakistan region after the Indian government scrapped Article 370 in Jammu and Kashmir.
"We are following with concern the tense situation in the region... We urge all parties to exercise restraint," UN chief Antonio Guterres's spokesperson Stephane Dujarric told a press briefing.
2.01pm: JDU has walked out of the Lok Sabha
1.51 pm: Release Farooq Abdullah, Omar Abdullah and Mehbooba Mufti, says Mamata Banerjee
"I have no information about Farooq Abdullah, Omar Abdullah and Mehbooba Mufti. I appeal to the government that they should not feel isolated. They are not terrorists. They should be released in the interest of the democratic institutions," Mamata said, quoted ANI.
1.39pm: All 3 regions of Jammu and Kashmir totally peaceful, says DGP
The situation in all three regions of Jammu and Kashmir is totally peaceful, amid unprecedented security cover and restrictions, top officials said on Tuesday.
There are no untoward reports from anywhere in the state, Director General of Police Dilbagh Singh.
1.23pm: People of Kashmir have moved on, Jitendra Singh says
1.15pm: Jitendra Singh says President wasn't woken up at night to sign order
"We didn't wake up the President at midnight to sign the order (as in the time of emergency). As is done every time under President's Rule, only Parliament can make laws. Hence, we have made this move," he says.
1.05pm: Why couldn't Jammu and Kashmir as a state? asks Sudip Bandopadhyay
TMC MP Sudip Bandopadhyay asks, "Why was Jammu and Kashmir converted into a UT, why couldn't it have remained a state? If this pushes Kashmir into a state of greater uncertainty, does the government have a plan to deal with it?"
"This is constitutional immorality, parliamentary harakiri." He says TMC does not want to be part of the bill by opposing or supporting it so they will walk out.
1.01pm: Pak Parliament adjourned after ruckus by Opposition members
Opposition members of the Pakistan parliament protested saying discussion on Article 370 of the Indian constitution was not specifically mentioned in the agenda, Dawn reported.
12.53pm: Nation made by its people, not plots of land, says Rahul Gandhi
12.45pm: Read J&K and Congress history first: Ghulab Nabi Azad on Congress members supporting abrogation of Article 370
12.31pm: Why can't government conduct elections? DMK's Baalu asks
"Why can't the government conduct elections in the state? Bills are passed due to brute majority. The will of the people is not reflected here," says MP TR Baalu says.
12.18 pm: Imran Khan to attend Pak Parliament session on Kashmir issue
12.14 pm: Farooq Abdullah is missing, protect the members, DMK MP tells Speaker
12.01 pm: Assault on India's federal structure, says Tiwari
"This is the first time in India's history that a state has been converted into a Union Territory. This is a big assault on the country's federal structure," Tiwari says.
11.52 am: Govt's interpretation of the Constitution is wrong, Manish Tewari says
"J&K chose to integrate with India on the basis of certain promises. Under Article 370(3), even if you wish to change boundaries of a state, you need to do so on the recommendation of the state assembly."
"The Parliament cannot take over powers of the state assembly."
The government's interpretation of the Constitution is wrong, he says.
11.45 am: Nehru and his govt made J-K part of India, says Manish Tiwari
Congress's Manish Tiwari elaborates on the history of how Jammu and Kashmir integrated with India.
"If anyone made J&K an integrated part of India, it was Nehru and his government," he says.
11. 29 am: Amit Shah moves the two bills on Jammu and Kashmir
11.21 am: PoK is part of Jammu and Kashmir, says Amit Shah
"When I refer to Jammu and Kashmir, Pakistan-Occupied Kashmir is part of this. Why do you say this is aggressive? We will give our lives for this," Amit Shah says amid uproar.
Shah said both PoK and Aksai Chin are part of Jammu and Kashmir.
11.16 am: Can the Parliament do this? Isn't this a bilateral issue? asks Adhir Ranjan Chowdhury
"You say that it is an internal matter. But it is being monitored since 1948 by the UN, is that an internal matter? We signed Shimla Agreement & Lahore Declaration, was that an internal matter or bilateral?"
"I don't think you are thinking about PoK, you violated all rules and converted a state into a Union Territory overnight," he says.
Chowdhury asks if the Lok Sabha has the right to do this.
11.06 am: Amit Shah moves resolution on Article 370 in Lok Sabha
10.45 am: Pakistan writes to UN Security Council
10.27 am: Ensure access to internet in Kashmir, says Committee to Protect Journalists
The Committee to Protect Journalists has urged India to ensure access to internet and communications services in Kashmir and expressed alarm over communication blackout in Jammu and Kashmir.
"A large-scale communication disruption at such a crucial time for Kashmir is an egregious violation of citizens' rights to information from a free press," said Aliya Iftikhar, senior researcher for CPJ's Asia programme.
"We call on Prime Minister Narendra Modi and his administration to guarantee that all communication blocks in Kashmir are lifted and that journalists are able to report freely. Communication blocks have no place in a democracy," Iftikhar said.
10.11 am: Joint session of Pakistan Parliament to discuss Kashmir today
Pakistan President Arif Alvi has summoned a joint session of the Parliament on Tuesday to discuss the Indian government's decision.
The joint sitting will review the tense situation in Jammu and Kashmir and along the Line of Control.
9.59 am: Pakistan Army to discuss security situation
Army chief General Qamar Javed Bajwa will hold a meeting of the Corps Commanders and discuss the security situation, state-run Pakistan Television reported.
9.27 am: 'We have lost our identity': Kashmiris in shock
People of Kashmir who spoke to news agency PTI expressed apprehensions about a new cycle of violence in the Valley.
"We are shocked by the decision and it left us disappointed because our sentiments were attached with this Article... Its scrapping means that the state will lose its Muslim-majority character," said 50-year-old Farooq Ahmad Shah, a resident of Srinagar who was visiting Jammu.
"How long they will keep us under house arrest?" asked Arshid Warsi, a man in his 20s from the Valley who was also visiting the city.
"Today we feel we have lost our identity and it is very unfortunate that the government has taken a decision which is going to create more resentment among the masses rather than bringing peace," a school teacher, who wished not to be named, said.
For businessman Jaleel Ahmad Bhat, the uncertainty in the Valley meant closure of his establishment indefinitely and loss of bread and butter.
"We don't know how the situation will develop after the curfew-like restrictions are withdrawn. We feel we are heading for worst of times," he said.
8.51 am: Mehbooba, Omar among several leaders arrested
Former Jammu and Kashmir chief ministers Mehbooba Mufti and Omar Abdullah, who had been under house arrest since Sunday night, were arrested on Monday night, officials told PTI.
Jammu and Kashmir People's Conference leaders Sajjad Lone and Imran Ansari have also been arrested, they said. Some more arrests have been made, the officials told PTI, without sharing details.
8.47 am: Imran Khan calls India's move illegal
Prime Minister Imran Khan termed the move to revoke Article 370 as "illegal" and said it will "further deteriorate" relations between the nuclear-capable neighbours.
Khan made the remarks while speaking with his Malaysian counterpart Mahathir Mohamad on the situation in Kashmir, Geo News quoted a statement issued by the Foreign Office on Monday.
8.42am: Pakistan summons Indian High Commissioner
Pakistan Foreign Office summoned Indian High Commissioner Ajay Bisaria on Monday night and conveyed a "strong demarche on the announcements made and actions taken" by the Government of India over Jammu and Kashmir.
8.38 am: Maintain peace along LoC, says US
"We call on all parties to maintain peace and stability along the Line of Control." US State Department Spokesperson Morgan Ortagus
"We are closely following the events in Jammu and Kashmir. We take note of India's announcement revising the constitutional status of Jammu and Kashmir and India's plan to split the state into two union territories," Ortagus said when asked to comment on India's decision to revoke J&K's special status.
8.31 am: J-K Governor reviews security situation in Srinagar
The Army's northern command chief Lt Gen Ranbir Singh met Jammu and Kashmir Governor Satya Pal Malik on Monday night and briefed him about internal and external security situation, a Raj Bhawan spokesman said.
Here's what happened yesterday:
— Home minister Amit Shah announced in the Rajya Sabha that Article 370 had been abolished by a presidential order that would come into force "at once".
– Former chief ministers Mehbooba Mufti and Omar Abdullah, both put under house arrest on Sunday night, called the move a "betrayal" of people's trust in India.
— Rajya Sabha passed the resolution to abrogate Article 370 and the accompanying Article 35Aby a voice vote, ending seven decades of autonomous state government.
— PDP members Mir Fayaz and Nazir Ahmed Laway tore a copy of the Constitution in protest and were evicted from the Rajya Sabha.
— NDA ally JD(U) did not support the Bill, but Opposition parties BSP, AAP, TDP, TRS, YSR Congress and BJD did. NCP abstained from voting.
—Congress chief whip in Rajya Sabha Bhubaneshwar Kalita quit as a member of the House over the party's stand on Article 370.
— The home ministry issued an instructed all states and Union Territories to keep security forces on "maximum alert" following its decisions on Kashmir.
— The announcement came after Prime Minister Narendra Modi held a meeting of the Union cabinet at his house on Monday morning.
— Internet and phone services were shut down in parts of Jammu and Kashmir. Educational institutions and offices were closed in the state and Section 144 was imposed in Srinagar and Jammu districts.