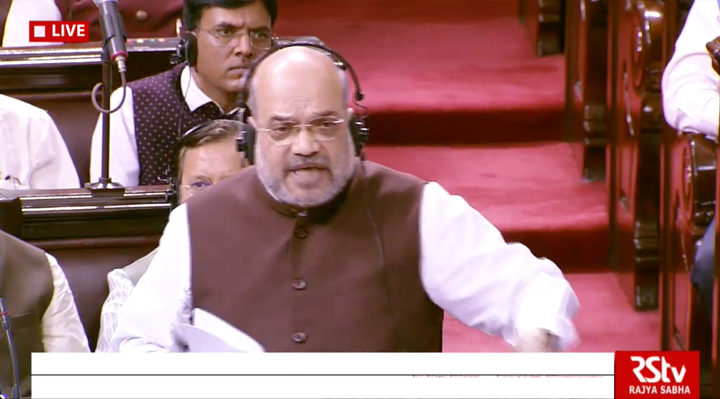 Home minister Amit Shah told the Rajya Sabha on Monday that Article 370 of the Constitution has been revoked and the state of Jammu and Kashmir bifurcated into two Union Territories.
The statement came after taking an hour-long Cabinet meeting with Prime Minister Narendra Modi on Monday.
Jammu and Kashmir has been under President's rule. The state government said on Sunday it had imposed restrictions under Section 144 of the CrPC in Srinagar district with effect from Monday midnight as a precautionary measure until further notice. Officials also said restrictions on the movement of people have come into force in Kashmir Valley on Monday.
Mobile internet services have been suspended in parts of the state.
LIVE UPDATES
8.14pm: Omar Abdullah arrested
Former Jammu and Kashmir chief minister Omar Abdullah has also been arrested.
7.50pm: Mehbooba Mufti arrested
PDP chief Mehbooba Mufti has been arrested and taken to a government guest house in Srinagar, according to reports.
7.16pm: Lok Sabha to take up Jammu and Kashmir resolutions tomorrow
The Lok Sabha will take up the resolutions on Jammu and Kashmir tomorrow. Amit Shah had assured the opposition members that he would move the bill and the resolution for consideration of the House on Tuesday and was only seeking the permission of the House for the same on Monday.
6.52pm: Rajya Sabha passes Jammu and Kashmir Reorganisation Bill
The bill seeks to reorganise the state of Jammu and Kashmir into two union territories of Jammu and Kashmir, and Ladakh.
6.40pm: Rajya Sabha passes Jammu and Kashmir Reservation (Second Amendment) Bill
4.16pm: Increased risk of human rights violations, says Amnesty
"Important decisions about Jammu and Kashmir are being decided by the Parliament without absolutely any consultation with the people," Amnesty said.
3.54pm: Cannot use a provision under Article 370 to modify Article 370, says Chidambaram
"How can you use a provision under Article 370 to modify Article 370, when Article 370 is to modify other provisions," Chidambaram says.
3.47pm: NCP to abstain from voting on bill
NCP will abstain from voting on this bill, says party MP Vandana Chavan.
3.43pm: Totally unconstitutional, says Punjab CM Amarinder
Amarinder Singh described the revoking Article 370 as "totally unconstitutional" and said such a decision should not have been "pushed through" in an arbitrary manner.
"It is a dark day for the Indian democracy," Amarinder said, adding that the Constitution of India has been rewritten without following any legal provisions.
"This will set a bad precedent as it would mean that the Centre could reorganise any state in the country by simply imposing President's rule," the chief minister said in a statement here.
3.35pm: Why did you abolish statehood, SP's Ramgopal Yadav says
3.22 pm: TDP supports revocation fo Article 370
2.43pm: We are ending a state without enough deliberation, says Azad
Ghulam Nabi Azad says the government could have waited for a few more months to bring in these bills and resolutions in consultation with a state assembly.
"With this 47-page bill, we are ending a state without enough deliberation," Azad says.
2.19 pm: Pakistan says India's decision to revoke Article 370 'illegal'
Pakistan says it will "exercise all possible options" after India revokes special status for Kashmir region. It also says India has taken "illegal steps" in its decision to revoke special status for Kashmir.
"Pakistan strongly condemns and rejects the announcements made today by the Indian Government regarding the Indian Occupied Jammu & Kashmir. The Indian Occupied Jammu & Kashmir is an internationally recognized disputed territory," the Pakistan Foreign Ministry's statement said.
2.15pm: Home ministry puts all security forces formations in India on 'high alert'
2.04 pm: You're creating another Palestine, says CPI(M)'s TK Rangarajan
1.45 pm: India's attempt to change Kashmir's status against UNSC resolution, says Pak President
1.25pm: Not a wise decision, says Soli Sorabjee
1.17 pm: MDMK's Vaiko opposes move
Vaiko says he vehemently opposes bills and resolution and calls for plebiscite in Kashmir.
"When additional army personnel were deployed there, I was worried. Kashmir should not become Kosovo, East Timor and South Sudan," he says.
1.03 pm: Delhi CM Kejriwal extends support for govt's decision on J-K
12.52 pm: AIADMK extends supports
AIADMK MP Navneethakrishnan says the party supports Amit Shah's resolution, reorganisation of the state and amendment to the reservation bill.
12.47 pm: BJD supports the resolution
"In a real sense today, Jammu and Kashmir has become a part of India. My party supports this resolution. We are a regional party but for us nation is first," BJD MP Prasanna Acharya says in Rajya Sabha.
12.38 pm: Government of India lied to us, Omar Abdullah
12.34pm: JD(U) will not support the Bill, does not want Article 370 revoked, says KC Tyagi
"Our chief Nitish Kumar is carrying forward the tradition of JP Narayan, Ram Manohar Lohia and George Fernandes. So our party is not supporting the Bill moved in the Rajya Sabha today. We have different thinking. We want that Article 370 should not be revoked," JD(U)'s KC Tyagi says.
12.18 pm: PDP MPs Nazir Ahmad and MM Fayaz attempt to tear Constitution
The two PDP MPs were removed from the Rajya Sabha after they attempted to tear the Constitution in the House.
12.16 pm: BSP extends support for scrapping of Article 370
"Our party gives complete support. We want that the Bill be passed. Our party is not expressing any opposition to Article 370 Bill and the other Bill," BSP's Rajya Sabha MP Satish Chandra Mishra says.
12.05 pm: What is Article 370?
11.57 am: Murder of democracy, says Ghulam Nabi Azad
11.53 am: Darkest day... India has failed Kashmir, says Mehbooba Mufti
11.48 am: Jammu and Kashmir is no longer a state
The state has been bifurcated into two union territories — the Jammu and Kashmir union territory will have a legislature and lieutenant governor, while Ladakh will be a union territory without a legislature.
11.31 am: Article 370 revoked, President signs notification
11.29 am: Bill to restructure Jammu and Kashmir introduced
Amit Shah has introduced bill to restructure Jammu and Kashmir state.
11.19 am: Amit Shah moves to revoke Article 370 of the Constitution
Article 370 provides special status to Jammu and Kashmir.
11.13 am: Opposition members oppose move in Rajya Sabha
Congress's Ghulam Nabi Azad opposes move to introduce bill. TMC's Derek O'Brien says members need time to read the bill.
Naidu says members will be given time till 12.30 pm to give amendments. Time will also be given to read the bill in detail and speak on it, he says.
11.07 am: Amit Shah to introduce Jammu and Kashmir Reservation (Second Amendment) Bill, 2019,
Home minister wants to introduce the Jammu and Kashmir Reservation (Second Amendment) Bill, 2019, Rajya Sabha chair Venkaiah Naidu says.
11.01 am: Lok Sabha and Rajya Sabha in session
Amit Shah, PM Narendra Modi and Rajnath Singh are in Parliament today.
10.45 am: Opposition parties meet in Parliament
Opposition parties have given adjournment notices in both Lok Sabha and Rajya Sabha to discuss the Kashmir issue in the wake of heightened tensions the state. Leader of the Opposition in Rajya Sabha Ghulam Nabi Azad met leaders of various parties —including the CPI, CPI(M), RJD, AAP, TMC, DMK — in his office in Parliament and discussed the situation with them, PTI reported.
10.10 am: Home Minister Amit Shah To Make Statement In Parliament
TV channels are reporting that Home Minister Amit Shah is going to make a statement in the Parliament over Kashmir where political leaders on house arrest and huge deployment of troops in the Kashmir Valley. This is likely to happen after 11 am.
There is no clarity yet on why such measures were taken.
10.07 am: PDP MPs Wear Black Bands, Protest In Parliament
PDP MPs in Rajya Sabha Nazir Ahmad Laway and Mir Mohammad Fayaz were seen holding a silent protest wearing black bands. They were also seen holding posters that read "war cannot bring peace".
10.05 am: BJP Had Issued Whip To MPs Over 'Important Legislative Business'
Now, reports suggest that a whip was issued to all BJP legislatures on Saturday asking them to stay in Delhi between August 5 to August 7 because of "important legislative business".
9.50 am: Opposition Leaders To Hold Meeting At 10 am
Even as the government has its own meeting over the Kashmir issue, Opposition leaders are going to meet at 10 am in leader of opposition in Rajya Sabha, Ghulam Nabi Azad's chamber, reported ANI.
Azad told TV channels, "We will ensure the Prime Minister takes the everyone in confidence. We will raise the issue in Parliament."
9.40 am: Opposition Moves Adjournment Motion Over Kashmir In Rajya Sabha
Read more about the controversies surrounding Article 35A here.
9.30 am: Amit Shah Meets Law Minister Ahead of Cabinet Meet
Home Minister Amit Shah reportedly met Law Minister Ravi Shankar Prasad ahead of the cabinet meeting that is supposed to begin at 9:30 am, NDTV reported.
What we know so far
— Mehbooba Mufti, Omar Abdullah, Sajad Lone have been placed under house arrest. Congress leader Usman Majid and CPI(M) MLA MY Tarigami also say they have been arrested.
— Mobile internet has been suspended in Kashmir Valley.
— Section 144 came into effect in Srinagar from the midnight of August 5 and will remain in force till further orders.
— The Indian government has "silenced all political groups, gagged media and scared civil society," the Association of Parents of Disappeared Persons said in a statement on Sunday.
— Union home minister Amit Shah held a meeting with National Security Advisor Ajit Doval, Union home secretary Rajiv Gauba and other senior officials on Sunday. NDTV reports a Cabinet meeting is scheduled for Monday morning at Prime Minister Narendra Modi's residence.
— Jammu and Kashmir Governor Satya Pal Malik on Saturday conveyed to a National Conference delegation that the state has no knowledge of any changes in the Constitutional provisions and assured that the deployment of additional paramilitary forces was purely for security reasons.
— On Sunday night, the Tihar jail DG said Kashmiri separatist leader Yasin Malik was absolutely fine and there was no reason for any worry about his health, hours after Malik's wife Mushaal Hussein Malik said in a video message that his health was deteriorating and he needed urgent attention.
— On Friday, students at Srinagar's National Institute of Technology told PTI that the management had said their classes were suspended till further notice.
— On the same day, a J&K government advisory asked Amarnath Yatra pilgrims and tourists to "curtail their stay" and "return as soon as possible".
— On Thursday, a delegation of Farooq Abdullah, Omar Abdullah and a National Conference MP met Modi and urged him not to take any step which may lead to deterioration in the law and order situation in Jammu and Kashmir. They also urged the PM to facilitate holding of assembly elections in the state by the year-end.
Popular in the Community