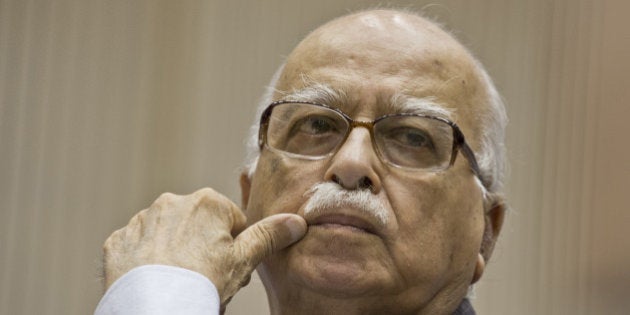 While Bharatiya Janata Party leaders are brazenly defending External Affairs Minister Sushma Swaraj and Rajasthan Chief Minister Vasundhara Raje in the Lalit Modi scandal, veteran party leader L.K. Advani emphasised the need for political probity by citing his own resignation in 1996 after his name cropped up in the Hawala scam.
Advani, 87, said that he resigned as a lawmaker even though senior BJP leader A.B. Vajpayee advised against it. His remarks are being viewed as a veiled barb at the raging controversy which has exposed the assistance rendered by Swaraj and Raje to
Lalit Modi, the former IPL commissioner, who is being investigated for money laundering by Indian agencies.
"I don't have any regrets that I couldn't contest the election for two years. The decision to quit was mine. I feel political credibility is essential." Advani said in an interview to Bengali daily Anandabazar Patrika. "People vote for us and we have to live up to their trust. In my life, I have always listened to my conscience."
"But I knew I had done nothing wrong so I had no fear of anything. At that time, Narasimha Rao's government was trying to drag my name into the issue," he said.
So far, Prime Minister Narendra Modi has not said a word on the biggest political scandal to hit his government. The BJP has ruled out resignations for Swaraj, who helped Lalit Modi, a fugitive from Indian law, to obtain travel documents in the United Kingdom, and Raje, who aided the cricket magnate with his immigration plea.
Modi, who was expected to address the raging controversy in his 'Mann Ki Baat' radio program on Sunday, maintained silence on the matter.
Advani, who was re-elected in 1998, did not comment directly about their case. "I don't have any information about them, so I have nothing to say. I can talk about myself," he said.
But the BJP leader underlined that "people's trust" was essential for a politician. "For a politician, to command people's trust is the biggest responsibility. What morality demands that is 'rajdharma' and need to maintain probity in public life," he said.
This is second time in the past ten days that Advani has criticised the Modi government.
"Today, I do not say that the political leadership is not mature. But kamiyon ke karan, vishwas nahin hota (I don't have faith because of its weaknesses). I don't have the confidence that it (Emergency) cannot happen again," he said.



Popular in the Community