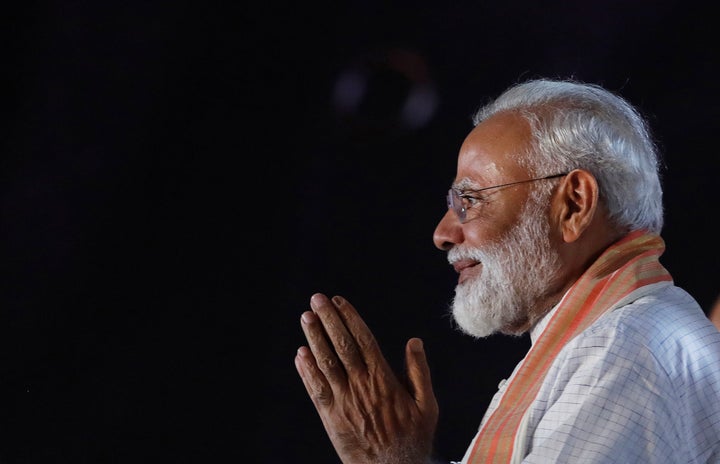 Keeping up with the predictions of the exit polls, the NDA, led by Narendra Modi on Thursday was voted back to power in landslide victory. The final results are still awaited, but the latest Election Commission update showed BJP win 294 seats and leading in 9. The Congress was almost decimated and won only 52.
As party meetings take place with the Modi-led BJP trying to form a new government, we bring you live updates.
5:49 pm: Union Cabinet Passes Resolution To Dissolve Lok Sabha
The union cabinet of the Narendra Modi -led NDA government passed a resolution on Friday to dissolve the 16th Lok Sabha.
4:40 pm: BJP Parliamentary Party Meet Tomorrow
4:34 pm: Ideology Of Gandhi Lost, Says Digvijaya Singh On Pragya Thakur's Win
Congress leader Digivjaya Singh, after his loss in Bhopal, said that the ideology of a killer won in India.
He said, "Today in this country, the ideology of the killer of Mahatma Gandhi won and the ideology of Gandhi lost. This is a cause of concern for me."
3:10 pm: Karnataka Dy CM Says Govt Will Continue To Function Under HD Kumaraswamy.
After Karnataka Chief Minister HD Kumaraswamy's "informal" meeting with his Cabinet, deputy CM G Parameshwara said that coalition government in Karanataka will continue to function.
2:02 pm: This Aligarh BJP MP's First Priority Is To Send Jinnah's Portrait To Pakistan
1:35 pm: Odisha Congress President Niranjan Patnaik Sends Resignation To Rahul Gandhi
Odisha Pradesh Congress Committee president Niranjan Patnaik Friday announced his resignation from the post in the wake of the party's electoral debacle in the state. "I have sent my resignation to AICC President (Rahul Gandhi) owning moral responsibility for the party's poor show in both Lok Sabha and Assembly polls in the state," Patnaik said.
"While the Congress faced defeat in the state, I too lost at the hustings," the Congress stalwart said.
Admitting that the Congress had failed to win the confidence of the people, Patnaik said "the party needs to take concrete steps to set the organisation in proper shape by getting rid of opportunists and attracting youths into its fold."
1:30 pm: Mamata To Hold Meeting With TMC Leaders On Saturday
ANI reports Trinamool Congress chief and West Bengal Chief Minister Mamata Banerjee will hold a meeting with her party leaders in her Kolkata home on Saturday.
This comes even as the seats held by TMC in West Bengal were almost halved. Meanwhile, the BJP made massive gains in the state winning 18 seats.
1:28 pm: Here's How The Foreign Media Covered Modi's Win
1:05 pm: Raj Babbar Sends Resignation To Rahul Gandhi
12:50 am: BJP Will Form Government For The First Time In Arunachal Pradesh
The BJP has comfortably crossed the 31-seat mark in Arunachal Pradesh to claim simple majority in the 60-member Assembly, while its rival Congress has bagged just four seats so far, the results made available by the Election Commission showed.
Counting of votes is still underway for five assembly constituencies in the state.
For the first time, the BJP will form government in the Himalayan state with the support of its own MLAs.
12:40 pm: Ravi Kishan Takes A Dig At Kannhaiya Kumar
12:15 pm: Narendra Modi Likely To Take Oath On 30 May
News18 reports that Prime Minister Narendra Modi will likely take oath on Thursday 30 May after visiting Varanasi and his home state Gujarat.
11:53 am: Aung San Suu Syi Congratulates Modi
11:40 am: Counting Is Almost Done — BJP Has Won 300 Seats, Leading In 3 Seats
The BJP has now won 300 seats and is leading in 3 seats, according to official Election Commission numbers. The Congress has officially won 52 seats.
11:31 am: Former J&K CM Farooq Abdullah Does A Little Dance After His Win
10:51 am: Modi, Amit Shah Meet LK Advani, Will Also Meet MM Joshi
Both Joshi and Advani have been critical of how Modi ran the BJP government. In 2019, the BJP also did not give a ticket to Advani, putting an end to his political career. Shah fought from the Gandhinagar seat, Advani's bastion, in Gujarat, and won by a margin over over 5 lakh votes.
10:02 am: BJP's Sambit Patra Loses In Puri
9:50 am: Congratulatory Messages Come From Justin Trudeau, Mike Pence
Prime Minister Narendra Modi, voted to power for the second term, is receiving congratulatory messages from world leaders.
Canadian prime minister Justin Trudeau and US vice president Mike Pence both hoped to work towards greater relations with Modi and India.
9:41 am: BJP Has Won 297 Seats, Leading In 6
The real-time numbers on the Election Commission website show that counting may finally be close to over. The BJP as of 9:40 am is leading in 6 seats and has already won in 297.
The Congress has won 52 seats, 8 more seats than in 2014.
9.01 am: BJP retains 3 J&K seats, Mehbooba's PDP routed
The BJP retained its three Lok Sabha seats in Jammu and Kashmir, while the National Conference has won two seats in the Kashmir region and is leading in one, leaving Mehbooba Mufti's PDP stunned as it could not open its account.
National Conference president Farooq Abdullah and Union minister Jitendra Singh were among the prominent faces to make it to the 17th Lok Sabha from the state which sends six MPs to the lower house.

The biggest electoral upset in the state was witnessed in Anantnag where former chief minister Mehbooba Mufti finished third.
8.46 am: BJP wins 294 seats, leading in 9
According to the EC website, BJP has won 294 seats and is leading in nine. Congress has won 52 seats.
8. 25 am: Cabinet to recommend dissolution of the 16th Lok Sabha.
In Friday's meeting, the Union Cabinet will recommend the dissolution of the 16th Lok Sabha, PTI reported.
After the Cabinet's recommendation is passed in the form of a resolution, President Ram Nath Kovind will dissolve the present Lok Sabha, the term of which is ending on June 3.
The 17th Lok Sabha has to be constituted before June 3 and the process to form a new House will be initiated when the three Election Commissioners meet the President in the next few days to hand over the list of newly-elected members.
8.05 am: US President Donald Trump, Vice President Mike Pence congratulate Modi
Trump said, "Great things are in store for the US-India partnership with the return of PM Modi at the helm."
8.02 am: Canada PM Justin Trudeau congratulates Modi
"On behalf of Government of Canada, I congratulate PM Narendra Modi on his re-election... I look forward to continuing to work with him to improve lives of Canadians and Indians alike through education and innovation, investing in trade and investment, and fighting climate change."
7.59 am: Kumaraswamy calls Cabinet meeting in Karnataka
Karnataka CM HD Kumaraswamy has called for meeting of his cabinet at 12 pm. The JD(S) legislature party will also hold a meeting 4 pm in Bengaluru.
JD(S) is in coalition with Congress in the state. In the 2019 Lok Sabha elections, BJP won 25 of the 28 seats in Karnataka.
7.54 am: Cabinet meeting today
There will meeting of the Cabinet as well the Council of minister today,
7.45 am: Modi Gets Landslide Win, Will Serve As PM For Second Time
Prime Minister Narendra Modi called BJP's win the country's victory and said he would build an 'inclusive India'. Modi said this while addressing party workers at the BJP headquarters in Delhi on Thursday.
Meanwhile, Congress president Rahul Gandhi accepted defeat and said Thursday was not a day of talking about why they lost.
Gandhi won the Lok Sabha election from Wayanad in Kerala, a decision political pundits believe was widely influenced by the tough fight Irani posed to him in his home turf in Amethi.
The BJP and its allies won big across India except, in Kerala, Punjab, and Tamil Nadu.
While the TMC had fought against the BJP tooth and nail, the right-wing party managed to make inroad into the state, winning 18 seats. In 2014, the BJP had won only 2 seats.
In Madhya Pradesh Congress bigwigs like Digvijaya Singh and Jyotiraditya Scindia lost their seats while BJP candidate and terror accused Pragya Thakur won in the elections.
The BJP won big in Maharashtra, Madhya Pradesh and Rajasthan as well. The party won 41 of 48 seats in Maharashtra where assembly elections are due later this year. In Rajasthan it swept up all 28 seats. Madhya Pradesh gave BJP 28 of 29 seats, and put the Congress-led state government on shaky ground.
Popular in the Community