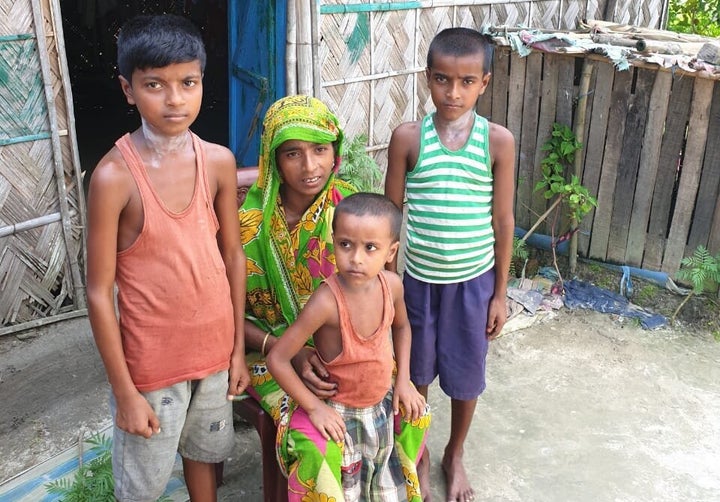 DARRANG, Assam — Two days before Eid, Alekha Khatun smiled and waved her younger children goodbye as they headed out of the meeting block in Tezpur Jail. She then turned to her older daughter Taslima and said she won't be coming home anytime soon.
"We don't have any money left," Alekha told her stunned 12-year-old daughter. "We don't know how to keep sending you to schools even, we can't fight the case anymore."
When Alekha was sent to a detention camp in Tezpur Jail two years ago, Taslima returned from prison visits to her mother with hope: News of a new lawyer one time, documents which friends and family said were absolute proof of her innocence, her father saying an official at the court has promised the case will be resolved soon. That day, however, Alekha asked her not to hope anymore. Instead, take charge at their family, three hours away in the village of Kharupetia in Darrang district.
"We are very poor, she said. And my father has no money, nothing left. Not even money to feed us well, she said," Taslima said, staring at the ground and fiddling with the corner of her blue printed headscarf. "She asked me to take care of my younger sister and brother. Hug them a lot, love them a lot. Who knows if I will ever come out, she said."
Assam's National Register of Citizens was meant to serve as a comprehensive list of Indian citizens residing in the state. Instead, many fear it will turn into a nightmarish witch-hunt directed at the state's most vulnerable residents. Millions of mostly Muslim families are paying the price of the state's incompetent bureaucracy which is responsible for apprehending and trying people who they suspect are 'foreigners'.
While supporters of the process claim that those excluded from the rolls can always plead their case before Foreigners Tribunals, mounting legal fees have driven families like Alekha's to the point where they must choose between saving a parent from prison and feeding their young children.
Today, on the country's 73rd Independence Day, thousands of Indians in Assam are being driven into modern day slavery — selling off ancestral property, taking loans at staggering rates of interest from informal money lenders, and ultimately pledging to labour in fields for free, in a desperate bid to raise money to free their loved ones from incarceration.
"I have nothing left," said Alekha's husband, Usman Ali, describing his tumultuous descent from a comfortably placed grain trader to an impoverished manual labourer in two short years.
In 2017, Usman borrowed Rs 3 lakh from a private bank, another Rs 2 lakh from a local money lender, and burnt through every paisa of his savings to pay for lawyers to save his wife. Last week, he finally sold their small plot of land, and their two-room home, for Rs 1.5 lakh and moved to into a single shared room in his father's tin and bamboo home in a remote village called Shyamtila.
"The business was finished a year ago, now I sold my house, the last thing I had," Usman said. "I took the children out of private schools. They will now have to go to free government schools, and even then I don't know how to buy them books and clothes."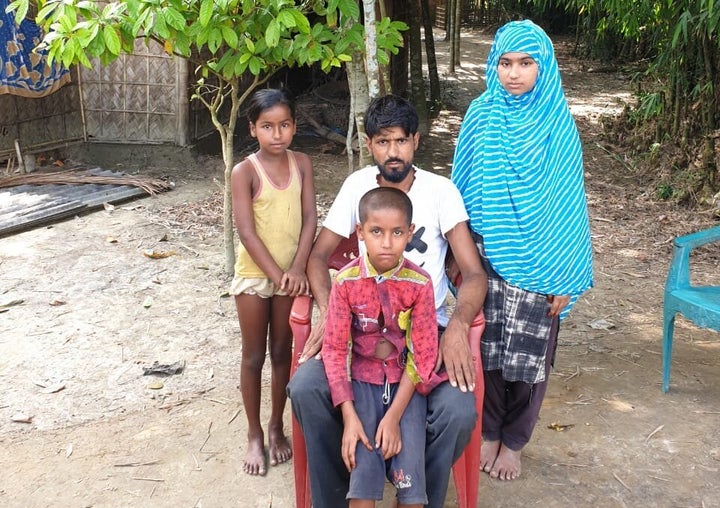 Drowning in debts
The Assamese state, and many of the resident elites, have long had a deep-seated paranoia of being overrun by Bengali, especially Bengali Muslim immigrants from neighbouring Bangladesh.
In 1997, Alekha was labelled a 'doubtful' voter, or a D-voter, over a simple clerical error. Her name was noted as Alekha Khatun in one set of government documents, and Alekha Begum in another.
Twenty years later, in 2016, she was issued a notice by the Foreigners Tribunal and asked to prove her parentage. Alekha's parents and her husband Usman's family all have enough documents to prove they are Indian — which means she should have had her name cleared immediately. But she missed one hearing because her lawyer failed to communicate the date to the right person. The tribunal sent her to prison in 2017.
"Khatun, Bibi, Begum, these are all interchangeable among us. The government officials issuing these documents are often Assamese Hindus who do not understand this," said Intaz Ali, whose brother is fighting a similar case. "They put a random surname and when two documents don't match, they throw us in jail."
For Usman, Alekha's imprisonment meant an ordeal of mounting legal fees. He estimates he has spent almost Rs 7 lakh on lawyers, the final Rs 60,000 for a Supreme Court lawyer who took his fees upfront and then stopped taking his calls.
"They usually lurk around the Foreigner Tribunals," Intaz said, referring to lawyers who have been doing brisk business. "When poor, illiterate people like them turn up at tribunals getting a notice, they pounce on them. We are desperate, we give them whatever they want."
"Usman used to make a living as a small trader, buying and selling rice. He is now a daily wage labourer earning between Rs 300 and Rs 400 a day."
Usman used to make a living as a small trader, buying and selling rice. He is now a daily wage labourer earning between Rs 300 and Rs 400 a day. He recently thought of moving to Kerala, where the wages for labour are higher, but his eight year old daughter Zamina asked him to stay.
"How will I go to school, if you are not around," she asked.
"I had no answer. So I didn't go," Usman said. "I may have to borrow again and work for free for the money-lender to pay back the loan."
Usman said he has already missed one EMI has a majority after he handed over a chunk of the money he got from selling off his house to a new lawyer he has hired. The rest, he has to save to pay for his jailed wife's medical expenses. "She has a nerve disease doctor's said. She keeps fainting, she was put in a hospital 10 times in two years."
Modern-day slaves
Ashraful Hossein, a social activist, told HuffPost India that he suspects that the people who will be left out of the NRC will create a vast, impoverished, easily exploited workforce who had been stripped of all constitutional rights. The foreigner tribunal process, he said, has been doing that for a while now.
Twenty-five-year old Abdul Malik works as a mason nearly twelve hours a day for a wage of Rs 400 a day. And later in the evening and way into the night on days, he does odd jobs for a man who he borrowed money for to pay for the legal expenses of his brother who was sent to a detention earlier this year. Malik's brother was intercepted by the police in Jorhat where he worked as a construction labourer— over a six-hour drive away from their village in Darrang district — nine years ago, and had been appearing at a tribunal there to prove his citizenship for nearly a decade. "He just gone out to get a paan when the police stopped him and took his details down," Malik said.
Then earlier this year, he was declared a foreigner when he went for the hearing and packed off to Jorhat Central Jail. His wife and family couldn't visit him soon as a car costs nearly Rs 6,000 and a trip ends up costing the family nearly 8000 rupees. Since then, Malik sold off a small plot of land his brother owned, mortgaged agricultural land he had and worked every day the past four months to feed a family of nine — his own and his brother's — and also pay High Court lawyers.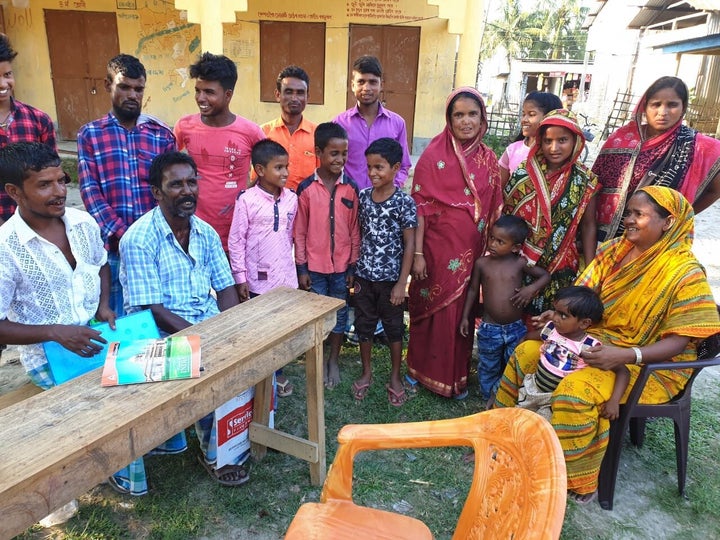 "I work in the fields, sometimes all day and still earn rupees 200. Also, I am frail and have been ill so people don't always give me work. I need to take breaks often and word travels," Malik's sister-in-law Razia told HuffPost. When the legal costs started mounting a couple of years ago, Razia and her husband went off for almost a year to work in Karnataka's coffee plantations.
"We saved around Rs 40,000 working all day, almost without a single day off. All that money disappeared paying lawyers and figuring out what to do in less than a week. I have nothing now," she said. Razia's children — 4, 7, and 8 year old boys — have been asking for exercise books and pencils for school, but she has asked them to wait.
"They don't even have proper shoes. On days, they just walk to school barefeet. I work all day, but still can't afford books, copies, pencils," she told HuffPost India. Later Malik, who has a one-year-old daughter himself, said, "Who knows how long we can afford to keep sending them to school. We have nothing left to sell or mortgage and no more men in the family who can work," he said.
"On days, they just walk to school barefeet. I work all day, but still can't afford books, copies, pencils,"
A few kilometres away in Kheroni village, last year, a posse of policemen arrived at the door of the village headman and handed him two foreigner tribunal notices — written in English — meant for 20 year old Abasuddin's family. No one in the family read English, so they took the letters to a village school teacher who read it out and said Abasuddin's parents had been declared foreigners in a case that had been lodged 10 years ago in 2007. The family had no knowledge of this case and said they had not received any notice in the past. Abasuddin's parents were so scared that they fled the village.
Abasuddin decided to fight the case. He borrowed Rs 50,000 from a local moneylender and promised to work for free on his land until he could pay him back. The money-lender was not convinced, so Abasuddin roped in his 17-year-old brother to also work for free on his land.
"Our whole family doesn't own any land. We live in shanties on government land in villages," Abasudin said. "I used to make Rs 200 a day working as a farm hand, how will I pay for lawyers. Just making copies of documents costs more than that."
"I do other small jobs when he lets us go to make some money for food," he added.
""I used to make Rs 200 a day working as a farm hand, how will I pay for lawyers. Just making copies of documents costs more than that.""
When Malek Ustoor's father and mother got notices declaring them foreigners, his father fled the village. His mother Majeda Khatun, a sickly old woman, who could barely understand the consequences of the notice written in English, refused to budge.
Ustoor, who can't read or write, also could not understand fully what this could mean and started enquiring about lawyers. A few days later, the police arrived at their doorstep and asked his mother if she could lead them to the village headman's house. Majeda, an illiterate 50-year-old who worked a farm labour, got on to the police van as asked.
"The van did not stop, we kept walking, and then running and the van rolled away with my mother inside. I couldn't understand what was even going on," Ustoor said.
Ustoor makes around Rs 5000 a month working as a farm labourer; the High Court lawyer he contacted demanded Rs 60,000 to even start working on his case. He sold two cows and three goats for Rs 30,000 and borrowed another Rs 60,000 from a money lender. He promised to work for a 4-5 hours for free on his land every day till he could pay back the money.
Nearly six months have passed, Ustoor is still paying off his debt and his mother is still in prison. The lawyer Ustoor hired got bail for his father who then returned last month.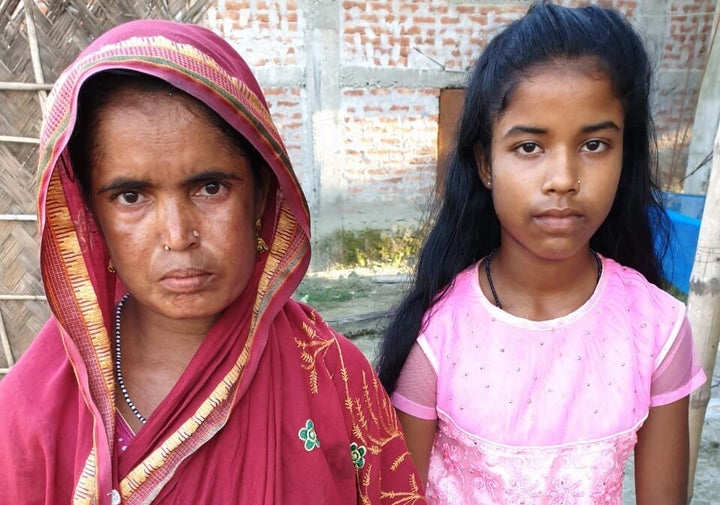 Habibur Rahman, a social worker who has been working in Darrang for years, said the Foreigner Tribunal practice of sending English-language notices to barely literate villagers had only added to their misery.
"Even if they get it to me, I can't help as even I can't read English. Some village teachers too aren't very comfortable in the language," Rahman said. The result is, they circle back to the police to understand what the notice is and that's a "trap".
Amina Bibi's husband and a neighbour's wife received notices the same day. No one was around to read it for them. Amina's sister, however, suggested that they go to the police, so Kamaluddin, the neighbour whose wife got a notice went to them.
"Just get the two of them here. We will sign some documents and let them go, the police said," Kamaluddin recalled. When Amina's husband and Kamaluddin's wife arrived with their families, and without lawyers because the police had promised to help, they were packed into a van and driven away.
"They are in jail now, go get a lawyer," the police said.
Amina's husband was a poor farm labourer with no money. A fortnight after he was arrested, her 15 year old son said he was dropping out of school to work as a farm labourer. Then a week later, as the family's bills for lawyers, food and school mounted, her 13 year old son dropped out of his seventh standard class and joined his brother in the fields.
"I couldn't stop crying, but what could we do? Where will I get money?" Amina said, weeping.
"My older son was very good in studies. His matriculation examination was just two months away, he would do well. We wanted him to study and get better jobs than we could," she said. The boy couldn't take the exam'.
Amina too began working as a farm hand and then at people's houses in neighbouring villages, cleaning and washing utensils. That won't pay for lawyers and court proceedings. She too may have to take a loan and work for free to pay it back.
"They have nothing to mortgage and which bank will give these people loans. And even if they did, how will they pay interest?" social worker Rahman said.
Amina's daughter, also called Taslima, smoothens the skirt of her bright pink dress obsessively as her mother breaks down wondering how she will pay for her school.
"She is very good in studies. I don't want to take her out of school," Amina said of Taslima.
Taslima grabs her mother's hand and squeezes it, scolding her in a low voice: "Sshhh…"
"Taslima, tell madam what you want to be?" a neighbour nudges the 11-year-old.
"A doctor," Taslima said, "But my father is in jail."