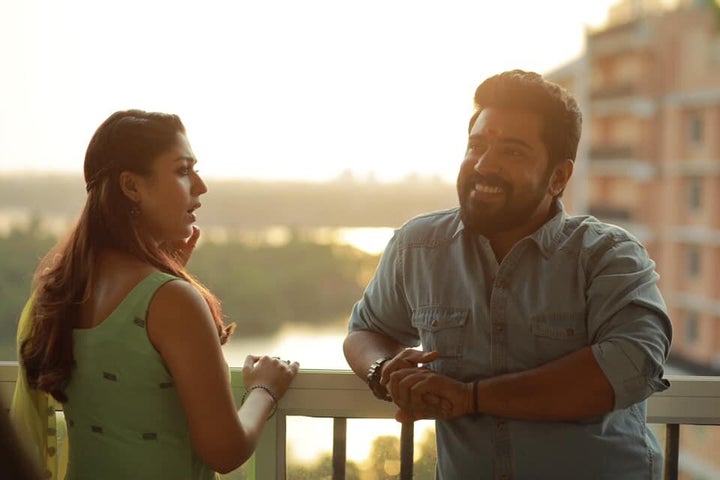 Dineshan (Nivin Pauly) is a slacker and a potential alcoholic who squanders his inheritance quite freely. He also falls in and out of love quite often. While Shobha (Nayanthara), who is introduced as a "feminist" with a smirk by a male friend, is apparently doing quite well for herself (though we aren't shown what her business is!). She is sorted and doesn't look the sort to fall easily in love with anyone. In fact, during the first part of the film, she admonishes her friend for falling into the trap of "patriarchy" at her wedding. Dineshan and Shobha are also popular screen names of one of the iconic movies of all times, Vadakkunokkiyenthram, directed by Sreenivasan. And it seems through Love Action Drama, debutant Dhyan Sreenivasan (who is also the writer) was attempting an ambitious modern spin on the film or rather their story. However, the similarity ends with their screen names. What we get instead is an absurd and aimless rom-com that also ends up caricaturing the concept of the genre in the bargain.
When the two protagonists are so lazily written, we can hardly expect any semblance of coherence for the sub characters. Dhyan borrows Dineshan from Nivin Pauly's already popular romantic hero templates. There is a bit of George (Premam), Vinod (Thattathin Marayathu) and Umesh (Oru Vadakkan Selfie) in Dinesh, but without the fun and irreverence of the rest. At various points, the characters in the film wonder aloud what Shobha sees in Dineshan. What primarily works against Dineshan is that there is nothing going in his favour. He has neither charm nor appeal, or even a quirkiness that lets us warm up to him. Instead Dineshan is that tiresome, sloppy friend of a brother we would rather grin and bear with. Forget Shobha, the possibility of any girl finding him a joy to be with seems rather unlikely. And it doesn't help that Nayanthara looks at Nivin Pauly like this tolerant sister, right from the scene where they supposedly fall for each other. That also entirely takes out the Love from Love, Action, Drama.
Nayanthara adds more woes to the character of Shobha, which is already shoddily written. With not a hair out of place and a flawlessly made-up face, the actor looks out of place and out of depth, leaving us in no mood to invest in her character. From the moment she walks into the frame, she remains oddly out of focus.
While the central characters are caught in the theory of (below) averages, the supporting characters loiter around. There is Dineshan's partner-in-crime Sagar (Aju Varghese but of course, doing his usual stuff) who is just as clueless and annoying as Dineshan and also typically aids him in his many misadventures. The fact that Sagar has more screen time and better chemistry with Dineshan adds to the incongruity of the lead couple's romance.
There are characters that looked like they walked out of a Tamil rom-com. The Tamilian male friend in Shobha's gang, her friend's ex-husband who is that typical Porukki, or her various friends who have no backstory or identity other than being Shobha's friends. While we're at it, why is Dhyan so obsessed with the Tamilian character stressing on "Though I am dark my mind is white" dialogue?"
Even Shobha speaks more Tamil and less Malayalam and such a plan I think has more to do with the realisation that the dubbing artist is more conversant in the former than the latter.
Dhyan Sreenivasan is definitely inspired by his brother Vineeth Sreenivasan's sense of humour in cinema. But unlike him, Dhyan is more inclined towards the social media troll/meme version of comedy. So, what we get are already seen and heard, just that Dhyan copy-pastes it at various scenes. It's easy and lazy writing. Few of the gags work, most fall flat.
Dhyan also seems to have created characters just so he can accommodate his in-house actors. There is Sreenivasan playing Shobha's dad who also assures us by way of introduction that people find it hard to believe that he is her dad. Of course, Vineeth Sreenivasan, apart from singing a few songs, also makes an appearance as this "harmless villain" and superlatively hams it up.
While Action in the title has to be the boy-next door Nivin Pauly (who tries hard to salvage the film) attempting to unleash his new-found action hero image at one point, Drama was perhaps added for rhyming convenience.