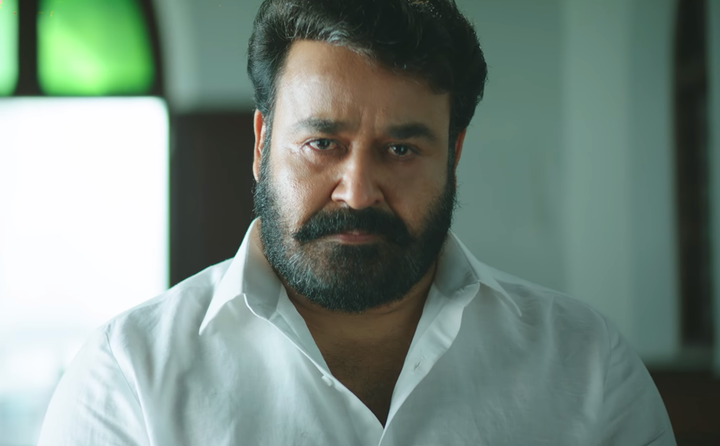 Stephen Nedumpally (Mohanlal) and Bobby (Vivek Oberoi) are facing each other for the first time in the movie. The former is displeased with the latter's plan to raise funds for the party by smuggling killer drugs. As he turns to the window, the camera trained on his broad, white-shirted back, Stephen calmly announces, as if to the audience: "Those who know me understand this very well about me. I have always said that narcotics is a dirty business."
It's a spin on that iconic dialogue from Mohanlal's own Irupatham Noottandu and, as intended, is met with thundering applause. It's also the first of many ways that Prithviraj Sukumaran, who makes his directorial debut, declares his brazen love for the superstar in his movie. Lucifer, first and foremost, is an unrepentant, glorified tribute by a fanboy to his idol.
So much so that every time Mohanlal (who looks deadpan for the most part) appears on screen, the camera reverentially trails him. It lingers on his broad back, that familiar, slanted shoulder, the finely trimmed salt-and-pepper beard, his fingers as they slowly sweep the sides of his golden rimmed mundu as he ties it over his waist and his searing, almost unreadable eyes. It equally adoringly captures the star in slow motion as he swats rowdies away like flies. Interestingly, he doesn't have many dialogues (he is a man of action, you see), but the ones he does say are aimed at making his fans go ballistic in theatres.
Mohanlal's Nedumpally is a regular cliched mass hero who ticks all the fanboy-required boxes. He is the proverbial dark horse, a loner, with an unpleasant back story, generous to a fault and yet, a man of the masses. He fights a dozen men without batting an eyelid, is largely misunderstood and remains an enigma. Several cronies pop up at crucial junctures to recite the psalm of Stephen.
Lucifer tries to tell a story about a dysfunctional political family. When PK Ramdas, the leader of the ruling party, dies, his party is left in a predicament over its next leader. His daughter Priyadarshini (Manju Warrier), son Jathin Ramdas (Tovino Thomas), son-in-law Bobby and granddaughter Jhanvi are the surviving members of the family. Priyadarshini views Stephen Nedumpally, adopted by PKR, with hostility. The film traces the events following the shift in power and how it affects each of their lives in various ways.
For actor-writer Murali Gopy, this is uncharted territory—writing for a superstar in a mainstream potboiler. Unfortunately, the self-indulgent writer in him deals with this by bringing back the bombast he attempted with Tiyaan and failed. Gopy's fascination for philosophical chants masquerading as dialogues and insistence on making every character sound weighty is on full display here. Most of Stephen Nedumpally's conversations sound like biblical spasms.
Having said that, Murali's writing is in top form in a brilliantly crafted scene where Tovino's character makes his debut political speech. I also liked how he tries to break down the difference between a politician and a political leader by drawing parallels from a scene in Narasimham.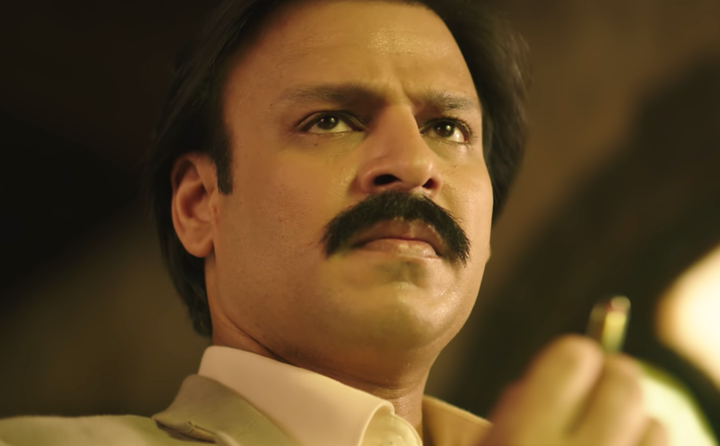 But Prithviraj takes the familiar, much-travelled route. His cinema, from what we have seen, are about larger-than-life heroes fighting battles alone, centred around the classic good v/s evil stories, mounted on large canvases, sprawling milieus, an array of characters and big inspirational speeches. It's the vision of someone who loved watching Shaji Kailas-Renji Panicker-Ranjith films while growing up. Lucifer, by that definition, has a marathon of clichés but when most of them hit home, you know the director seems to know the pulse of the mainstream audience. Like a seasoned director, he knows exactly when his star should get on with his act. When a cop tries to mess with Stephen, he knows his star should push him against a wall for exactly 60 seconds and the applause will follow. Or that a gang of goondas should be sent to jail to showcase Stephen's mean punching skills. Every nod, every stride, every punchline of Stephen Nedumpally's is brilliantly staged. Despite everything, however, this character required better and original writing, as his graph eventually ends with his character being reduced to a hired gunda.
The main antagonist, Bobby, is a corny role but seems fresh as performed by Vivek Oberoi (also because actor-dancer Vineeth does a terrific job with the dubbing). Bobby is the suave, despicable, good-looking villain who molests his step-daughter and gifts her drugs as well. Manju Warrier plays Priyadarshini well, as expected, especially in two scenes. One with her daughter (played by Saniya Iyyappan, who is terrific) at the hospital and the confrontation with Bobby that follows. The supposed menacing villain was like a bolt from the blue and might soon be a favourite of trolls.
Prithviraj, who also makes a cameo as Stephen's right-hand man, comes across as a bit hilarious, considering he is playing a Hindi-speaking character who also doubles up as a starry-eyed fanboy to Stephen (meta, much?). And why, why did the director, who had promised not to let "disrespect for women" be celebrated in his films, include a distasteful item dance in this movie?
Lucifer had the potential to be a deft political thriller but is content to appeal to just Mohanlal fans.