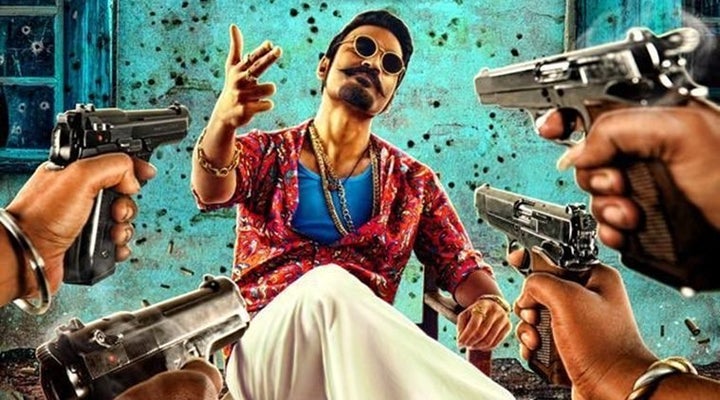 Like most Tamil films these days, Maari 2 begins with a voiceover. Maari, the eponymous hero, is introduced in a grand fashion, showering praises about his extra-human life — he is nallavan, vallavan, saavukku bayapadaadhavan, saavadikka mudiyaadhavan and the like. This voiceover also introduces Araathu Aanandhi, whose love interest is Maari; and Kalai, Maari's best-u friend. Once the voiceover is over, the speaking-to-camera starts.
Characters sit around and tell their stories. The villain sits in an abandoned shed and tells us what his enmity with Maari is. The female lead sits among friends and tells them why she loves Maari. Much of the storytelling in the first half is literally that — a character telling a story while there's a montage on screen.
Now, who is watching Maari to learn how to show-not-tell? The general expectation from Maari 2 is for it to be an engrossing entertainer. Which it is, for the most part.
Dhanush plays his role of a playful don with expected ease. His benign evil is delightful. His insecurities — the way he looks at his pals when the collector tells him he's heard nice things about him, and his inabilities — the way he says the famous "if you are bad.." dialogue the first time around makes him endearing. When he is reintroduced post-interval, without the pomp of the first time, Dhanush unmistakably reminds us of Baasha Rajinikanth, yet holds his own wonderfully.
Sai Pallavi, who plays his love interest, does a great job of bringing Araathu Aanandhi to life — she drives the auto-rickshaw like a natural, she loves with abandon, she cries without inhibition and laughs from the heart. Her comic timing is impeccable. In 'Rowdy Baby', her dancing skill is in full show, she overshadows Dhanush by a mile and then some.
Varalakshmi Sarathkumar seems to have hit a jackpot with roles like the one in Maari 2 — a supporting role that gets talked about or even considered for a place in public memory because it's played by someone who is otherwise a lead actor. Imagine if this role was played by say Viji Chandrasekhar or Jayaprakash. Varalakshmi makes something of Vijaya Chamundeswari, the character she plays in the film, one that might have otherwise gone unnoticed.
The curse of the Maari franchise seems to be the villain. Tovino Thomas, as Thatanos, the god of death, swings violently between laughable and pitiable. Don't get me wrong, the actor tries and it shows. But his Jack Sparrow-esque hair, the tattoo of an anchor on his face and the word 'death' on the back of his neck, the metal teeth, they don't help in making him menacing. Add to that the fact that his name in the film is Beeja (which means 'seed' in Kannada, on an unrelated note) but calls himself "Thatanos, the god of death" repeatedly makes it all one big joke. One that the film itself seems to know all too well.
Just like Tovino, the film also tries. It tries to be woke about female representation. In one scene, Maari saves a stranger from rape and she asks him, "who will marry me now? Will they not tell me I'm ruined?". In response, he tells her, "you are not a commodity to be ruined. Until you meet a man who doesn't treat you like a commodity, you're best single!" If you're expecting her to fall in love with him instantly, she doesn't. Her sister does.
There is a scene earlier in the film where Aanandhi tells Maari that she wants to marry, cook for and take care of him. Maari admonishes her — "women are doing many great things in the world and you want to stay home and cook?" She tells him that she's a working woman too, just one in love. The Aanandhi that we've seen so far was a woman who wants to have it all.
Yet, later in the film, when she's disabled, she stays home and solely relies on Maari to even take her past the doorstep. Throughout the time they're together, we see him carry her around and this dependency is shown as romance. Maari isn't the husband who'll build her a ramp, but one who will carry her around. What would happen if both Anandhi and their child need to be carried at the same time, no one seems to have considered.
There are several places where the film keeps saying "ponnungala madhikkanum" (one must respect women), but it doesn't seem to apply to the other Aanandhi in the film, played by Aranthangi Nisha. She is the butt of fat jokes and trolling which imply that she's inherently unlovable by Maari because of the way she looks. On the other hand, Sanikizhamai, played by Robo Shankar is also the butt of unmarry-able single man jokes. *shrug*
In spite of all this, Maari entertains. The fight scenes are palatable. The jokes are mostly funny. Maari has several 'mass' re-introductions, each time putting at least half a smile on the face of the most ardent non-believer. Every character by Maari's side is lovable, even the faltering ones.
Maari 2 is the perfect candidate for your Sunday matinee, post Andhra Meals. It might even help reduce Monday morning blues.
Popular in the Community