Lightweight ultraportable laptops simply meant a choice between the MacBook Air or a Windows laptop like the Dell XPS 13, or Lenovo Thinkpad X1 Carbon. Depending on the tools and software you relied on, this was a pretty simple choice.
However, Apple has muddied the waters with the introduction of the iPad Pro, which it claims is a computer in its own right, complete with an attachable keyboard cover, and a stylus—both of which have to be purchased separately, but still... And things have got even more complicated this year with the introduction of the latest iPad Pro (2018), which Apple claims is at par with not just portable notebooks, but high-end ones, as well as Apple's decision to refresh its MacBook Air range. Now, you have to choose between a notebook that's vying with tablets in design, or a tablet that's vying with laptops (with the right accessories) in terms of capability. We've been using both for some time now, and today, we're comparing the iPad Pro 12.9-inch along Apple's Smart Keyboard Cover, against the MacBook Air (2018).
Design - new versus old
If you are in the market for something that looks radically different, this is a no-brainer. The iPad Pro with its keyboard cover easily cuts the more distinct figure. Apple has also ironed out the glitches that existed in the early Smart Keyboard covers and this one connects more smoothly and gives an additional viewing angle too. At 5.9mm, it is very slim and the new design (with straight rather than curved sides) gives it a much more solid feel even while staying relatively lightweight at 631gms.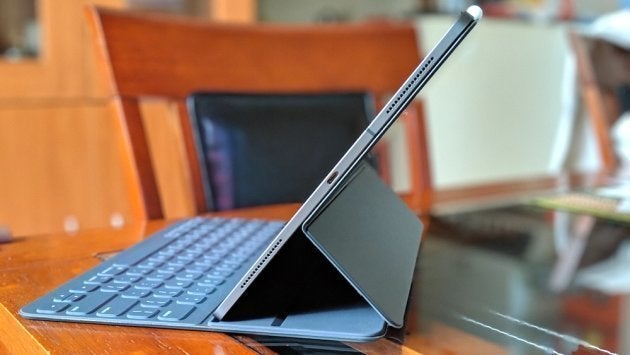 Even the MacBook Air is insanely slim (1.56 cm at its thickest point when shut) and very light (1.25 kg) but it has a 13 inch display with a conventional keyboard that is always attached to it, and has the overall notebook feel to it. And well, for a notebook, it looks super distinct thanks to that Apple logo and that amazingly slim figure. But all things said and done, the iPad Pro wins in terms of design.
Hardware - Intel Inside versus Bionic
The MacBook Air has now gone into retina display mode and its 13-inch display now has a 2560x1600 pixel resolution as compared to the iPad Pro that has a 12.9-inch display with a 2732x2048 pixel resolution. And well, the difference is obvious—the iPad Pro's display definitely looks a lot better than the MacBook Air's.
Both devices boast fast processors but from very different families—the MacBook Air comes with an Intel Core i5 chip while the iPad Pro is powered by Apple's A12x bionic chip, which Apple claims is capable of going toe to toe against not just the Core i5 but the higher end Core i7 and Core i9 as well. The MacBook Air comes with 8GB RAM, while we do not have any official comparison figures from the iPad Pro (although unofficial accounts place it at 6GB for the 1TB storage variant, and 4GB for the others), and while the MacBook Air has storage of 128GB and 256GB, the iPad Pro goes all the way up to 1TB.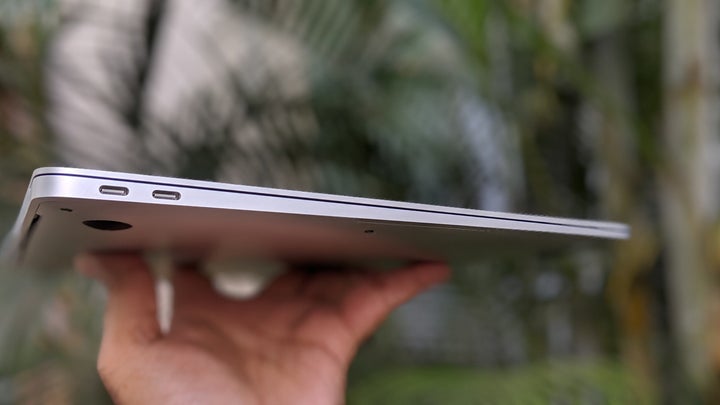 What's more, the iPad has a 4G option, something the MacBook Air does not. That said, the MacBook Air has three USB type C ports which gives it much greater connectivity as compared to the single USB type C port on the iPad Pro.
Although the iPad Pro is more powerful in some areas, a lot of people will find the additional connectivity options on the MacBook Air a lot more important.
This could change if developers come out with applications and games optimised for that A12x bionic chip, but at the time of writing, the processor did not really give the iPad Pro any clear performance edge.
Software - touch versus type UI
The real difference between the iPad Pro and the MacBook Air is in terms of software, and day to day usage. While the Air is designed for a keyboard based interface and runs Mac OS X (Mojave), the iPad Pro is unabashedly a tablet first running iOS 12 which can also accommodate a keyboard.
There is no doubt that the iPad Pro is the easier to get accustomed to—it runs the same OS that makes the iPhone such an intuitive device to use. Although Mac OS is hardly a very complicated platform, it is not as welcoming to new users as iOS. However, if you're looking for a "computer", with a proper file manager, and the work-related applications you're used to, then you'll probably prefer the MacBook Air.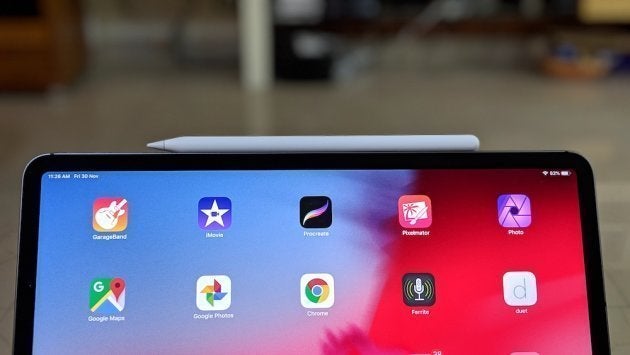 Although you can now run iOS versions of apps like Office and Chrome, and multitask more easily than before, it's not quite as convenient as having half a dozen different programs running that can be tabbed through quickly, and although iOS apps might be easier to use for newcomers, the Mac versions tend to be more feature-rich.
Multimedia and Gaming - graphics and sound magic
Perhaps no parameter represents how far the iPad has come from its "stretched iPhone" roots than that of multimedia and gaming. Half a decade ago, the idea of a tablet outgunning a computer in gaming would have been laughable. But that is exactly what has happened here. And that is because the MacBook Air is built for work on the move rather than entertainment, which severely limits its potential as a gaming machine and even as a device on which to watch films and shows.
The speakers on the MacBook Air have improved, and it will run casual games smoothly enough, but the iPad Pro has it trumped on both these counts, and can run games with very demanding graphics without a problem.
General performance - every day business
When it comes to general performance (social networking, working on documents, messaging, mails and the like), both devices are very good in their own, rather different ways. Lag is rare, especially on the iPad Pro, which is pretty much a speed demon and seemed to be just a little faster in general. The Air did stall a little if we tried to get into heavy video editing or sometimes even when we worked with multiple open tabs (but that's a trait the browser has on most notebooks).
As we pointed out earlier, the Air also stutters in the gaming department. Yes, comparing PC and tablet games seems unfair, but suffice to say the Air cannot heavy duty PC tasks while the iPad Pro can handle anything that was designed for iOS easily.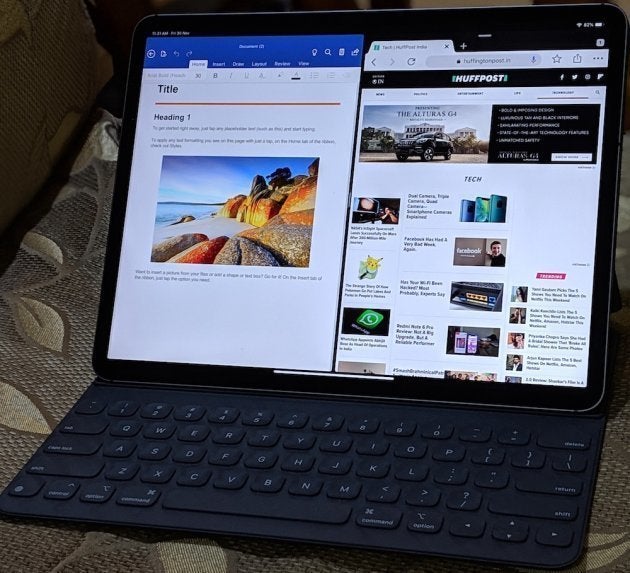 Both devices, however, excel in battery life—you can easily get through eight to ten hours of usage on either device.
Ease of use - viewing angles, tablet mode
This is a crucial round considering both devices are fighting for the crown on being mobile computers. On paper, the winner would seem to be with the iPad Pro, as it is much lighter than the Air. However, the Air is actually a little easier to use as a notebook in our experience. This is because it sits more comfortably in a lap than the iPad Pro (with the keyboard cover) does.
Meanwhile, using the iPad Pro as a tablet—when you have the Smart Keyboard Cover attached—can be uncomfortable due to the added weight. You can of course remove the cover altogether, but that leaves the tablet rather exposed.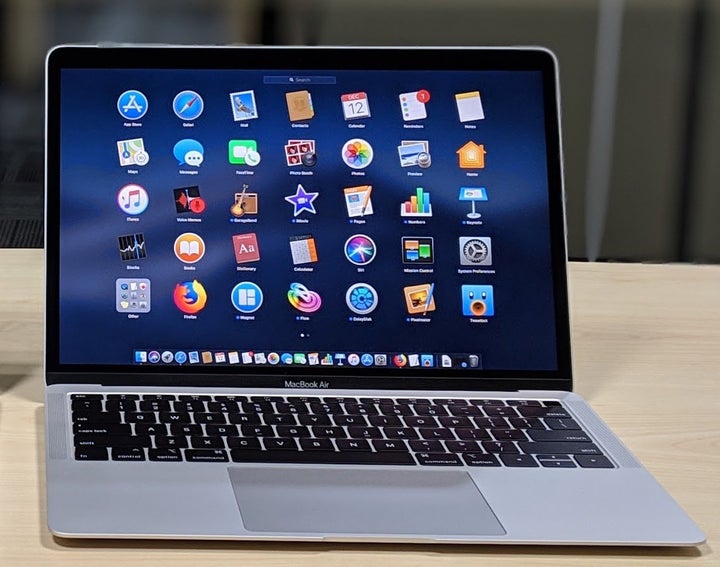 Also, in notebook mode the iPad Pro only has two viewing angles, while the Air can go anywhere in the 180 degree spectrum. Perhaps the basic iPad would be easier to handle on its own but the 12.9 inch edition does tend to get a bit unwieldy.
Verdict
Which device offers more value for money purely as a notebook? The iPad Pro 12.9 starts at Rs 89,900 for the 64GB Wi-Fi only edition, with the Smart Keyboard Cover at Rs 17,900, or a total of Rs 1,07,800. The MacBook Air on the other hand starts at Rs 1,14,900, making it clearly the more expensive option. The iPad Pro has a more portable form factor, better hardware and multimedia going for it, while the Air strikes back with its traditional notebook values of very good performance in a very slim and light form factor (for a notebook).
The iPad Pro can be more appealing because of its versatility, but if you are a more conventional notebook user and need USB type C connectivity as well as an always connected keyboard, then the MacBook Air is definitely the better choice—using the iPad Pro will leave you without expandable memory, zero wired connectivity options, and also a file structure that you cannot access.
The iPad Pro is a very powerful tablet that can also be a notebook, the MacBook Air is an all out notebook making no pretensions to be anything but that. The iPad Pro is about innovative versatility, the Air about traditional portability.
From the categories above, the iPad Pro took three, and the MacBook Air two, with one tie, so our pick is clear. What about yours?