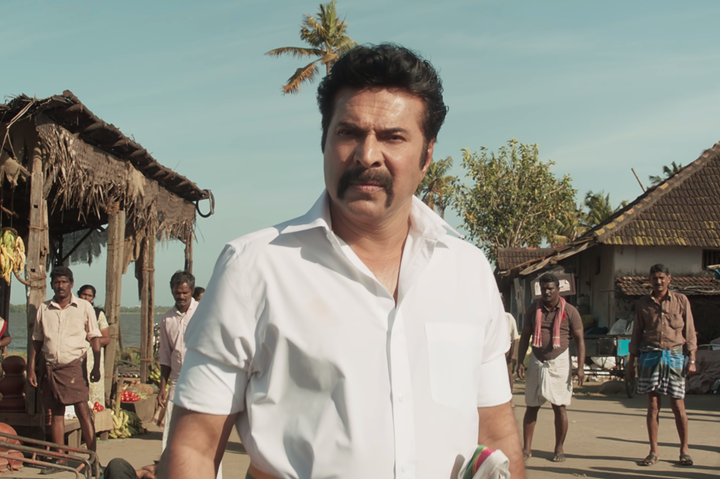 Pokkiri Raja was about this menacingly funny don, Raja, who spoke unapologetically terrible English, feared no one, whacked villains with glee, was a problem-solver and always at the top of his game. One of the high points of the film was Raja's ridiculously ungrammatical English that gave a unique comical flavour to an otherwise cliched mass masala film.
Its sequel, Madhura Raja, which arrives after a decade, also rests a lot on the leading man's (Mammootty) flawed English skills, along with his high-octane stunt sequences. While Pokkiri Raja was a harmless entertainer, with the fresh combo of Mammootty and Prithviraj up against a formidable opponent, its sequel has loftier ambitions.
A village mapped right in the middle of an island has to deal with drunken miscreants at their local school, thanks to an illegal bar owned by the antagonist, VR Nadesan. Madhura Raja's father (Nedumudi Venu) is sent by the school authorities to prepare a report. He, along with Vijaya Raghavan, reaches the village, find a lot of things amiss, although the latter does reunite with a former lover. Subsequent events lead to the imminent entry of Madhura Raja.
Despite the fact that Director Vysakh predictably follows the style of Pokkiri Raja to introduce his leading man, it's still a sight for sore eyes. Raja arrives blazing, standing at the centre of few dozen speeding boats, as the camera fastidiously begins the shot with his thick gold chain, the lion figurine ring, that trademark handle-bar moustache, the spotlessly white dhoti and shirt and an earth-shattering BGM. And the film is devoted to its superstar in every frame, mind you.
Manoharan Mangalodayam (Salim Kumar), who continues to write stories with "twists", is retained in the sequel and he is pretty effective with his brand of humour. There is also Chinnan (played by actor Jai, who is good), Maniyannan's son, whom Raja dotes over.
There are quite a few characters in this movie, but most of them are forgettable. The antagonist is a bit of a downer, as he seems to be a shoutout to Puli Murugan's Daddy Girija, more so as it's done by the same actor with the same stoic expressions (Jagapati Babu).
The film does have its moments, and they're all for the fans. The first hour gets a nice build-up, with some hilarious moments between Raja and Manoharan. But the film loses track post interval, with the director trying hard to bring in one issue after another with nothing seeming to hit home. If in Pulimurugan, there were man-eating tigers, here there are killer dogs unleashed and it's a horrifying sight to watch them tear into humans. So much so that we shudder at the thought that went into such an inclusion.
Like in most mass masala films, the makers have faithfully made women one-dimensional and frivolous. There is Anushree who plays Vasanthi, a fiery no-nonsense girl who is at loggerheads with the people in her village. The character seems to be modelled after Manju Warrier in Kanmadam but ends up as a sorry caricature. There is her coy sister and a nurse and we are done with the female characters in the film.
Writer Udaya Krishnan (who made a fortune by writing sexist dialogues for Dileep films) goes a step further and shows his disdain for a lot of issues that made headlines last year. Maybe one can argue that political correctness is a stretch for this genre of films, but does everything have to be enveloped in misogyny? Is that the only formula that works for such mass formulaic films? From 'Vanitha Mathil', '#MeToo' and an MLA joking about rape, to an embarrassing item number, Madhura Raja is a feminist's nightmare.
However, if you can look past all this (should you?) Mammootty carries the film with his powerful screen presence, staggering energy and surprisingly great comic timing. The diehard fanboy might just be tickled pink.