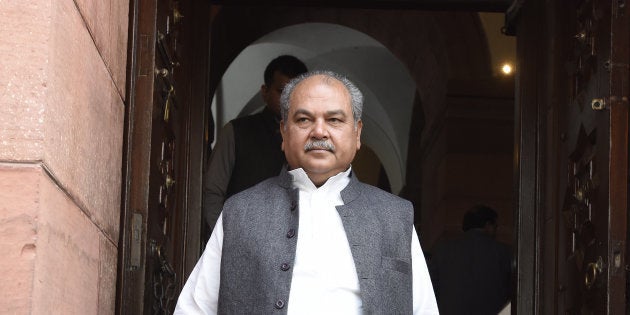 NEW DELHI —The Gwalior district administration has continued to defy the Central Information Commission's order to disclose details of public works sanctioned in Union cabinet minister and Loksabha member Narendra Singh Tomar's constituency under the Member of Parliament Local Area Development Scheme (MPLADS).
Under the scheme, an MP may recommend specific development projects for his constituency. The actual work is taken up by the district administration.
In his most recent communication to the CIC, dated 12 July, Gwalior Collector Ashok Verma said his district administration had been unable to upload information due to technical difficulties. His letter did not elaborate on what these difficulties were.
HuffPost India was sent a copy of this letter by Verma's office in response to an email seeking clarification about why the district administration had not provided information under the Right to Information (RTI) act, despite an order by the CIC in June.
In late August, HuffPost India revealed that Tomar, the Ministry of Statistics and Programme Implementation (MOSPI) and the Gwalior district administration had withheld information on how at least Rs 11 crore discretionary funds were spent from the MPLADS.
Specifically to the collector, the CIC order had directed that his office must "provide work wise, institution wise and area wise project details along with the names of the contractors/ supervising authority and purpose of the work, the physical details of work to be completed, time to be taken, reasons for delay and action taken if any further delay".
It also directed him to "inform how many applications for works under MPLADS was received in this constituency, for what kind of work, and how many applications were rejected by the MP and reasons thereof".
However, in his letter sent to the CIC on 12 July, Verma said, "There are some technical difficulties in the online feeding of sanctioned works. The work of feeding information online will be done after resolving the technical difficulties."
It also stated that the district administration had received Rs 15 crore since 2014 from MOSPI under MPLADS but did not specify anything more about the utilisation of this amount.
Nearly three months since then, it appears that these undisclosed "technical difficulties" continue to persist as neither has the RTI applicant and resident of MP, Prashant Jain, received the information he requested, nor is it to be found on the MPLADS website for open access of citizens.
Reacting to Verma's letter, Jain told HuffPost India, "The Gwalior district collector has not complied with the directions of the Central Information Commissioner. Instead of giving the information to me, the secretary of the Central Information Commission was provided misleading facts. This attitude clearly shows that the Gwalior Collector does not intend to abide by the directions of the Central Information Commissioner. I called the Gwalior Collector several times but he did not receive my calls. It is clear that Gwalior Collector Shri Ashok Verma does not believe in the principles of transparency. He is violating the RTI Act."
The Ratlam-based social activist also called the district administration's reason for not uploading information online as an effort to "satisfy the commission (CIC) by giving misleading answers".
HuffPost India has reached out to Verma again and will update this report if he responds. Tomar's office and MoSPI have not responded to previous queries.
Incidentally, in a national review meeting of the MPLADS scheme last month, union minister DV Sadananda Gowda stated that, among the many issues raised by Members of Parliament regarding the scheme's implementation, there was one about "non-uploading of the entries of the works on the integrated MPLADS portal giving rise to a large number of RTI applications". Gowda also called for "greater accountability and monitoring on part of all the stakeholders".
In an interview with HuffPost India, Central Information Commissioner Sridhar Acharyulu had made a strong case for Tomar to reveal part of the information that he had.
Acharyulu said, "An MP is not a public authority and in this order I'm not declaring him as one. But I strongly recommend that every MP, in his website, he should disclose: what applications (about public projects under MPLADS) he has considered; what he rejected; why he rejected... My point is every constituency's voters should know how the Rs 5 crore was spent."
Notwithstanding this, however, none of the three stakeholders in this case—Tomar, MoSPI and Gwalior collector—have complied with the CIC directions about providing detailed information pertaining to the manner in which MPLADS funds were spent in the Gwalior district since 2014.