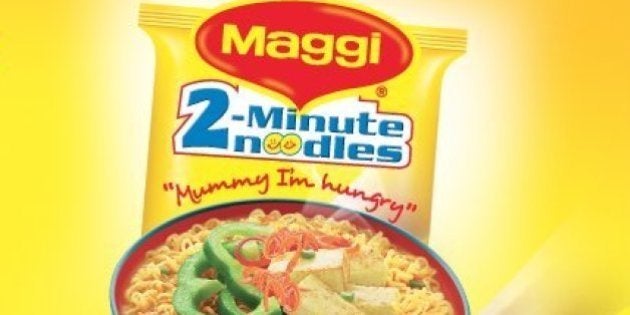 NEW DELHI -- Samples of Maggi noodles were found "unsafe" after testing, the Delhi government said on Tuesday, as the Kerala government banned India's favourite snack in the state, and a court in Bihar ordered an FIR to be registered against the Bollywood actors who have promoted the brand.
While several states are testing it for excess lead and monosodium glutamate (MSG), which enhances taste, Maggi sales have plummeted in India.
On Tuesday evening, the Aam Aadmi Party (AAP) government spokesperson Nagendar Sharma tweeted that samples of Maggi noodles had been found "unsafe."
Lab testing reports show Maggi samples found unsafe in national capital : Delhi govt

— Nagendar Sharma (@sharmanagendar) June 2, 2015
High lead levels were detected in 10 out of 13 packets of Maggi noodles tested from around the National Capital Region, according to AAP government officials, NDTV reported.
But Maggi manufacturer, Nestle India, has claimed that samples of the noodles, which it tested in an external laboratory as well as in-house, were found "safe to eat" with lead levels within the permissible levels for consumption.
"The quality and safety of products are the top priorities for the company," Nestle India said in a statement.
Maggi India has also tweeted messages claiming its noodles are safe.
It's normal for lead to occur in agricultural produce as it is present naturally in soil & water. To know more: http://t.co/tFhGMf0Rh1

— Maggi India (@MaggiIndia) June 2, 2015
Delhi government's findings could lead to legal action against Nestle India by the state authorities, PTI reported.
Meanwhile, a district court in Bihar has directed the police to register an FIR against Maggi's brand ambassadors Amitabh Bachchan, Madhuri Dixit and Preity Zinta, and arrest them if required.
Haryana also collected samples of Maggi noodles on Tuesday to conduct tests.
"We have taken cognizance of reports of alleged lapses of food safety standards in Maggi noodles. I have ordered my department to lift samples of these noodles from across the state for laboratory testing," Anil Vij, Haryana's health minister, told PTI.