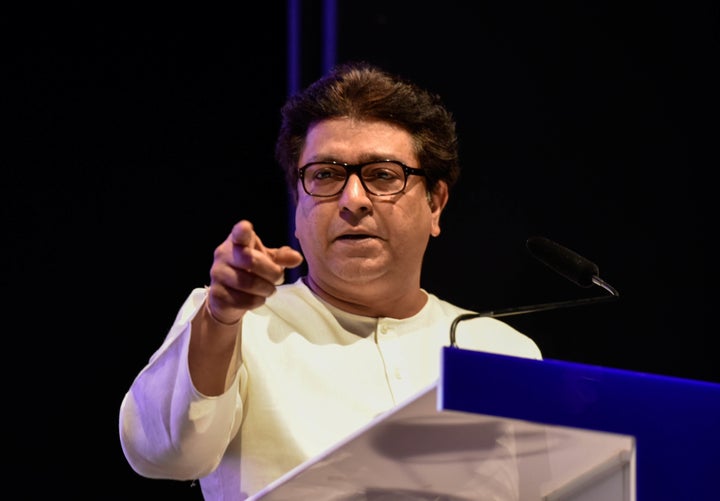 MUMBAI: The political atmosphere in Maharashtra is charged as the state readies for the state Assembly election, now less than a month away. Maharashtra Chief Minister Devendra Fadnavis, Shiv Sena chief Uddhav Thackeray's son Aaditya Thackeray and NCP chief Sharad Pawar have already crisscrossed the state during their respective "Yatras".
The Congress and NCP have declared their alliance for this election, while the BJP and Shiv Sena can announce their seat-sharing pact at any moment. There is, however, one prominent politician from Maharashtra whose absence has surprised many on the eve of this crucial election.
The absence of Raj Thackeray, the president of Maharashtra Navnirman Sena, for over a month is fuelling intense rumours and speculation about his political future.
The last date of filing nominations is less than a week away.
The MNS chief's last public statement came on 22 August when he was grilled by the Enforcement Directorate for over nine hours in a case related to the monetary transaction of a company he was once a part of.
"I will not shut my mouth no matter what they do," Thackeray had thundered after returning home on 22 August after the ED inquiry.
He has rarely appeared in public since then, refraining from making any public statement, addressing a press conference, and not appearing at any public function in the past month.
In early August, Thackeray had announced a grand opposition morcha to be held in Mumbai in the last week of August against the EVM.
The morcha did not happen.
Ajit Pawar, a senior leader of the Nationalist Congress Party (NCP), took a jibe at him, saying, "Look at Raj Thackeray. This is how people become silent after an ED notice."
A couple of weeks ago Thackeray had decided not to contest the election and some senior leaders around him, who had been former MLAs, were not averse to him sitting this one out, young leaders from the MNS told HuffPost India.
But a large section of party workers and second-rung young leaders, who were eager to contest, reportedly asked him permission to quit the party.
"We did not contest the Lok Sabha election. Our workers would have started questioning us if we would have decided not to contest even the Assembly election. The pros and cons were communicated to Raj," said an MNS leader from Mumbai, requesting anonymity.
But the results showed how Prakash Ambedkar-Assaduddin Owaisi's Vanchit Bahujan Aghadi (VBA), a Muslim-Dalit platform, had more impact than Thackeray.
VBA dented the Congress-NCP's chances on 12 seats while MNS's strength could not be gauged as the party did not field any candidate.
The reluctance of Thackeray to contest the Assembly election appeared to be driven by a small coterie of former MLAs who were not keen on spending money in "a not so favorable election".
"The plans to contest from 25 to 30 seats have now turned into contesting from more than 100 seats."
The last five years have not been politically favorable to Thackeray whose party could win only one seat in the 2014 Assembly election. MNS had won 13 seats in 2009.
In the past five years, the MNS's prospects dwindled further when it lost control over Nashik Municipal Corporation and its strength in the cash-rich Brihanmumbai Municipal Corporation was reduced to single digits.
Sharad Sonawane, the only MNS MLA, quit the party to join the Shiv Sena just before the Lok Sabha polls. Six out of seven MNS corporators crossed over to the Shiv Sena in 2017.
"He was in a mood to focus and prepare for 2022 BMC polls but it would have triggered an exodus from the party if he had decided not to contest (the 2019 Assembly election), said a former MNS corporator, speaking on the condition of anonymity. "There was a risk of MNS being restricted as a social pressure group which we explained to him."
Thackeray was convinced and he was considering contesting from Mumbai or from the area around the city, the corporator added.
"The plans to contest from 25 to 30 seats have now turned into contesting from more than 100 seats. We may end up contesting from more seats than any other party in the state in this election," said another MNS leader, speaking on condition of anonymity.
The official announcement, however, is yet to be made.
Thackeray is scheduled to address a rally in Mumbai on Monday and widely expected to break his silence.
MNS spokesperson Sandip Deshpande, however, termed speculation over Thackeray's absence as a media creation.
"We never said that we are not going to contest so there was no question of uncertainty. It was all a media creation. We are going to contest this election and the number of seats will be decided by the party soon," Deshpande told HuffPost India.
On the month-long silence of Thackeray, Deshpande claimed that that was his style of functioning.
"He doesn't talk every day. Raj Thackeray is a very creative person and you would witness that creativity in this Assembly election also, but I don't think there will be an alliance with any party," he added
However, a senior NCP leader told HuffPost India that there would be a hidden understanding with the MNS especially on the seats in Mumbai and area around it.
"We have asked our workers to work for him in the seats where we won't be putting candidates. The Congress is likely to do the same on some seats in Mumbai as his strength is more in Mumbai compared to us," the senior NCP leader said.
NCP chief Sharad Pawar has spoken of his party's willingness to accommodate Thackeray in the alliance.
"On Raj Thackeray's induction issue, we are yet to reach an understanding. We are discussing it. I cannot say that they (Congress) are totally negative but I am not the only person and our party is not the only party to decide it. Our other partners have to be taken in confidence before taking a final decision," Pawar told HuffPost India in an exclusive interview earlier this month.