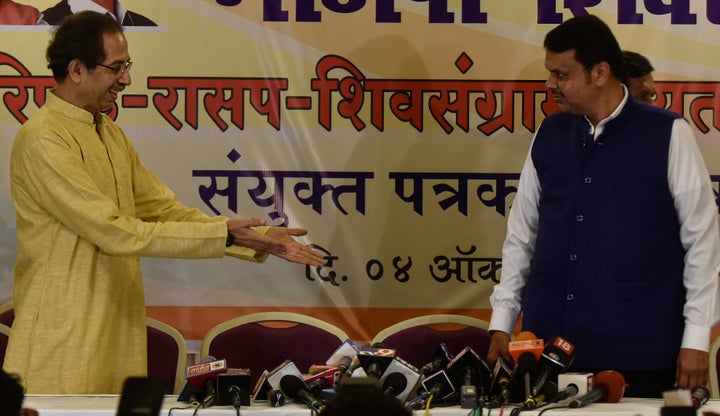 NEW DELHI—A day after the Maharashtra assembly election results delivered a setback to the Bharatiya Janata Party and not-that-bad numbers for the Shiv Sena, Sanjay Raut, Rajya Sabha MP and editor of the Sena mouthpiece Saamna has fuelled rumours about the future of the Saffron alliance by publishing an editorial and tweeting an original cartoon, both of which are highly critical of the BJP.
The editorial, written in the tone typical of the Shiv Sena's stridently critical style, noted that the Saffron alliance had lost 25 seats and warned the BJP that "this shows people have said beware, do not show arrogance of power!" It also wrote positively about the Nationalist Congress Party's performance, noting that the party has come back from the brink and the expected collapse of the Sharad Pawar-led outfit did not happen despite many leaders from that party joining the BJP.
But the cartoon is more direct and appears to hint at the fact that the Sena has the upper hand over the BJP in the current negotiations. It shows a tiger (symbolic of the Sena) smelling the lotus (election symbol of the BJP).
This cryptic signalling and absence of clarity about what party chief Uddhav Thackeray's 50:50 formula comprises has fuelled intense speculation in Maharashtra's political circles.
Reports have emerged about a possible alliance government to be formed between the Congress and the Shiv Sena. This is in addition to the Sena demanding the Chief Minister's post for Aaditya Thackeray, in the event of an alliance with the BJP. HuffPost India has reached out to Raut for clarification but he has not responded yet.