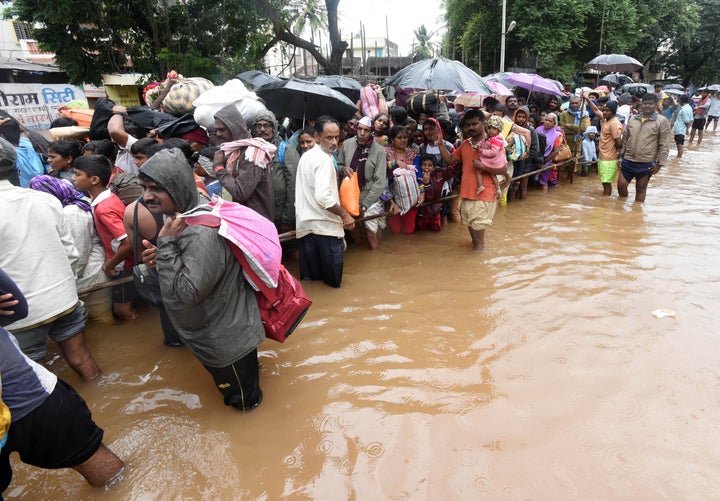 PUNE, Maharashtra: On Saturday, the BJP posted a video on Twitter in which it claimed that Maharashtra water resources minister Girish Mahajan was swimming to reach a flood-hit village.
"This is how BJP earns Sabka Vishwas," it added.
It's difficult to confirm from the grainy video whether the man circled in red, shown crossing a flooded area, is indeed Mahajan, the same minister who got flak a day ago for smiling, waving and clicking selfies during a boat ride to monitor the flood situation in Kolhapur, one of the three districts in the state that have been worst hit by the deluge.
Mahajan is not alone in drawing the ire of the opposition, which has sensed an opportunity to corner the state government just months ahead of the assembly elections.
A week ago, as rains began to ravage western Maharashtra, chief minister Devendra Fadnavis was busy with his "Mahajanadesh Yatra", launched to showcase his government's achievements, in the eastern part of the state.
When the yatra was finally suspended on August 7, it was to mark the death of former external affairs minister Sushma Swaraj.
Fadnavis only reached western Maharashtra to review relief efforts on 8 August, after the situation had worsened and over a lakh people had been evacuated to relief camps.
"He suspended his yatra only after our criticism. But then he involved himself with meetings of plot allocation. It shows how seriously he took it (flood situation)," alleged NCP spokesperson Nawab Malik.
At least 40 people have died and over three lakh been evacuated in the state since August 4.
Allegations of mismanagement
A series of missteps by the government has led to journalists and residents of Sangli, Satara and Kolhapur districts taking to social media to express their anger.
When Subhash Deshmukh, senior BJP leader and minister in charge of state cooperative, relief and rehabilitation, visited the submerged areas, he was surrounded by angry residents who interrupted him as he was talking to journalists.
"Your administration is not proper here. You are useless. You are sending boats after four days. Nobody has helped us yet," local residents told Deshmukh in front of journalists.
The minister was in danger of being roughed up and the cops present at the spot had a tough time getting him away from the area.
"What is this government's priority? To print promotional stickers at the time of floods? They have delayed relief by two days just to print promotional stickers from them. You will kill our people because of your publicity," alleged Dhananjay Munde, NCP leader and the leader of opposition in Maharashtra legislative council.
A government resolution dated August 7, which said that 10 kg rice and wheat would be provided, but only to those families that were facing floods for more than two days, added to the furore.
"Should people drown themselves in water now to get the relief?" Munde asked, calling the government resolution "Tughlaqi".
Another government resolution dated August 8 forbade officials from providing relief money in cash and asked them to transfer it directly to bank accounts, but forgot to take into account that almost all banks and ATMs in Kolhapur and Sangli were closed due to the floods.
It's not just the opposition—Shiv Sena, which never misses a chance to take a potshot at its alliance partner BJP, has also stepped into the fray.
"12 times more rainfall has been witnessed this year. But there were irregularities in the disaster management. Many boats were not working properly. The administration was really careless in this," Dhairyashil Mane, the Shiv Sena MP from Hatkangale Lok Sabha seat in Kolhapur, told BBC Marathi.
The biggest reason the government is being pilloried is for allegedly ignoring rising water levels in dams and rivers in western Maharashtra.
Fadnavis himself has conceded that the flood was caused by the heavy discharge of water from dams in the area after unprecedented rainfall.
But any questions about the administration's lack of preparation have been shot down.
When some journalists asked him in Sangli why the administration did not act even when numerous media reports pointed out the increasing water levels in the area, Fadnavis replied, "you are absolutely wrong," almost setting off a skirmish at the press conference.
While dams in western Maharashtra were discharging huge quantities of water, Karnataka's Almatti dam, situated on the border of Maharashtra, was not letting out equivalent amounts of water.
Fadnavis admitted in his press conferences in Kolhapur and Sangli that less discharge from Almatti, even as dams in Maharashtra were overflowing, resulted in backwaters, which caused floods.
"When some local journalists asked him in Sangli why the administration did not act even when numerous media reports pointed out the increasing water levels in the area, Fadnavis replied, "you are absolutely wrong," almost setting off a skirmish at the press conference."
But he refused to take the blame for not asking Karnataka to release more water, saying that the rainfall was unprecedented.
"I have now spoken to the Karnataka chief minister and he has assured to allow discharge of water upto 5 lakh cusec litres of water from Almatti now," he told reporters in Sangli on Saturday.
He denied that Mahajan was clicking selfies during flood relief efforts and blamed the weather for the delay in rescue operations.
To a question on why did he not arrive at the affected areas earlier, the CM said that his helicopter was not given permission to land.
While the government is currently on the defensive, it's anybody's guess whether the fragmented opposition will be able to capitalise on this ahead of the assembly elections.
Despite infighting and allegations of complacency, the BJP-Shiv Sena combine had managed to win 41 of the 48 Lok Sabha seats in the general election in May.