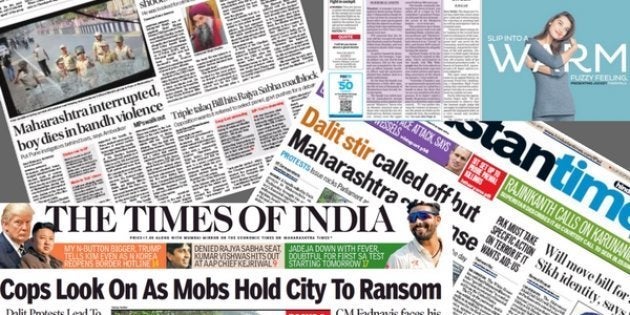 In an editorial for The Print, Radhika Vemula, the mother of Rohith Vemula, a research scholar who committed suicide in 2016 after complaining of caste oppression, criticized India's mainstream newspapers for perceived bias in covering an ongoing Dalit movement in Maharashtra.
"Our need to fight back has been simmering for the past two years. The struggle that has been demonstrated Tuesday and Wednesday, has thus been viewed more as a resistance. It was a much-needed resistance against the ongoing atrocities of the BJP in Maharashtra, and also at the Center," Radhika wrote in her scathing oped.
"Today, there have been calls for a Maharashtra bandh, but what media is reporting as violence is in fact a manifestation of the neo-Peshwai. These are the forces of the Sangh Parivar, the BJP, and the casteist Hindu polity," she said.
It is a sentiment reflected by many tracking the protests that broke out since a 28-year-old Dalit activist was killed in violence during the bicentenary celebration of the historic Bhima-Koregaon battle of 1 Jan, 1818, that marked a Dalit victory over caste oppressors.
A day-long call to strike by Prakash Ambedkar, the grandson of iconic Dalit leader BR Ambedkar, to protest violence by right-wing outfits at the Pune event, saw massive disruption of essential services. Trains were halted, office and school-goers were advised to stay at home, protestors pelted stones, broke car and bus windows and blocked a highway.
There is no question that the call to strike peacefully, a traditional tool of resistance during political unrest, was ignored by a section of protestors as Dalit anger spilled into the streets of Mumbai. In India's caste hierarchy, Dalits rank the lowest and are often subjected to gruesome atrocities by members of of the upper caste and denied some of their basic human rights. Some incidents have marked blood-soaked periods in history of India's struggle to establish liberty, equality, and fraternity.
In 1991, a young Dalit man was beaten up because his feet accidentally touched an upper caste Reddy woman's in a cinema hall in Tsundur in Guntur district of Andhra Pradesh. In retaliation, 13 Dalits were massacred. In September this year, endosulfan was poured into a well, the only source of drinking water for Dalit families in Channur village in north Karnataka's Jewargi taluk. In April, a Dalit groom was beaten up by Rajput men in Sanjarwas village in Haryana's Charkhi Dadri district for riding a horse to his own wedding. Generations of Dalits have faced exclusion from all social rituals that bind communities together — they aren't allowed to watch garba, or keep a moustache. A Dalit mother and her unborn child were killed because she accidentally "touched" a bucket owned by an upper caste woman in Uttar Pradesh, though untouchability has been outlawed by India.
It's possible that there is a conscious media bias involved while reporting incidents of "Dalit violence" and in the playing down of the street protests — seen by Dalits as a new wave of resistance against caste oppression — as "traffic nightmare" and "inconvenience". It's not that there wasn't actual violence in the protests. Stones were pelted and a teenager got trampled to death while escaping the police as Ambedkarite leaders called off the bandh. There should have been better intervention by state police and by the leaders of the movement in calming tempers and keeping the strike peaceful. There was anger at the disruption of Mumbai's busy daily life.
And some of that anger was evident in the headlines the day after, albeit at collective inconvenience, and not at the violence that sparked the protests in the first place. This is a moment of Dalit uprising, many claim, that mainstream media is trying to whitewash as disruption.
And why not? Dalit representation in Indian newsrooms is minimal even in 2018, and as a result, the coverage either lacks empathy, as in the case of the headlines today, or the reporting is either sensational or perfunctory. But that is changing as editors realise that stories of social injustice find a wide Internet audience.
"Ten years ago, English newspaper editors were still telling reporters that there was no readership for stories of atrocities on Dalits, Adivasis and Muslims. Today, they are paying airfares and booking taxis for reporters willing to travel to remote villages and report the latest atrocity down to its last emotional detail," Sudipto Mondal wrote in this piece for Al Jazeera.
A content analysis of media revealed that apart from a few cases that attract political attention, like that of the Dadri killing or Una flogging, the coverage of Dalit atrocities have been disproportionate.
A study conducted by Yogendra Yadav, a senior fellow at the Centre for the Study of Developing Societies, Anil Chamadia, a journalist with the Media Study Group, a Delhi-based think tank, found, unsurprisingly, that Hindu upper caste men dominate India's national media.
"They are about eight per cent of India's population but among the key decision-makers of the national media, their share is as high as 71 per cent,'' the study pointed out.
Even on Thursday, The Tribune headline said 'Maharashtra interrupted' — with the underlining implication of a state inconvenienced, without context for cause. The Times of India headline said 'cops look on as mobs hold city to ransom.'
Here are some of the other headlines: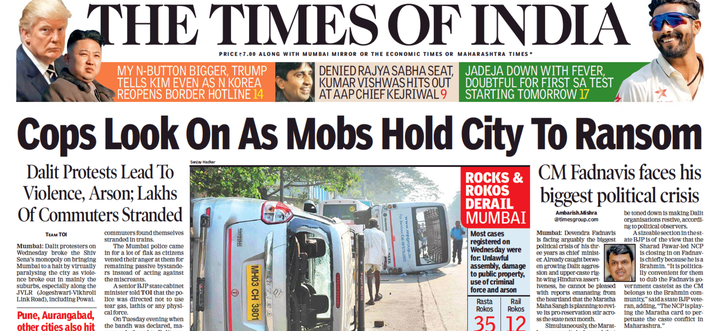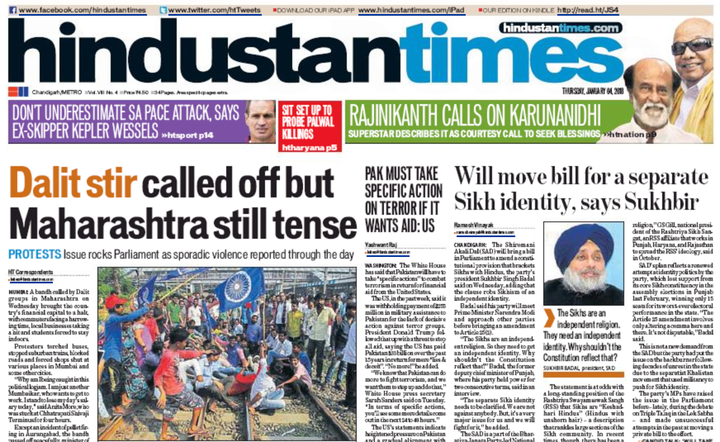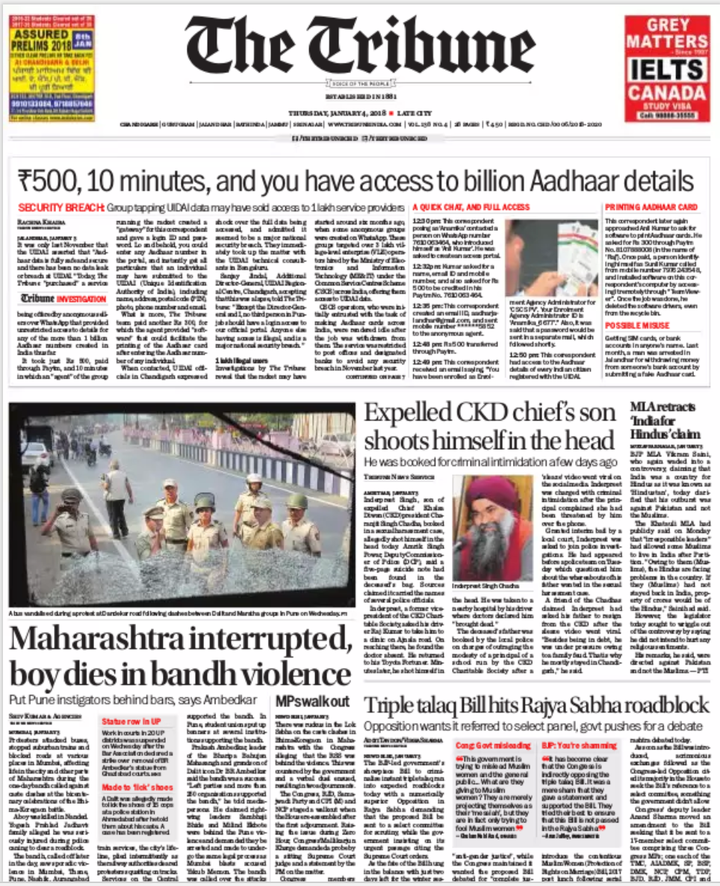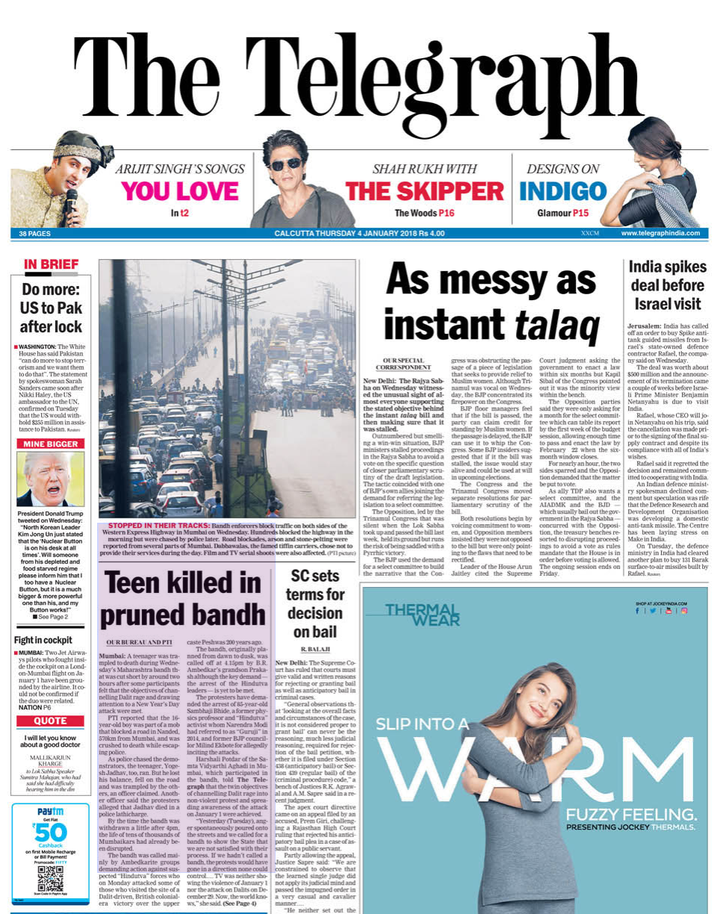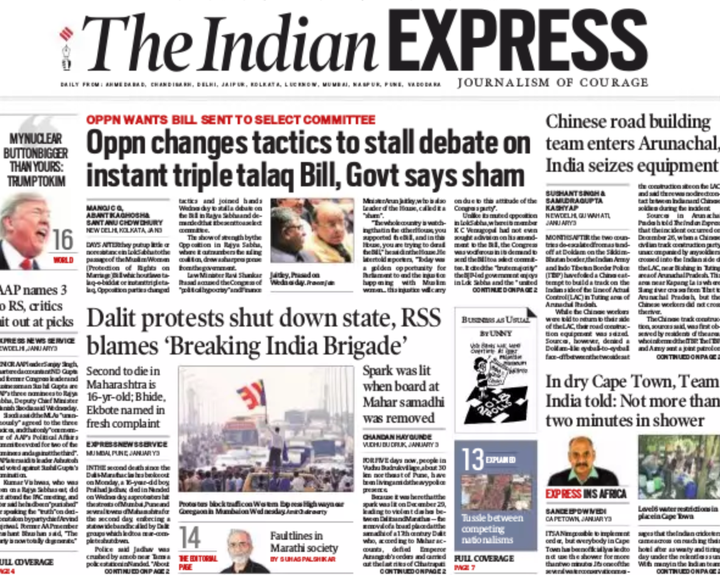 In 2015, Media Studies Group, a Delhi-based think tank, presented a charter of demands which included the need for an SC/ST reservation policy for Dalits in state media houses such as Doordarshan, Rajya Sabha TV, Lok Sabha TV and Prasar Bharati.
Those present at the event to mourn Koppula, possibly the first Madiga Dalit journalist to write for English print media, argued the need to formulate guidelines for an institutional mechanism for addressing the grievances, cases of discrimination, elimination of contracts, implementation of the recommendations of the Majithia Wage Board, 2011, ensure employment for people from marginalised communities in private media houses, and ensure pay parity.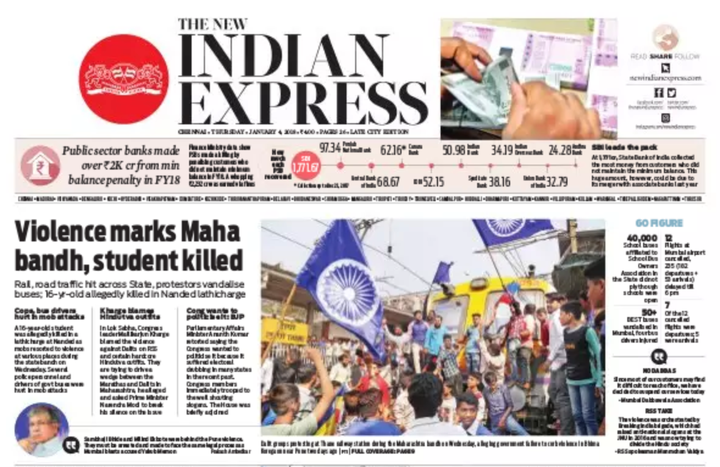 In a civilised society bound by laws of the land, violence has to be condemned unequivocally, no matter who the perpetrator is, no matter what the instigation. However, there is an urgent need to sensitize mainstream media about how they cover social inequalities — and let's not deny that they cover it through the prism of urban, upper caste privilege — which will happen when there's true representation in the newsroom.
Popular in the Community