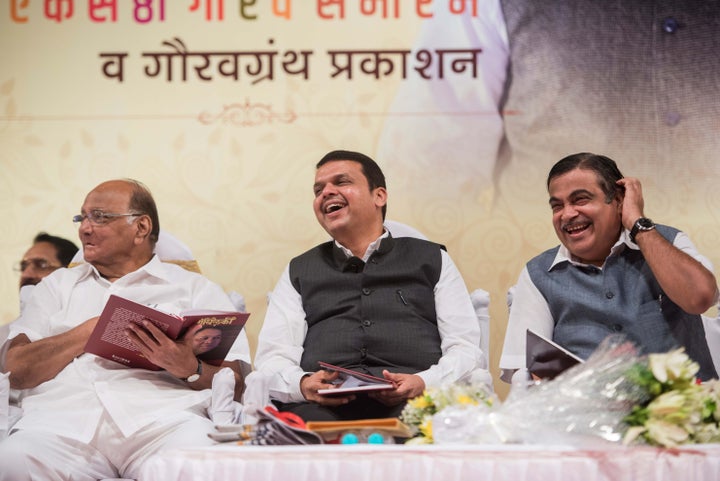 NAGPUR, Maharashtra: In the 2014 Lok Sabha elections, Uttar Pradesh hogged all the limelight when the state delivered 73 of its 80 seats to the BJP-led NDA. BJP alone walked away with 71 seats.
However, there was one more state which had tilted the balance heavily in favour of the BJP. Maharashtra, which sends the second highest number of MPs to the Lok Sabha, gave 42 of its total 48 seats to the NDA.
BJP contested on 24 seats and managed to win 23 whereas its ally Shiv Sena won 18 out of the 20 seats it contested. One seat went to farmers' leader Raju Shetti, the then ally of BJP-Shiv Sena, who is now with the opposition Congress-NCP in the state.
Almost all exit polls this time have given 34-40 seats to the BJP-Shiv Sena combine in Maharashtra and a meagre 4-10 seats to the Congress-NCP combine.
If exit polls are any indication then the Vanchit Bahujan Aghadi — a political front of Assaduddin Owaisi's AIMIM and Prakash Ambedkar's Bharipa Bahujan Mahasangh — appears set to damage the Congress-NCP combine in the state. BVA was essentially projected as a Dalit-Muslim platform.
The exit poll predictions also indicate that MNS chief Raj Thackeray, who campaigned against the BJP despite not contesting on a single seat this election, did not have any impact in this poll.
But if the exit polls are anywhere close to the actual outcome, then the biggest factor to blame would be the mess in the Congress's own house.
From the selection of candidates to campaigning to organising Congress president Rahul Gandhi's rallies, the party was in utter disarray this time. Its state unit chief had even threatened to resign over "not being able to be in control".
Many local units of the party complained about "outsider" candidates being imposed in constituencies like Nagpur, Chandrapur and Mumbai North constituency.
Civil society groups had launched a campaign against Congress' candidate from Ratnagiri-Sindhudurg Lok Sabha seat, Navinchandra Bandivadekar, for his alleged links with Sanatan Sanstha. However, the state Congress unit, led by Ashok Chavan and party spokesperson Sachin Sawant, openly backed Bandivadekar.
On the other hand, the NCP and BJP contested this election in a much more organized way despite family turmoil inside Pawar family and the Nitin Gadkari-Devendra Fadnavis rivalry in Maharashtra BJP.
"We had basically left this election on the people. We did not contest it at all," a senior Congress leader admitted.
Ahead of counting day, here's a look at the star candidates, turncoats and bellwether constituencies in Maharashtra.
List of star candidates and their constituencies
Nitin Gadkari: The union minister for surface transport, river development, and Ganga rejuvenation is seeking re-election from Nagpur Lok Sabha seat. Gadkari is considered the RSS's man and was made the youngest president of the BJP in 2009. Gadkari is still viewed as someone who can replace prime minister Narendra Modi in case the BJP doesn't get a majority on its own, though he has denied it multiple times. A visit by an RSS delegation including general secretary Bhaiyyaji Joshi and BJP general secretary Kailash Vijayvargiya to his residence in Nagpur on Tuesday only added to the buzz around Gadkari. Gadkari is pitted against the Congress's Nana Patole.
Ashok Chavan: The former Maharashtra chief minister and president of Maharashtra Congress is contesting from Nanded Lok Sabha seat in Marathwada region of the state. The son of Congress stalwart Shankarrao Chavan, Ashok Chavan's career witnessed a downturn when he was forced to resign as Maharashtra CM in 2009 over Adarsh society scam. However, he was one of the only two Congress Lok Sabha MPs from Maharashtra in 2014 when the Saffron combine swept the state in "Modi wave". Rahul Gandhi then appointed him as the chief of Congress unit in the state after BJP-Shiv Sena ousted the party from power following a 15-year rule. Chavan, however, appeared far from being in control and the grand old party slid to a new low by losing many local bodies and civic polls under him. By forcing him to contest from Nanded, Rahul Gandhi has indicated that he is in a mood to bring new leadership in this politically crucial state. The same leadership will hold for assembly elections in October this year. The BJP has fielded Pratap Patil Chikhalikar against Chavan.
Parth Pawar: NCP supremo and Maratha strongman Sharad Pawar's grandnephew is contesting from Maval Lok Sabha seat in western Maharashtra. The son of Sharad Pawar's nephew and popular NCP leader Ajit Pawar, Parth's wish to contest this election triggered a turmoil inside the Pawar family as Sharad Pawar dropped his plans to contest election from Madha Lok Sabha seat. There were rumors about Sharad Pawar's other grandnephew Rohit being unhappy with Parth's promotion, however, Sharad Pawar's daughter Supriya Sule tried to quell the speculation by putting a united family picture with Rohit and Parth. Parth's immaturity was on open display during the election campaign but many believe that Ajit Pawar would make sure his son gets a smooth entry in politics.
Prakash Ambedkar: The grandson of Dr.B.R.Ambedkar is contesting this election from Solapur and Akola seats in Maharashtra. The head of Bharipa Bahujan Mahasangh, Ambedkar has aligned with Assaduddin Owaisi's AIMIM and formed Bahujan Vanchit Aghadi. Ambedkar's performance is likely to decide the fate of Congress-NCP in the state as any vote swing towards him will dent the "secular vote" in the state.
Bellwether constituencies
Beed: This Lok Sabha seat situated at the center of the state was represented in 2014 by popular BJP leader Gopinath Munde. He was sworn in as a cabinet minister in Modi cabinet. But the then tallest BJP leader in Maharashtra died in a road accident a few days after he was sworn in. This changed the entire political scenario in the state and paved the way for the emergence of BJP's second rung leadership. The seat went for bypoll with state assembly election later in 2014 and was won by Munde's daughter Pritam by a record margin of 6,96,321 votes. But Pritam has maintained a low profile in the last five years and Munde's legacy has been taken forward by his elder daughter Pankaja, who is an MLA from Beed and a minister in the Fadnavis cabinet. But Munde's nephew Dhananjay challenged Pankaja after Sharad Pawar inducted him in NCP and made him the leader of opposition in the state legislative council. Beed has witnessed street battles and verbal duels between Pankaja and Dhananjay in the last five years. This time NCP has fielded Bajrang Sonwane against Pritam, but the battle remained between Dhananjay and Pankaja.
Baramati : This seat adjacent to Pune city is considered a pocket borough of the Pawar family led by Sharad Pawar. He won five consecutive times from this seat before ceding the seat to his daughter Sule. Before Sharad Pawar, his nephew Ajit represented the seat in 1991. Sule won the seat in 2009 but managed to retain it with a low margin in 2014. This time Sule is pitted against Kanchan Kul, the wife of Rahul Kul, an MLA of BJP's ally Rashtriya Samaj Paksha. Local reports suggest that Sule might not have a cakewalk this year as OBC Dhangar caste has substantial voters in this seat and RSP is essentially a Dhangar party. Any setback in Baramati would alter the bargaining power of Sharad Pawar ahead of assembly elections in the state.
Solapur: This reserved seat for SC is witnessing a contest between senior Congress leader Sushil Kumar Shinde and former union minister Prakash Ambedkar. The BJP has fielded Jaysidheshwar Swami, a local Hindu priest from this seat. All eyes will be on this seat's outcome as it will be interesting to see if Ambedkar's grandson can win from a reserved seat which is not far from Bhima Koregaon, where attacks on Dalits had propelled Ambedkar to the limelight.
Mumbai North Central: This constituency is being watched keenly as the daughters of two popular politicians are pitted against each other. Late Congress leader Sunil Dutt's daughter Priya Dutt is contesting against late BJP stalwart Pramod Mahajan's daughter Poonam Mahajan.
Mumbai North : This Lok Sabha seat in Mumbai suddenly shot to fame when Congress declared Bollywood actress Urmila Matondkar as its candidate. Matondkar made sure the buzz was not restricted to media and forced her opponent BJP's Gopal Shetty to hit the streets for campaign despite winning this seat in 2014 by around 4.50 lakhs votes. Matondkar surprised many by her political maturity and has made it difficult for the pollsters to predict the outcome of this seat.
High-profile turncoats
Sujay Vikhe Patil: The son of Radha Krishna Vikhe Patil, senior Congress leader and the leader of opposition in the state assembly until recently, Sujay is contesting from Ahmednagar Lok Sabha constituency on a BJP ticket. Sujay joined BJP on the eve of elections and his father openly defied his party by refusing to campaign for the NCP candidate from this seat. The Vikhes accused Sharad Pawar of attempts to isolate the family by demanding this seat as a part of seat sharing arrangements. Radha Krishna Vikhe Patil later resigned from the post of leader of the opposition and is said to be contemplating quitting the Congress.
Nana Patole : The former BJP MP from Gondia-Bhandara Lok Sabha seat joined the Congress in 2018 in protest of alleged high handedness of Prime Minister Narendra Modi. The Congress has fielded him against Nitin Gadkari from Nagpur seat. An undercurrent against the BJP on the day of election and caste equations in this seat have made Patole hopeful about a surprise victory.
Popular in the Community