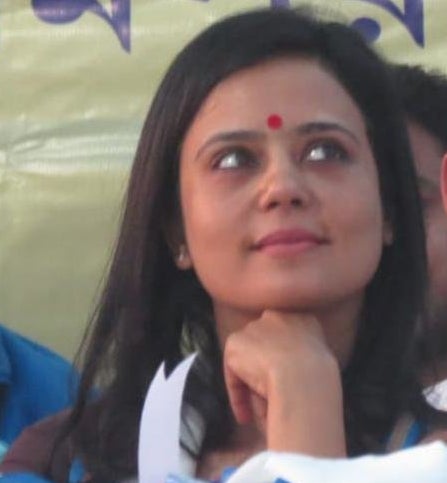 In Karimpur, a small Bengal town on the Bangladesh border, data privacy issues don't win votes. Yet, Mahua Moitra, the Trinamool Congress legislator from the constituency, is the only politician who has gone to court to stop the Modi government from snooping on our social media feeds or breaking into our computers.
Moitra has three petitions pending at the Supreme Court against the Modi government's social media and surveillance efforts. The first one against UIDAI's attempts to gauge popular sentiment on Aadhaar by monitoring social media accounts, the second against the Ministry of Home Affairs notification empowering 10 government agencies to pre-emptively intercept, monitor or decrypt any computer to prevent any cognisable offence. She has filed a third petition seeking an interim stay on the government's efforts of surveillance of computers in West Bengal.
The 42-year-old recounts she was on a vacation last year when she came to know about the Information & Broadcasting Ministry notice inviting proposals from private agencies to help them monitor social media accounts.
"The way they did it was so sly!" Mitra said. She added that the I&B ministry published the request for proposal (RFP) just on their website. "There is no public consultation, there's nothing. How many people go to their website to check all this?"
In August, a few months after Moitra filed her petition in the Supreme Court, the attorney general of India informed the Supreme Court that they were withdrawing the I&B ministry's proposal to monitor social media accounts. Mitra said that she immediately thought it was 'too good to be true'. Turns out, she was right.
"But while the attorney general was standing up in the court and saying that they were withdrawing the proposal, the UIDAI was floating bids inviting the exact same kind of proposals for social media surveillance. It was shocking," Moitra said.
When, Moitra moved court against the UIDAI proposal, KK Venugopal argued that the government was ready to make the changes to accommodate Moitra's objections.
"We told them, it's black and white for me. We don't want it," Moitra said.
WHY PRIVACY?
Lawyer Apar Gupta, founder of the Internet Freedom Foundation told HuffPost India that Moitra's interest in the privacy issues seemed sincere.
"She has got top lawyers and she isn't doing it for publicity. She is pretty serious about fighting these issues," Gupta said. Gupta's IFF, along with Shreya Singhal, PUCL and another organisation has filed petitions alongside Moitra's against the MHA order on computer surveillance.
"Once they have the information, who knows what they will do with it. While the case is being fought, we need to stop them. We can't really ask them 'give our data back' even if we win the case, right?" Moitra said, explaining her decision to appeal for an interim stay on the MHA order in West Bengal.
During the course of the conversation with HuffPost India, Moitra repeatedly asserted that she has filed the PIL in her 'personal capacity'. Despite more and more people using smartphones and the internet, it is hard to explain an abstract concept like data privacy to an electorate more receptive to rousing speeches on religion, jobs or government schemes.
"Politically, it's at times difficult to get this sort of movement going. Also stopping this legally is both quicker and more effective," she said."If you go to a poor person in a village and say, we will give you a Jio sim for very cheap, you have to share your Aadhaar details, he or she won't understand the ramifications of it. I cannot explain this to my constituency and they won't care."
Mitra added that she was especially vexed by the fact that people like her mother, and millions like her, have no idea that their right to privacy is being infringed upon by the government.
At the same time, people don't realise that the personal information they share online could be used to target them in ways they were yet to comprehend. The government move to give security agencies wide-ranging powers of surveillance illustrates just how important it was for citizens to zealously guard their privacy.
"The government's argument is that the Section 69 of the IT Act has always been there, which allows them to snoop on people's computers. But the act specifies circumstances under which it can be done — during emergency, terror threats etc. And if the act is empowering this, then the section itself is in ultra vires the constitution and must be struck down," Moitra said.
RISE IN POLITICS
Mahua Moitra spent her childhood in Assam and Kolkata, and moved to the United States to study when she was 16. She studied economics at Mount Holyoke in Massachusetts and then worked as an investment banker in the US and London.
In 2008, she quit her job as a vice president at JP Morgan in London, and returned to India with the express purpose of joining politics. Her decision, Moitra said, was shaped by a 10 year college reunion where she felt a strange restlessness.
"I told my ex-husband that I don't want to come for my 20-year reunion as a VP or something of JP Morgan," she said. She moved to India thinking that if it didn't work out in 5 years, she'd return to London.
Moitra joined the Congress in 2009, but soon realised that her party had no roots in the state, with next to no party workers left in the booth level. In 2010, she bumped into Mamata Banerjee on a Kolkata-Delhi flight, and soon moved to the TMC.
Rather than follow the think-tank, policy circle, Rajya Sabha seat route adopted by most middle class Indians hoping to enter politics, Moitra said she was keen to enter the hurly-burly of mass politics.
Six years later, in 2016, she contested her first election in the assembly polls — and won.
Her candidature was announced to palpable surprise in the Bengali media. The Anandabazar Patrika made repeated references to her giant sunglasses and how she was not used to speaking in Bengali in an article memorably headlined, "Oh this is a Memsahib, Karimpur is saying about Mahua."
The piece quoted an anonymous TMC leader who expressed his shock at her candidature, and claimed Mamata Banerjee was actually keen to get rid of Moitra.
Three years on, the Anandabazar Patrika has changed its tune. In January this year, the paper carried a piece titled 'Mamata's trust is in Mahua' that detailed how Banerjee has entrusted Moitra with crucial party work.
The piece elaborates how, impressed with her work in strengthening booth level organisational structure of the party, Banerjee has entrusted Moitra with campaigning and organisational work at the Lok Sabha constituency.
Moitra is a familiar face in television debates as well. "I don't go to all channels, especially ones where people are shrieking all the time," she said.
Wisely, Moitra tends to downplay her proximity to Banerjee.
"My ancestors were from here and I'm pretty comfortable working here," she told HuffPost India.
Banerjee, Moitra said, was the only politician to have survived and built a thriving party after moving away from Congress.
"Sharad Pawar did it, but where is NCP now? Pranab Mukherjee quit the party and started his own, but he had to go back," she explained. "But Banerjee has not only formed a party, but in 20 years, has taken over a state."