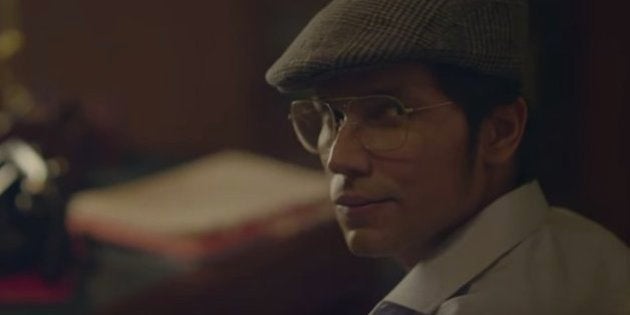 We are nearly 20 minutes into Prawaal Raman's Main Aur Charles, and here's what we have seen. A dead woman in a bikini, a woman taking off her pantyhose with the same finesse with which we try to scrape out the used end of a sello-tape roll. Then there are sirens, policemen speaking rapidly in Thai and the silhouette of a man, who you can guess is Randeep Hooda. Hooda's hairstyle is a tribute to Prem Chopra's short-lived hair days.
Meanwhile, here's what we have experienced - the longest 20 minutes of our lives.
If Hooda's lopsided smirk, occasional smile and perpetually narrowed eyes fail to act like caffeine on your nerves, you are most likely to miss the beginning of the film - which, by my calculation, starts after the film has officially run for at least half-an-hour.
If you were to glean the grain from the chaff in the film, it is about Charles' daring escape from Tihar Jail in Delhi in the seventies. Most of the remaining film is spent on the police's cat and mouse chase to catch Charles while he escapes from their grip every time. Only, it is a cat-and-mouse 'chase' only on paper. Thanks to the film's pace, it seems more like a cat-and-mouse morning walk to the viewers.
Now, does that sound like a film adaptation of the life of Charles Sobhraj, a notorious serial killer and con artiste who had the police of different countries lose their sleep over him? No, right?
Raman's greatest crime in Main Aur Charles is perhaps this. He took a real-life story almost tailormade to transform into a gripping thriller and turned it into what is at best a documentary on 70's fashion.
The film begins with Charles being on the run for the murder of two tourists in Thailand. He is caught in India and jailed. Several years later, he pulls off a daring jail-break and is on the run again. The police go after him again.
And how does the director establish that Charles is a shrewd, scheming, criminal mastermind? By making Randeep Hooda smirk. From decks of steamers, from prison cells, from behind the haze of bonfires, while riding bikes, while caressing women's backs (and butts, and cleavages, and cheeks), in court rooms, in interrogation rooms, amid a bunch of writhing hippies - basically whenever he is facing the camera. We are not sure if the director had information that Sobhraj lived in the hallucination that he was a model in a deodorant commercial.
With the story-telling being lazy and haphazard, the director spends more time on people describing what Charles is like, instead of making the titular character evolve and become convincing. From his lovers to his fellow conspirators, the film has too many monologues on how awesome Charles is.
It's almost a relief when the camera turns on Adil Hussain who plays the ill-tempered, righteous cop tailing Charles. Thankfully, the director focuses on him everytime the film threatens to turn into a virtual sedative. Hussain's character, though equally badly-written, still looks plausible thanks to fantastic acting.
Another casualty of the film's shoddy screenplay is Richa Chaddha. An actor of her calibre, Chaddha languishes for attention and good dialogues in the film. Her character is as flat as Randeep Hooda's stomach and not even slightly as engaging.
The film also has Tisca Chopra, whose role is only as important or coherent as the pigeons' in Dilwale Dulhania Le Jayenge.
Back to Randeep Hooda, who plays Charles. We are not sure if his brief was 'look hot', but besides that he literally does nothing else in the film. He has just one expression on his face and he clings to it like someone told him he will lose those abs if he didn't. There is no fire in his character and his accent slips more than once during the course of the film. And oh, he doesn't age even a little bit in the nearly twenty years the film covers - take that Olay!
If there is one purpose that Main Aur Charles serves, that's not bringing Charles Sobhraj's intriguing life alive on the big screen. It's threatening the position of Arjun Rampal and Ranbir Kapoor-starrer Roy as the country's most goodlooking lullaby.