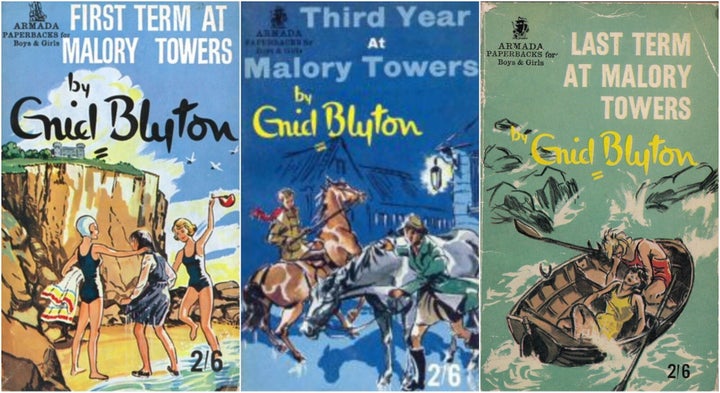 When I was young, I compulsively read and reread the books in Enid Blyton's St Clare's and Malory Towers series. Every afternoon after school, I would curl up in bed with the books spread around me. While reading about Blyton's schoolgirls eating "tongue sandwiches with lettuce" and wizard "jammy buns", I would nibble on clumsily folded slices of bread.
Even, and especially, at a young age, I felt like I would never be accepted in Blyton's imaginary world of English boarding schools. It filled me with a kind of self-loathing.
My feelings for the girls were passionately ambivalent. When Hilary Wentworth, the head girl of St Clare's, moved to India where her parents lived, I was filled with an anxious dread, feeling instinctively othered. Daughters of colonisers, I knew, would never have been friends with me. I made up stories in which I, like Carlotta who had grown up in a circus and was "dark like a gypsy", was part English.
In this pretending-to-be-white avatar, I conspired with the girls at Blyton's schools to boycott the ones who had been spiteful. I forgave others. I learnt that acts of goodness could cancel out misdemeanours. So we forgot Daphne's stealing because she also saved Mary-Lou from falling off a cliff.
Since the 1930s, when she became a bestselling writer, Blyton has been consistently popular and problematic. Executives at the BBC considered her a "tenacious second-rater", banning her and her works from its programmes and dramatisations for almost 30 years. The emerging liberal sensibilities of the Sixties were offended by her stereotyping. After her death in 1968, as unflattering details of her life were revealed, she became an even more polarising figure. Through the decades, her books have been derided for lacking literary value, being too simplistic, politically incorrect and eventually old-fashioned.
But children around the world continue to love Blyton and her stories about magical things in fantastic lands, children solving mysteries and escapades at boarding schools. She wrote some 600-odd books which have sold more than 600 million copies.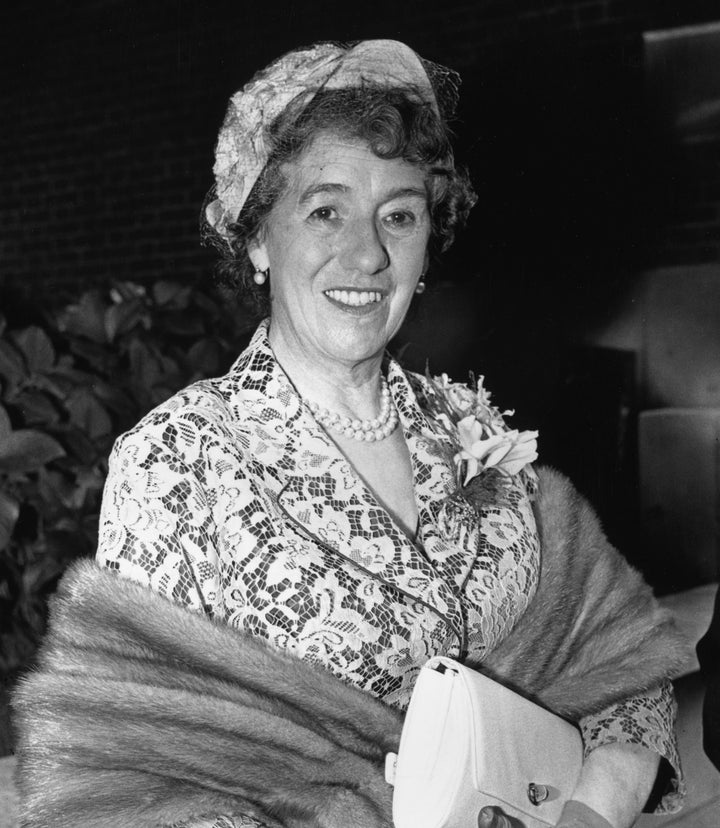 For the writer's 50th death anniversary last year, the United Kingdom's Royal Mint considered issuing a 50 pence coin commemorating the writer. But a committee, it was discovered last month, rejected the idea, dismissing the children's author as a "racist, sexist, homophobe and not a very well-regarded writer."
There were nostalgic protestations from readers who loved her books, as well as calls to cancel her altogether, and to instead invest in amplifying the voices of non-problematic writers.
A recent spate of Malory Towers adaptations may show a way out of this impasse. The writers of these interpretations often belong to communities unrepresented in Blyton's stories, and are now reimagining the characters in the books, subverting some of what was problematic, and just leaving the rest behind.
The Malory Towers books have always been among Blyton's most popular. They are set in a Cornish boarding school, built like a castle with four towers, on a cliff next to the sea. Over their six years at the school, the girls must learn to be better people and to manage their flaws: Darrell's fiery temper, Sally's jealousy, Alicia's sharp tongue, Irene and Belinda's "scatterbrained" carelessness, Mary Lou's timidity and "tomboy" Bill's preference for horses over people… these are all acceptable faults. Unlike Gwendoline Mary, who is vain, lazy and spiteful, an embodiment of all that is unacceptable in Blyton's universe.
The narratives are black-and-white oversimplifications, but deeply enjoyable. The girls learn lessons in generosity and geniality while planning midnight feasts, playing tricks and splashing around in the school's magnificent natural seawater swimming pool.
The sparseness of details and complications, and the potential to read between the lines, makes Blyton's stories conducive to adaptation. So writers have built on Malory Towers' foundation of friendship and goodness and made it radical because, many of them argue, these are essential values for our turbulent times.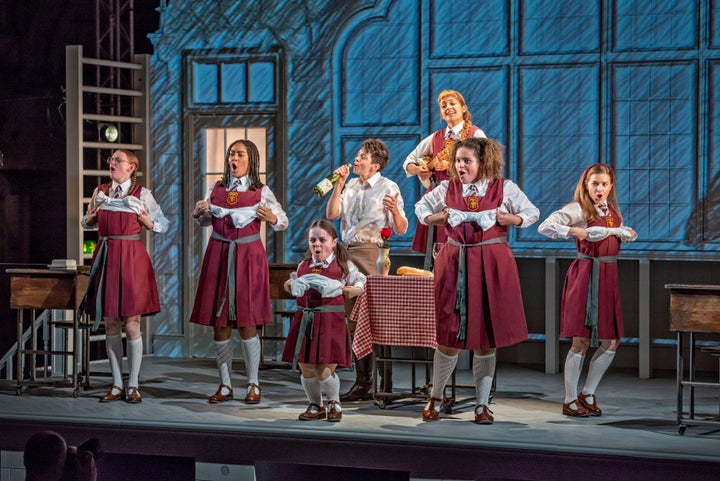 While announcing its adaptation, the BBC pointed out that these are relevant stories "of universal experiences such as shifting cliques, FOMO, bullying, crushes, peer pressure, and self-doubt". Emma Rice, who has adapted the books into a musical, says in the trailer that "we need some hope in these dark times and Malory Towers is profoundly hopeful".
To be counted amongst Malory Towers' successes, headmistress Miss Grayling would tell new girls every term, they must become "good-hearted and kind, sensible and trustable, good, sound women the world can lean on."
"Miss Grayling promises or, what is more honest, offers the hope of happiness," writes Nakul Krishna, a philosophy professor at the University of Cambridge, in an essay in Aeon magazine. The headmistress, he says, is suggesting that the surest way to be happy "is to take the happiness of other people just as seriously as your own."
Krishna's essay, written in 2016, described the world of Blyton's school stories as "unfashionable". It is how the writer had been seen for decades, even during her lifetime. This is possibly because the values of moral accountability and empathy that Blyton emphasised on, especially in Malory Towers, were from another very specific time in history.
Postwar Britain was recovering through socialist values, and the focus was on the expansion of the welfare state, which is built on a foundation of collective goodness and generosity. This is the zeitgeist Blyton captured in the Malory Towers books, which were written between 1946 and 1951.
The girls helped each other out. If somebody got bad news from home—or it was discovered that a new girl was acting out because of difficult personal reasons—they went out of their way to make things easier for her, often collaborating with the teachers. All pocket money had to be handed to the school matron, who would ration out an appropriate amount every week. All treats were shared. Even punishment was collective: bad behaviour could result in a complete social boycott, until the offender repented.
These themes of cooperation and collective responsibility are what, Rice told the BBC, makes Malory Towers "radical to its bones". Feminism, she wrote, in The Telegraph, is "at the heart of Malory Towers."
It is, at times, a problematic kind of feminism, which rejects traditional femininity and domesticity almost completely. But for her time, Blyton was subverting prescribed gender roles. Instead of talking and reading quietly—then considered ideal activities for young women—the girls spent their time "pounding about the lacrosse field". At the end of the series, Darrell, Sally and Alicia were going to college at St Andrews. The others picked suitable careers. There was no talk of husbands.
Blyton's understanding of gender identity was also ahead of her times. Many of Blyton's books included a "tomboy" character—George in The Famous Five, Bobby in St Clare's and Bill in Malory Towers— who is accepted with ease and grace by the others.
In Rice's musical, Bill is played by a nonbinary actor, Darrell and Alicia by women of colour and Sally has dwarfism.
This diversity is not anachronistic.
"At the end of the series, Darrell, Sally and Alicia were going to college at St Andrews. The others picked suitable careers. There was no talk of husbands."
Patrice Lawrence, who wrote one of the short stories in the new adaptation, New Class at Malory Towers, pointed out to The Guardian that there were Black and brown students at English boarding schools when Blyton was writing her books. Lawrence, who grew up in an Italian-Trinidadian family in mid-Sussex, writes about Marietta, a Black girl who grew up in a travelling circus, like Carlotta.
The book was a result of Blyton's publisher, Hachette, realising in 2016 that there was a "need to publish for today's readers, conveying all the charm, friendliness and magic of these stories to children whose lives were very different from the ones Enid Blyton wrote for originally".
But the lives of most children reading Blyton, from the beginning, has been very different from the ones she was originally writing for.
And so it's particularly cathartic to read Narinder Dhami's short story about Sunita Sharma, an Indian girl who easily slips into the Malory Towers universe — she is likeable, and funny, and plays on the trope of the Indian princess abroad.
"It was the thought that with this relaunch any young woman could really imagine the possibility of being there," Lawrence told The Guardian, "not just by doing the ethnic jump we've done most of our lives, that you have to pretend you're white, but to actually see yourself there".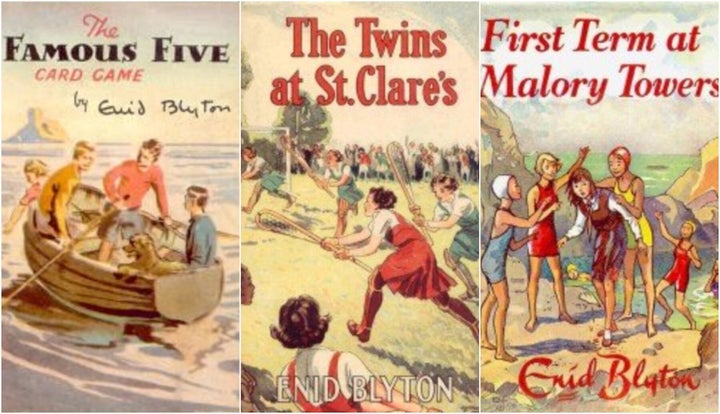 Malory Towers isn't perfect. The girls are ridiculously exclusionary—their sensibilities very specifically English middle-class, and to not be "sensible" was to be an outcast. Gwendoline was relentlessly bullied for her "silly" display of emotions, others from different backgrounds were considered "experiments" and were let go if they were unable to fit in.
These issues are addressed or called out in the new adaptations. Rice sees the "dreadful" Gwendoline as tragic and troubled. In the new book, Rebecca Westcott introduces Maggie, Gwendoline's impoverished cousin, who rebuffs the girls' offers to help, calling out the entitlement that laces their generosity. In another story, Lucy Mangan writes about Evelyn, a bookkeeper who introduces Darrell and the girls to their disregarded world of books and reading.
Writers around the world, especially those from countries that were once colonised by the British, often talk about their complicated relationship with Blyton—how she introduced them to the world of imagination but, at the same time filled them with a sense of alienation and othering.
In a 2009 TED Talk, Nigerian writer Chimamanda Ngozi Adichie used this complication to talk about "The danger of a single story," and the importance of multiple points of view. When she was 7, Adichie would write stories about white characters with blue eyes who played in the snow and talked about "how lovely it was that the sun had come out"—in Nigeria.
"What this demonstrates," she says, "is how impressionable and vulnerable we are in the face of a story, particularly as children."
This becomes, she argues, a way to view the world.
These new adaptations of Blyton's works are a way to counter the simplistic good/bad binary narrative against which she is usually read. And at this point in time, when nuance is in short supply, Malory Towers is a reminder that stories can be more complicated than they seem at first.