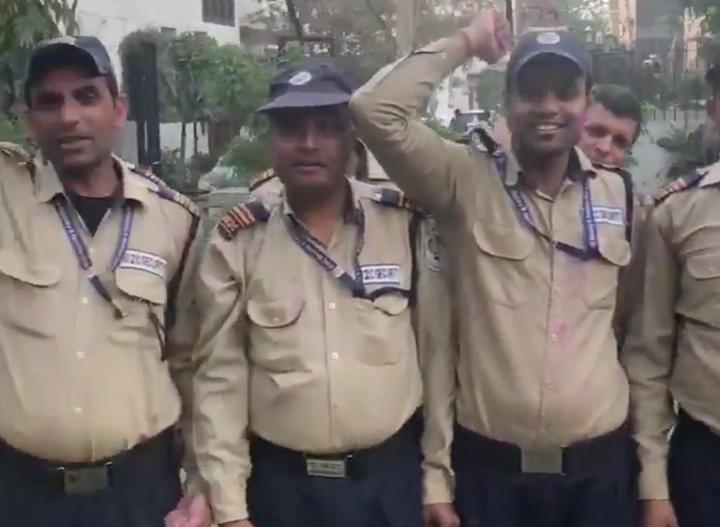 The BJP has been sharing multiple videos and testimonies where people, especially security guards, have been expressing their support for its 'Main Bhi Chowkidaar' campaign, but a closer look at these show that the outpouring may not be as spontaneous as it's projected to be.
HuffPost India has found that BJP leaders either own or head at least three security firms whose employees have been featured prominently in the videos shared by the party. This includes a BJP Rajya Sabha MP from Bihar and MLC from Maharashtra.
On the night of 20 March, Prime Minister Narendra Modi's Twitter handle, where he is now "Chowkidar Narendra Modi", quote-tweeted a video from a BJP Delhi general secretary, commenting that the entire country was proud of its "rockstar chowkidaars".
The 30-second video, posted by Kuljeet Singh Chahal, shows a group of security guards, both men and women, raising the slogan "Modiji ke saath hai, hum bhi chowkidaar hai" (We are with Modiji, we are also chowkidaars).
The reference is to the BJP's "Main Bhi Chowkidaar" drive, which it looks set to make the mainstay of its general election—on 17 March, Modi and other BJP ministers, office bearers, booth-level workers and other supporters added "Chowkidaar" to their Twitter names in an attempt to counter Rahul Gandhi's 'Chowkidaar Chor Hai' jibe as well as to project Modi as everyman.
What the BJP doesn't say is that most of the security guards shouting slogans in the video cited above belong to Mi2C Security & Facilities Pvt. Ltd. The name is visible on their uniforms and the company website has photos of employees wearing the same uniform.
The company's chairman and promoter-director Pranav Tek Chand has described himself as former national co-convenor of the BJP Industry Cell on his Facebook profile.
Chand told HuffPost India that while he had left active politics around four years ago, he was still a supporter of Modi. The guards at his company, he said, were participating in the BJP campaign in their individual capacities.
Amazingly, he said that the video was not made purposely for the campaign and his employees had gathered together for a reason he doesn't remember at all. "The video was shot at my office in the morning but I do not remember why the guards had gathered in my office. They were, in fact, excited about some policy announced recently by Modi ji," said Chand, who claimed that he didn't force or persuade the guards to appear in the video.
Modi had also addressed security guards over the phone on Wednesday for about 20 minutes where he sought to convince his listeners that the Congress's jibes at him were actually insults to the entire 'chowkidaar' community—some of the guards featured in this video, and other promotional videos shared by the BJP, belong to Bombay Intelligence Security (BIS) and Security and Intelligence Services (SIS) India, which also have clear connections to the party.
RN Singh, the chairman and managing director of BIS, is a BJP MLC from Maharashtra, who also told HuffPost India that he had no idea that his company's security guards had participated in the video. His employees showing up in uniform in a viral video was—somehow—just a happy coincidence.
"The guards who participated in the 'Main Bhi Chowkidar' campaign were from Bengaluru and must have taken permission from the branch head or any of the company's directors to appear in uniform. I am the Chairperson and also a BJP leader and do not interact with them directly," he said.
The founder and group chairman of SIS, which offers both security and cash logistics services, is RK Sinha, a Rajya Sabha member from BJP. His son Rituraj Kishore Sinha, the managing director of the company, is a state secretary of the BJP in Bihar.

Sinha senior's name had also cropped up in the Paradise Papers leaks in 2017, with his name being linked to two off-shore entities registered in Malta in 2008 through an SIS subsidiary.
Rituraj, who is based in Patna, told HuffPost India that he had not put any pressure on his employees to participate in the campaign. Unbelievably, he even claimed that his employees didn't even get leave to take part in the video, spending out of pocket to be a part of it!
"Even though I am holding a political post in BJP, we as a company did not participate in the 'Main Bhi Chowkidar' movement. My security guards have pledged support to Modiji at their own will and spent from their own pockets for travelling to participate in the campaign," he said.
Rituraj also claimed that the guards had participated in the campaign after receiving messages on their phones, though he did not specify who these messages were from.
"We did not provide them any logistic support or leave concession to shoot for the video," he said.