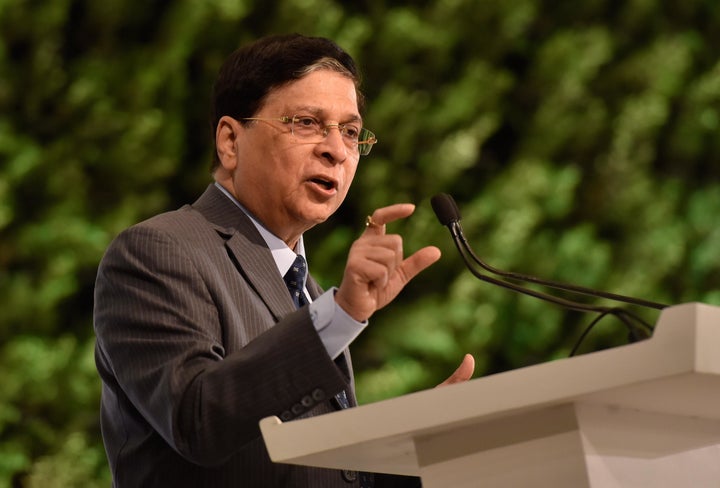 Former chief justice of India Dipak Misra said on Monday that it was his "personal view" that marital rape in India should not be made a crime.
Making marital rape an offence, said Misra, would create "absolute anarchy" in families.
Deccan Herald quoted Misra as saying, "I don't think that marital rape should be regarded as an offence in India, because it will create absolute anarchy in families and our country is sustaining itself because of the family platform which upholds family values."
Misra made the remarks at a conference organised by a Bengaluru-based law school.
Deccan Herald also reported that Misra said the idea of criminalising marital rape was borrowed from other nations and did not apply to India.
According to The Times of India, Misra made the remarks in reply to a question by a first-year LLB student: "Don't you think the rape laws in India must be amended? Shouldn't rape laws be made gender neutral and marital rape also be considered a crime?"
Misra, during his tenure as chief justice, had delivered several landmark judgements affecting fundamental and personal rights, including Section 377 and Aadhaar. In 2015, Misra was part of a two-judge bench that held that in a case of rape or attempt to rape, the conception of compromise would go against a woman's "honour".
LiveLaw had quoted the court's observation:
"these are crimes against the body of a woman which is her own temple. These are offences which suffocate the breath of life and sully the reputation. And reputation, needless to emphasise, is the richest jewel one can conceive of in life. No one would allow it to be extinguished. When a human frame is defiled, the "purest treasure", is lost. Dignity of a woman is a part of her non-perishable and immortal self and no one should ever think of painting it in clay. There cannot be a compromise or settlement as it would be against her honour which matters the most. It is sacrosanct."
Culture and family values have often been cited as an excuse for not criminalising marital rape, and many politicians have issued insensitive remarks on the subject.
India is one of about three dozen countries that has not criminalised marital rape.
In 2017, the Centre while responding to various petitions seeking the declaration of Section 375 (offence of rape) of the IPC as unconstitutional on the ground that it discriminated against married women, had said making marital rape a criminal offence would destabilise the the institution of marriage.
"What may appear to be marital rape to an individual wife, it may not appear so to others. As to what constitutes marital rape and what would constitute marital non-rape needs to be defined precisely before a view on its criminalisation is taken," it said.