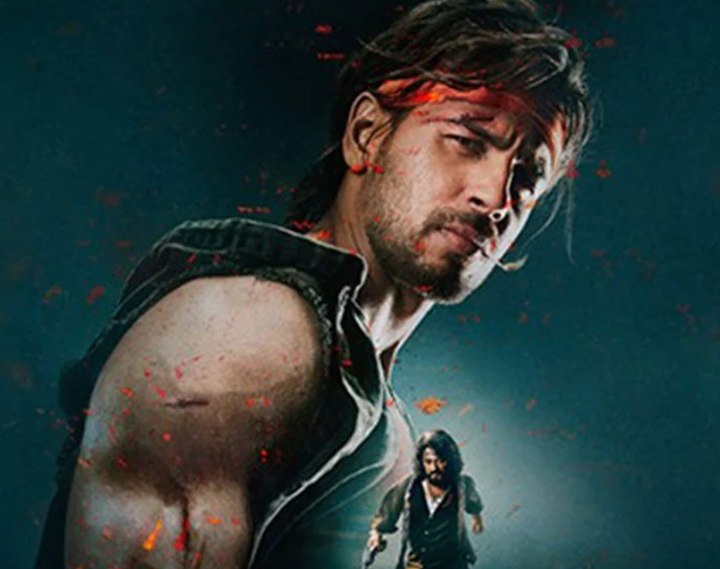 His latest outing is Marjaavaan, a film about two men who should've probably hooked up and released the tension instead of pretending to be mad at each other for no apparent reason. Other than queering the heteronormativity of the gangster genre, a lot of innocent lives would've been spared, including that of the hapless spectator, who has to endure this over 2-hour-long revenge fest.
Sidharth Malhotra plays Raghu, an orphan adopted by Mumbai's tanker mafia, (Nasaar) who also runs a prostitution ring. Raghu is a faithful henchman who eliminates Nasaar's enemies through bombastic dialogues and masculine bravura. However, Nasaar's OG son, the vertically-challenged Vishnu (Riteish Deshmukh), who, by his own admission is the devil's incarnate (LOL), feels slighted that Daddy is biased towards the ruggedly sexy Raghu and so he decides to get Raghu's mute girlfriend, Zoya, (Tara Sutaria) killed.... by Raghu himself. Chaos ensues.
That Marjaavaan is recycled trash from all the terrible movies of 80s is obvious. While those movies still had redeeming qualities, such as being fertile choices for ironic viewing, expect no such heroic deeds from Zaveri's Marjaavaan, a film so taken by its title that it keeps randomly repeating it in strange places (including the interval point where the title appears instead of the words 'intermission). So bereft is this nightmare from originality, that it invokes 'Marjavaan' (the song from Fashion) in an introductory scene of the sex-worker-with-a-golden-heart (Rakul Preet Singh, wasted). In another instance, Deshmukh's character is introduced with 'Teri Galiyan' the song from Ek Villain, where both him and Malhotra were pitted against one another and a woman was (yet again) violently killed to justify their angst.
It comes as no surprise, then, that Marjaavaan can't imagine a woman character who isn't a sex worker or an 'item girl' or someone being prepared for murder. Women in the film are devices for men to validate their machismo, vehicles who absorb brutal violence so the men can demonstrate their own. And how long will we keep writing parts where the woman's sole job is to trigger moral awakening for the tormented hero? Or tolerate repulsively vulgar songs where, before thrusting her body in a manner that satiates the male gaze, she says, "Kal Meri Shaadi Hai, Aaj Azaadi?"
As Marjaavaan's plot unfurls with the coherence that rivals a drunk man's gait, uninspiring and exhausting action sequences cover the screen, where Malhotra bashes up everyone, a Muslim man is brutalised in a mosque, and a key character is flung off the ledge of his own house.
In what feels like a surreal experience, the scenes are often disjointed and characters appear out of nowhere to participate in sequences they've little contribution to. The background score takes the film more seriously than the film takes itself while Deshmukh, in a performance that's half-parody, half-lunacy, drops braindead lines such as, "Kabhi volcano dekha hai...." or "bandook kitni bhi badi ho, jaan lene wali goli choti hi hoti hai."
Sidharth Malhotra, who often looks disappointed in himself, carries a matchstick in his mouth and keeps playing with it as if it'll enflame his character with angst sorely lacking from his face. His bulging biceps, which the camera makes a point of repeatedly zooming in on, carry more gravitas than his performance or the film's plot. While everyone in this film only talks in obnoxious parables and one-liners that send mixed-signals, it's a relief that Sutaria's character is mute, although she communicates exclusively through riddles, because, it's convenient, I suppose.
That she's from Kashmir and thinks the violence of the valley can be compared to Mumbai's mafia and how it's ruining the lives of the city's youth is the kind of politics you expect from someone who has Satyamev Jayte in his directing credits.
It's 2019 and we're still refurbishing archaic 80s trope we thought we were better without. One of the 'lines' from the film goes, "Duniya ka sabse khatarnak hathyar— dhai kilo ki bandook nahi, dedh kilo ka dimaag hota hai." It's time the filmmakers and writers who come up with such gems actually start believing in them too.