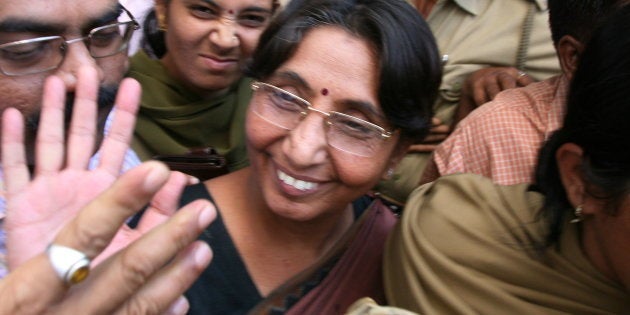 The Gujarat High Court on Friday acquitted former BJP minister Maya Kodnani, who was convicted in the 2002 Naroda Patiya riots case. The conviction of Babu Bajrangi, a Bajrang Dal leader, was upheld by the court.
A special fast track court had convicted Kodnani and Babu Bajrangi in 2012 for the massacre during the Gujarat riots that had killed 97 people -- mostly women and children -- in Naroda Gam in Ahmedabad. While she had been given 28 years in prison, Babu Bajrangi had been given a life term. They were among 32 people convicted in the case. Twenty nine others were acquitted.
A division bench of justices Harsha Devani and justice A. S. Supehiya pronounced the verdict after reserving its order in the case in August 2017.
The report also said that three of the 29 acquitted by the trial court have now been convicted.
The 2002 trial court order had called Kodnani the 'kingpin' of the riots.
"Accused 37 (Kodnani) has been proved to be the kingpin of the entire communal riot and one of the principal conspirators who has actively instigated the rioters and has abetted them to form unlawful assembly to execute the conspiracy hatched under her leadership with other co-conspirators."
Kodnani was a minister in Narendra Modi's cabinet when he was the chief minister of Gujarat.
The Wire.in had reported in 2015 that the judge who had convicted Kodnani feared for her life because she often received threatening calls and letter. Jyotsna Yagni also told TheWire.in that while she had written to the Anandi Patel-led BJP government, she had not gotten a response.
"It was my duty to inform the authorities about the threats and I have done that. I refuse to beg or grovel before anyone," she had said.
In September last year BJP chief Amit Shah had appeared to testify in favour of Kodnani and had told the court that she was not in Naroda Patiya on the day of the massacre. He had said that he saw Kodnani in the Gujarat Assembly on the morning of the riots.
He had told the SIT court, "I, Amit Anilchandra Shah, 53, national president of BJP, was a member of Sarkhej Assembly constituency. On February 28, 2002 at around 7.30-7.45 am, I left for Assembly where a condolence for the victims of Godhra carnage was held at around 8.30 am where I saw Mayaben Kodnani."
During the 2002 riots Kodnani was the president of the Ahmedabad BJP and then she was elevated to the position of Gujarat's minister of state for women and child development in the Gujarat government in 2007. She was forced to resign from her position after her arrest in the case in 2009. A gynecologist by profession, Kodnani has also been part of RSS's women's wing, the Rashtriya Sevika Samiti.
Popular in the Community