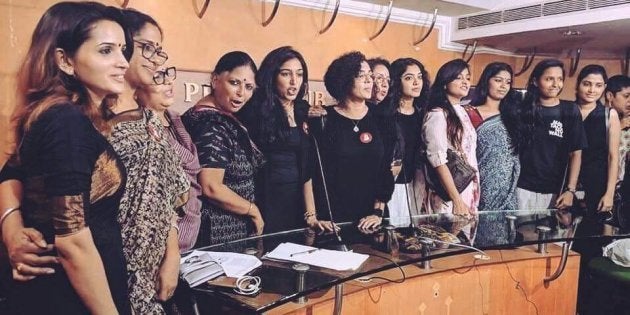 THIRUVANANTHAPURAM, Kerala—The #MeToo movement has sought to convey just how commonplace sexual violence is, by making it easier for survivors of sexual violence to speak out. But a press conference in Kerala last week struck a jarring and discordant note.
A discussion chaired by the Women in Cinema Collective (WCC) turned into a steady hour-and-a-half of harassment and aggression from media persons who had gathered to hear them speak.
"This is a gossip session!", "Isn't this just blackmail?" cried several male reporters in the room.
"Give us a name, give us a name, we want a name!" they interrupted, shouting down women who sought to speak.
The WCC had organised the event as they felt that the leadership of A.M.M.A. — the Association of Malayalam Movie Artistes — had let down women actors: AMMA had not supported an actor who had been abducted and brutally assaulted in a moving vehicle on 17 February 2017; the leadership continued to support Dileep, the influential 'mega star' in Malayalam cinema who has been accused of masterminding the assault, and has continued to be active in films. WCC also sought to draw attention to the need for a mechanism within the Malayalam film industry to address instances of sexual violence.
The press conference was telecast live on most regional channels, providing a startling look behind the scenes at the harassment women face for speaking up about—ironically—harassment.
"We weren't expecting this hostility. We had gathered there to share our sense of grief and disappointment," said veteran film editor and curator Beena Paul.
"The focus seemed to be on getting us to give up names for a sensationalist headline. There seemed to be an enormous expectation that we'd keep them entertained!" added actor Parvathy, who was the target of an online harassment campaign last year after she criticised some misogynist dialogues spoken by superstar Mammootty in a movie.
Archana Padmini, a curator and actor, summarised it as "a gathering of award-winning, talented artistes being insulted simply because we were women".
Double standards
This attack by the journalists on the WCC members was in stark contrast to the press conference that Mohanlal, the influential actor/producer and current president of A.M.M.A, had given on 9 July 2018 to address these issues. As one can see in the video, the reporters laugh and joke with him, do not interrupt, speak respectfully—indeed, almost reverently—and his many evasive and vague answers are unchallenged.
It was only social media that called out some of his proclamations such as "There is no male domination in the Malayalam industry, I have never noticed it!" and meaningless statements such as, "I am with the survivor, and I pray for Dileep".
At one point during the WCC press conference, director and actor Revathi shared an incident from a movie set about 25 years ago, where a 17-year-old girl had taken refuge in her room at night, saying that someone had been knocking repeatedly on her door, asking her to open it. Revathi said that they both waited the night out in fear, and that she wanted to make sure that nobody ever had to go through an experience like that again.
As Paul, the film curator pointed out, the male journalists present there didn't seem to care about the larger point.
"They began threatening Revathi: 'You can go to jail for this!', 'You are liable to be punished by the law for hiding this!', 'An FIR will be filed against you', 'Who was the man?' 'Whose film was it?' 'Which year?' 'Haven't you heard of POCSO?' That became their only focus. They were interested in diverting the discussion away from what we were trying to say. There were three or four women journalists in the room who also couldn't get a word in over all the shouting." Paul said.

Padmini, a member of the WCC, hadn't even planned to speak that day.
But as the aggressive cries of "Give us a name!" continued, she took to the stage and did just that. She named Sherin Stanley, a production controller who had sexually harassed her on the sets of the Mammooty film Pullikkaran Staraa. Her complaints to the Film Employees Federation of Kerala (FEFKA), the association for technicians in the industry, B. Unnikrishnan, who was its president, and to director Sibi Malayil had been unaddressed for over a year.
Unnikrishnan said soon after the press conference that legal action would be initiated against Padmini and the WCC for making false allegations against him, and that Stanley had been suspended the moment he received the complaint. But a couple of days later, when it became clear that Stanley was still active in the industry, Unnikrishnan did a complete 180, saying that he would not be filing a case. Stanley was also, finally, suspended.
The WCC and its actions set a new benchmark for gender justice in an industry that thrives on hero worship, and few dare to speak up against male superstars like Mohanlal.
But as Paul points out, "The media has been very supportive of the WCC and its work. We have always been grateful for that."
The reports that came out about the press conference later that day lacked the venom of the journalists who were present there, but the live telecast gave millions of viewers a glimpse into the hostility and sexism that women in the industry face.
Dileep, A.M.M.A and a long wait
The WCC said that they had waited patiently for months for A.M.M.A's leadership to respond to their demands for justice, to no avail. The organisation was formed in February 2017 as a response to the attack on a female actor planned by—it is alleged—Dileep, another male actor.
A.M.M.A. had refused to suspend Dileep from the organisation until he was arrested on 10 July 2017. When he was finally released after 85 days and four denied bail attempts, a tussle swiftly erupted within the organisation to reinstate him. Dileep was welcomed back into A.M.M.A. exactly a day after Mohanlal was appointed its new president, on 24 June 2018.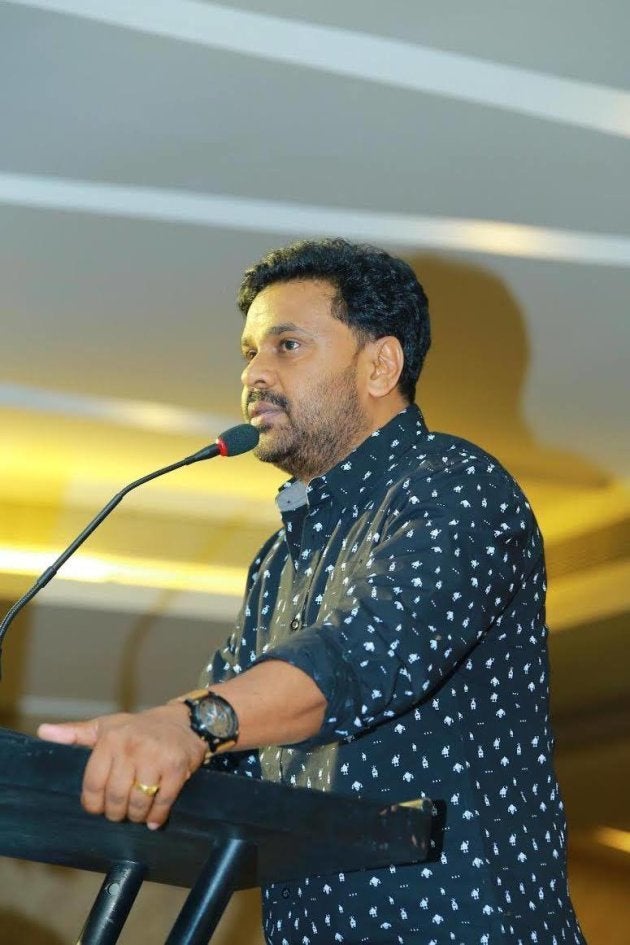 This prompted the survivor to leave A.M.M.A. the same month, adding in a letter that "Prior to this, this actor has snatched away opportunities of acting from me. When I had complained at that time, A.M.M.A. did not act seriously on my complaint. And when such a terrible incident happened, an organisation that I am also a part of tried to protect the man who has been accused of the crime. Realising that there is no purpose in being a part of such an organisation, I hereby resign."
Actors Rima Kallingal and Remya Nambeesan, and actor-director Geetu Mohandas also tendered their resignations in protest.
"Essentially, all we are saying is that we would like to work without being sexually assaulted," said Padmini.
In 2016, a study by the Oak Foundation had found that the gender ratio in the Indian film industry is one woman for every 6.2 males. In addition, only one in ten film directors (9.1%) are women. The report, titled Investigation on the Impact of Gender Representation in Indian Films, also found that fewer women go to theatres in India than men, primarily due to concerns about their safety.
A couple of days after the WCC press meet, veteran actors Siddique and KPAC Lalitha spoke out against the collective at a controversial press conference held, interestingly, on the sets of what was reportedly a Dileep film. Siddique belittled their claims, and threatened action against those members of A.M.M.A. who had criticised it.
He responded bizarrely to a statement by director Aashiq Abu and his wife and actor Kallingal that every film their production house took on would have an Internal Complaints Committee with: "That is Aashiq Abu's problem. Aashiq Abu is introducing an ICC. If Aashiq Abu feels that Aashiq Abu's films need an ICC and that complaints should be made to it, then it must be because Aashiq Abu feels that there several of these problems are occurring on Aashiq Abu's sets."
The Sexual Harassment of Women at Workplace (Prevention, Prohibition and Redressal) Act of 2013 clearly mandates that "all workplaces that have 10 employees or more are required to constitute an Internal Committee ("IC") to deal with complaints of sexual harassment". This, of course, has never been enforced in the Malayalam film industry, which is about a decade shy of turning 100 years old.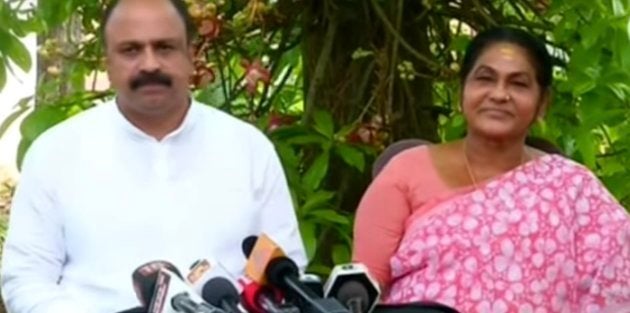 But on 17 October 2018, the Kerala High Court issued a notice to A.M.M.A., the state government and the Department of Women and Child Development on a writ petition moved by the WCC about establishing a mechanism to address cases of sexual harassment.
Siddique had also added that the abuse and rape threats crowding the WCC's social media pages were justified, and clearly an expression of how the public feels about the organisation. Lalitha, currently the chairperson of Kerala Sangeetha Nadaka Academy, said that if the actors who left A.M.M.A.— which includes the survivor—apologised to the organisation, it would consider reinstating them.
A.M.M.A. is now trying to distance itself from these statements, and establish that these are not representative of the views of the organisation as a whole. But nevertheless, the press conference by the two actors did give the public a glimpse into the archaic and problematic notions and structures the WCC is up against.
A.M.M.A, not AMMA
One of the most striking parts of WCC's press conference was that the actors refused to say the name A.M.M.A. as 'Amma', meaning mother in Malayalam. They kept spelling it out as A, M, M, A; the rejection of the acronym, and the shift to initialism seemed to signify that they do not wish to associate the organisation with the concepts of maternal warmth that 'Amma' signifies.
There are people who would like the status quo to continue, but sorry, time's up. They've been feeding off our silence all this while
"They like to claim that we are all one big happy family, a community. No, we are not, and we will not pretend any longer," said Parvathy.
WCC's historic meet stands linked to the assertion of women's voices against gender discrimination, challenging the silence and inaction which tacitly enables sexual violence. They face severe challenges, facing off as they are against a well-oiled machinery of patriarchy and power, but it is also clear that they are here to stay.
"There are people who would like the status quo to continue, but sorry, time's up. They've been feeding off our silence all this while," said Parvathy.
Before #MeToo, and after
The survivor of the February 2017 assault had approached the police, even though the assailants had threatened to release videos and images of the attack if she were to do so. This extraordinarily courageous act was well before the #MeToo movement had taken off in anywhere in the world, and she was operating in a world where no one really talked about their experiences of being sexually violated, and the likelihood of her being heard or having her accusers convicted was even less than it is today.
To put both the response of the media as well as A.M.M.A.'s snub of the #MeToo movement in context, let's take a look at some of the other responses from around the country after prominent men were accused of sexual harassment: actor Aamir Khan and producer Kiran Rao backed out of Subhash Kapoor's latest film after accusations against the director resurfaced; Akshay Kumar cancelled the shoot of Housefull 4 until director Sajid Khan stepped down; production house Phantom Films was disbanded after Vikas Bahl, one of the founders, was accused of sexual assault; Pappu Venugopala Rao resigned as secretary of the Madras Music Academy; Tanmay Bhat and Gursimran Khamba, two of All India Bakchod's founders, have stepped down, the former for his inaction regarding complaints from women, and the latter because of accusations of harassment; veteran journalist K.R. Sreenivas of The Times of India has resigned and C Gouridasan Nair of The Hindu has been sent on 'administrative leave'; Prashant K Jha of Hindustan Times has stepped down as Bureau Chief; Chintan Ruparel of Terribly Tiny Tales has resigned; actor-filmmaker Rajat Kapoor and singers Kailash Kher and Raghu Dixit have issued apologies; and even the Minister of State for External Affairs and former editor MJ Akbar has resigned.
In Kerala, Dileep has at least two big-budget projects releasing soon, one of which is an Unnikrishnan project. Earlier this month, actor and MLA Mukesh laughed away accusations made against him by casting director Tess Joseph, stating that he "did not remember" the complainant. Siddique, in his press conference, criticised both Aamir Khan and Akshay Kumar for walking out of their movies, and reiterated that A.M.M.A. would never deny Dileep job opportunities.
But the uproar seems to have had an impact. On Friday, 19 October, Mohanlal announced at a press conference that Dileep has resigned from A.M.M.A.
No regrets
"I miss being an actor," says Parvathy. "This fight has consumed our lives. But we will persist because we want to do the right thing. All we're asking is that they meet us halfway. But the most damning silence has been from people who can afford to take a stand with us, who have the power and privilege to speak, but will not."
Who accounts for all the creative energy we've lost because we've set out to fight this?
As an organisation that is trying to use social media creatively to create awareness, the online harassment and intimidation are also taking an enormous toll on the members. The WCC's social media manager, Sangeetha Janachandran, had spoken up at the press meet about going through their pages filled with death threats and violence. "At least 100 times every day, I am verbally abused."
"Who accounts for all the creative energy we've lost because we've set out to fight this?" asks Padmini.
Paul confirms that everyone associated with the WCC is losing out on work, and that there are producers and directors refusing to get involved in films with WCC members in them.
"But don't get me wrong, I do not have a single regret," says Paul. "We've finally got people talking about the double standards in the industry, and that's a huge change. We aren't here to destroy, we are here to create. To create a new way of thinking, loving, and working."
HuffPost's "Her Stories" newsletter brings you even more reporting from around the world on the important issues affecting women.Sign up for it here.