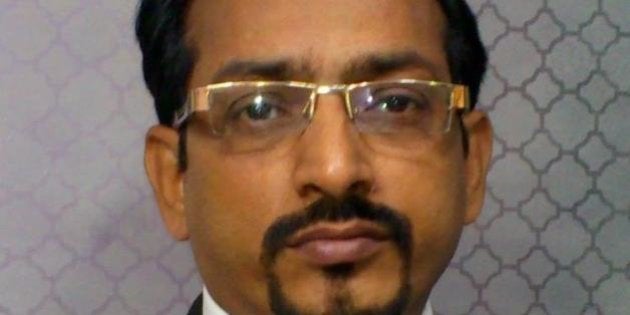 Kamlesh Vaswani is a happy man today. The Indore high court lawyer has been waiting for more than two years for this day, when pornographic websites would be blocked, and all the "innocent, susceptible, vulnerable women and children of India" will be safe again.
"I am thankful to the Modi government and the Supreme Court," he told HuffPost India on Monday, over the phone from Indore, speaking in Hindi. "It is two and a half years of hard work that has brought this day."
Asked if he is surprised that the government has already moved to block 857 porn websites in India, even as the hearing in the public interest litigation filed by him is in progress in the apex court, Vaswani is quick to point out that on the contrary, this measure has come too late. "It's just a five to 10 minutes' job for the expert committee," he said. "It affects 80 percent of women and children and they can't raise this issue. They are the victims." He said that he expected this action to take place back in 2013, by October or November, within six months of filing the petition.
"Better late than never," he said.
Claiming that the Supreme Court bench had been eager to take positive action on his PIL, he blamed some procedural and technical lapses that delayed the government in blocking these websites. He said that the attorney general's office had contacted him about a fortnight back, asking for a list of the websites that were objectionable. "We thought some action was going to take place."
Wanted To Be A Doctor, Became A Lawyer
The 43-year-old Sindhi lawyer had actually appeared for medical entrance exams five times — but failed. He also prepared for the civil services, but could not qualify. Instead, he pursued law in Bhopal, joining the Indore high court in 1998. He was on his way to become a civil judge when his mother's cancer drew him away, and he abandoned his plans, Vaswani told HuffPost India.
Later, he continued his legal practice in Indore where he now lives with his wife and 13-year-old son. "But I come to Delhi often on Supreme Court matters, or for the PIL I filed," he said.
Though this is the first time that Vaswani has filed a petition on what he deems a major social issue, he hopes to file another petition later on providing free cancer treatment to all poor people. This has nothing to do with his personal experiences, he said, but to help alleviate suffering among the poor who are unable to afford the expensive treatment.
The preparation for the current petition started with a 2012 article in The Hindu on the shortage of officers in the armed forces. "I felt that there was very little positive contribution of the youth in India... They only care about porn," he said. Soon after, the horrific gangrape and murder of a woman in Delhi shook the country. "It took me a while to draft it but I thought if I didn't do it then who would? At least I'm an advocate."
Believing that crimes against women and children were mostly fuelled by easy access to porn, he first sent a representation to three ministries — that of Information & Technology, Information & Broadcasting, and Home Affairs — in January 2013. After he received no response for four months, he filed the writ petition in court.
Vaswani said that he got a lot of encouragement from senior lawyers including Supreme Court Bar Association President MN Krishnamani, who is appearing as the senior counsel for the petition. One lawyer, Sunil Verma, filed the PIL on his behalf as Vaswani's father was unwell at the time. Other lawyers helped him craft the arguments in his petition. It was originally a writ petition that the SC converted to a PIL, since it was of national interest, he said.
Many More Websites That Need To Be Blocked
Vaswani said he has a list of about 5,000-6,000 more websites that he was planning to send the government that also need to be blocked. "Some IIT experts have kindly agreed to cooperate and help me with the list since this is a service to the country... at the time of filing the PIL there were four crore such websites and now the number must be even bigger," he said. "The ones we sent was a list of the most horrible and shocking ones... To be very frank it was sent in a hurry."
In his hurry, he seems to have included innocuous sites like Collegehumour.com and torrent sources and websites that host mainstream films as well.
While Vaswani believes that all porn websites can't be blocked in India — simply a function of too many cropping up too fast — he sees this as a good start and a continuous process. He also claims that the revenue earned from allowing such porn sites to flourish was one reason why internet service providers have delayed blocking these sites for so long.
"Nobody cares about the children, or what's in the national interest," he said. "They only care about their pockets."
Vaswani brings up child porn, which rightly elicits universal condemnation, while speaking about his petition. But his petition, and the list he gave the government to be banned, is about all pornography.
There are also larger issues of women's safety that his PIL has not touched yet, he said.
In the upcoming hearing at Supreme Court next Monday, Vaswani's team will submit more "shocking" videos that deal with child pornography, he said. "I'm thankful to Modiji for all that he is doing."
He is very particular on what he expects from the PIL — he wants porn sites blocked, not banned; and he is against porn but not erotica. He said he was only against sexually explicit material that was illegal as under the Information Technology Act.
Though he is quick to separate "sexually explicit, violent porn" from "erotica", when asked what the difference was, he demurred. "That is up to the honourable court to decide... I don't want to get into such controversies."
"People tell me there is something in Khajuraho and all that but I have never been there," said Vaswani, referring to the UNESCO World Heritage Site where Hindu and Jain temples famously depict several erotic sculptures from the 12th century and earlier. Interestingly, Vaswani grew up less than 300 kilometres from the site in Bhangarh village in Madhya Pradesh.
He said that the definition for pornography, and what counted as obscenity, was what needed to be made clear. In such a situation, what counted as pornography could not be properly defined, he said.
"It is only the court of law that can determine the concept of obscenity and pornography," he said. As a result, people can't go to court for what counted as porn, he said. "We are only enforcing your rights," he said. "The SC will decide which websites are objectionable."
He asserted that there was no positive contribution from porn, and that it only caused psychological problems in Indian youth. Porn was ruining several generations of children, he said.
"I have a problem with porn that exploits children as well as porn that children can access," he said. "If a child can access some porn that is also a crime."


Popular in the Community