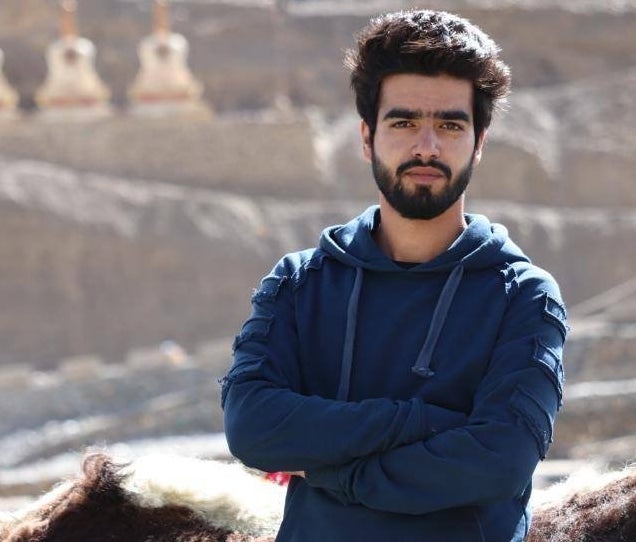 NEW DELHI — If you've been following the news about the forced expulsion of Kashmiri students from Uttarakhand in the aftermath of the Pulwama attack last week, chances are that you have read about Khawaja Itrat.
The 21-year-old Kashmiri has been quoted in several Indian publications and the Washington Post, giving facts and figures about the number of students arriving at the shelter he set up in Chandigarh on Sunday.
While speaking with HuffPost India, during the course of the week, Itrat sounded frenetic, yet upbeat. "We have managed to arrange two buses to get the students out from Dehradun. This is good news," he said on Tuesday.
These brief conversations always ended with him saying, "Ma'am, I'm very sorry but things are too busy right now. I promise to call you back."
The mechanical engineering student, who founded the Jammu and Kashmir Student Organisation (JKSO) in 2017, was fielding 300 calls a day.
His organisation, he estimates, evacuated 700 to 800 students from Uttarakhand over five days.
How it started
On 14 February, a 19-year-old Kashmiri, Adil Ahmed Dar, rammed a vehicle filled with explosives into a convoy of security personnel, killing 49 soldiers in the Pulwama district. It was the deadliest attack on Indian security forces in Kashmir in nearly three decades.
As reports of the attack came in, and the death toll kept rising, Itrat braced himself for a backlash against Kashmiris. But he did not anticipate that hundreds of students would be forced to flee their hostels and rented accommodations in different parts of the country.
It was a few hours after the horrific attack in Pulwama that Itrat started receiving phone calls from students, who said that right-wing activists were threatening them and forcing their landlords to evict them within 24 hours. Many students, he said, hid inside their rooms and asked their landlords to put a lock on the door.
The cost of plane tickets to Srinagar skyrocketed and Jammu was under curfew. They were stuck.
The next day, JKSO released a helpline number and asked students to make their way to Chandigarh, which was relatively safe.
Itrat said that he asked Kashmiris living in Chandigarh to make room for the students arriving from Uttarakhand. "There were students living in three rooms, who moved into one room, and gave us two. We also collected money for food. We got bedsheets and mattresses," he said.
Speaking to the media, Itrat said, helped the relief operations. As word spread, the Sikhs came to the rescue. They opened up four rooms in a local Gurudwara and invited the Kashmiris to eat at their langars.
On most days, Itrat said, he was too busy to feel emotional, but there were moments which were overwhelming. "I remember these students who came and said, 'Food, please give us food. We have not eaten for two days,'" Itrat said.
"I felt horrible when students told me that they were so scared to leave their rooms that they had gone to the toilet in polythene bags for two days," he said. "How can your heart not break when you hear something like that?"
"Food, please give us food. We have not eaten for two days."
The biggest challenge, Itrat said, was convincing students to leave their rooms and make the road trip to Chandigarh.
By Monday, however, a system was in place. Students were either booking outstations cabs or finding a way to the two buses that the JKSO had arranged with the help of a Sikh group called Khalsa Aid.
"The police in Dehradun helped a lot. There were reaching the places where the students were trapped and accompanying them to the outer city limit," he said.
"How can your heart not break when you hear something like that?"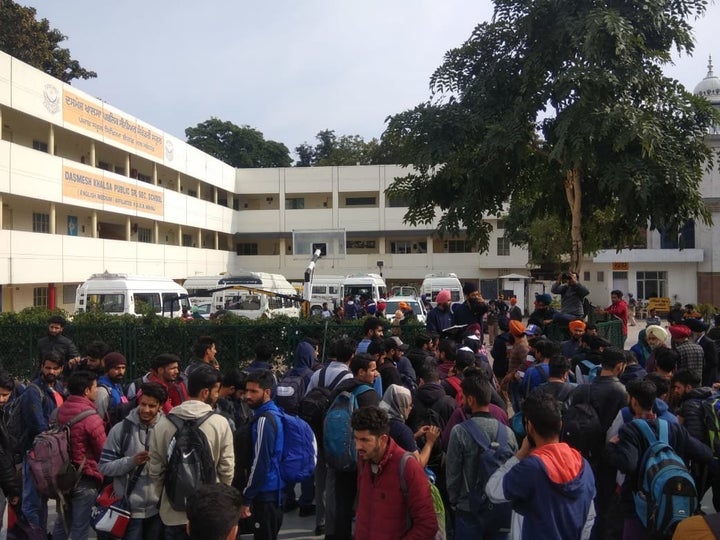 State of denial
Even as hundreds of students were fleeing from cities like Dehradun and Ambala this week, the state authorities refused to admit that Kashmiris were being targeted by right wing activists.
While one Twitter account of the CRPF (Central Reserved Police Force) gave out a helpline number for Kashmiri students who felt they were in danger, the next day, another CRPF account said that news of the Kashmiri students facing harassment was fake.
This denial continued despite video proof of threats and intimidation against Kashmiri students and traders in different cities of North India, and even while police officers — in some places — were acting swiftly to ensure their safety.
Celebrities like Anupam Kher and other persons with a large Twitter following forged a narrative of us versus them.
They said that reporting on the Kashmiri students, who were being harassed and forced to leave, somehow detracted from the sympathy one had for the families of the slain soldiers. This is a false and divisive narrative.
An even more illogical narrative was built around how wrong it was to support these students because Islamic militants had driven Kashmiri Hindus from Kashmir in the early nineties.
Almost two dozen Kashmiri students have been suspended for posting offensive messages about the Pulwama attack. At least five have been booked for sedition. The insensitivity of a few students, however, is no excuse for frightening hundreds of Kashmiris into fleeing their colleges.
Earlier this week, Vikas Verma, the convener of the Bajrang Dal in Dehradun, told HuffPost India that he wanted "all" Kashmiri students out of Uttarakhand and they could return when the Indian flag was raised in every house in Kashmir.
Verma also said that the Bajrang Dal was tracking the social media account of Kashmiri students and preparing a "dossier" to submit to the police.
This vicious environment will only prevent Kashmiri students from completing their education and leading productive lives.
Two colleges in Dehradun have said that Kashmiri students will not be admitted in the new academic year.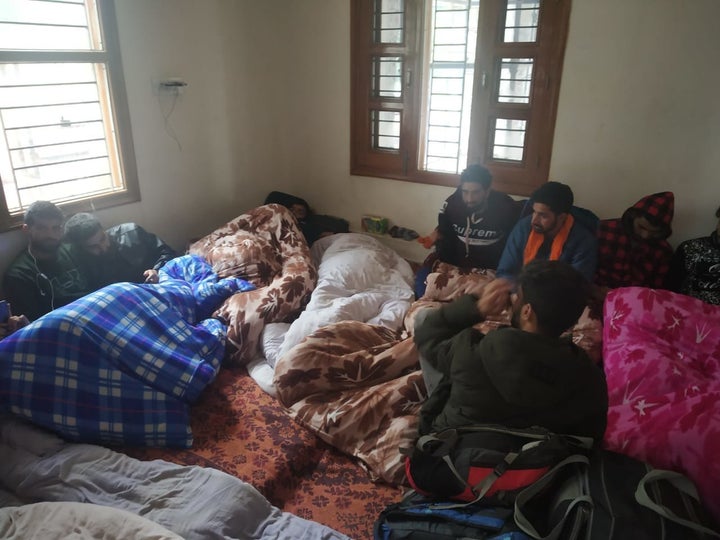 Time to think
On Wednesday, Itrat said, 200 students were dispatched for Jammu in 17 tempo trucks. Around 20 to 25 students were still at the shelter and another 15 to 20 were making their way to Chandigarh.
"That should be the last of them," he said.
As operations wound down on, Itrat found time to think about the deadly attack that killed 49 Indian soldiers on 14 February and everything that had followed.
"All these days, my only thought was how to get people to safety," he said. "I can only condemn the attack. I blame both the Indian army and the Kashmiri people. Kashmiri students are being crushed under this conflict."
Itrat continued, "We come here to make our careers, to realize our dreams, but we are always made soft targets. I just want to say that this needs to stop."
"We come here to make our careers, to realize our dreams, but we are always made soft targets. I just want to say that this needs to stop."
Itrat, who lost his mother to cancer in 2008 and his father to a heart attack in 2011, lives with his elder siblings in north Kashmir.
Growing up in Kashmir was difficult but he prefers not to elaborate. First, he said, it would take too long, and second, there is nothing that has not already been said.
Did soldiers pave the way as he made his way to school and back — yes. Did they check his identity card — yes. Was he ever harassed by security forces — yes.
"There is not a lot that I can say. It wasn't easy. It is a conflict area and there were hardships, but I was not radicalized," Itrat said. "This conflict has been going on since 1947. India is doing politics. Pakistan is doing politics and it is the young people who are suffering."
"When two countries like North Korea and South Korea can coexist, then why can India and Pakistan not find a way," he said.
Even though Chandigarh feels safe, Itrat said that Kashmiris are always looked at differently. "Landlords say that they cannot rent to you because you are Kashmiri. People say hurtful things. Things like that," he said.
The college student added, "But we have to keep coming here. There are only two or three professional institutes in Kashmir. We need exposure. We need a normal life."
"We need exposure. We need a normal life."
He wanted to join the NDA
Today, Itrat wants to grow the Jammu and Kashmir Student Organization, which he founded in 2017.
After completing his education, the mechanical engineering student wants to launch an online food delivery system like Uber Eats or Zomato in Kashmir.
Running a start up, however, was not always Itrat's dream. For as long as he can remember, Itrat wanted to join the National Defense Academy (NDA).
"I thought that one can join after class 8, but it wasn't so. Then, someone told me, you can join after class 10, but it wasn't so. Nowadays, you can check everything on the Internet, but I did not have so much access back then. Finally, when I was in class 12, I was ready to join," he said.
While family and friends had gathered for a wedding that same year, Itrat and his friends decided to sneak out for a drive at around eleven in the night.
"We were breaking the curfew. We were playing loud music in the car. Suddenly, we were surrounded by soldiers who were pointing flashlights in the car. They took our identity cards. They told us to get them the next day," he said.
The meeting that Itrat had with an Army Major the next day changed the course of his life.
"When I told him that I wanted to join the NDA, he said things like, 'Ghanta, you will join the army. Radicals like you are not fit for the NDA. You don't have the brains.' I was stunned."
Even as he recalls that meeting after four years, Itrat sounds close to tears. "I wasn't lying. It was my dream to join the NDA. I had bought all the books. This was an Army Major talking. I left my dream."
As the conversation ended on this somber note, Itrat said, "We try and come close to you but it is you who push us away."