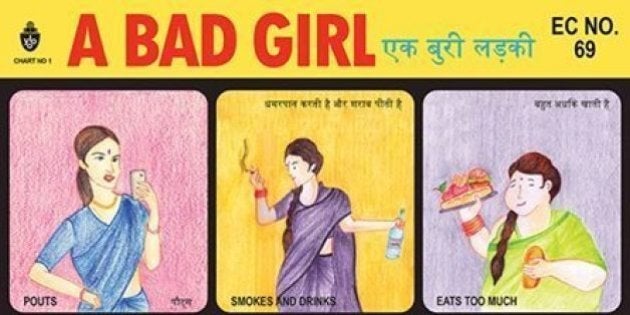 On January 22, Furqan Jawed posted a college assignment on his Facebook timeline. As part of a course he has taken up, titled Visual Culture in The Vernacular, the 22-year-old student of art and design at Bangalore's Srishti College of Art, Design and Technology had created an illustration titled 'A Bad Girl' that he had made along with his partners: Jaywant Pradhan, Sparsh Saxena, Stuti Kothari, and Roshan Shakeel. It received a fair number of 'likes' and comments, but nothing beyond that.
A little under a month later, Furqan and his friends are answering calls from journalists for being the creators of a meme that trended nationally on Thursday on Twitter. In a phone conversation with HuffPost India, he said, "We're all quite overwhelmed with the reaction. Had no idea things would become this big. But it's great to see that people are appreciating the posters and by far there haven't been any major negative repercussions. Of course, there's a section who took it too seriously but that's bound to happen."
Allison Byrne, who teaches the course at Srishti and was their guide for their project, said, "This whole exercise was about interpreting different visual languages. In design school, we're taught to do it one way, but what one ends up seeing around us tends to be very different. It was basically just a warm-up exercise and they might have intended it only to be an assignment, but I think they followed their intuition that was born out of everything they see in their environment, the media, and other such influences."
The image, which puts a satirical spin on retro Indian Book Depot posters depicting the ideal habits of good Indian boys and girls, shows sari-clad women indulging in a number of 'indecent' activities, which include drinking, smoking, riding motorbikes, falling in love in the park, and letching (sic) at other boys.
The dichotomy of being female in India is highlighted in panels that depict both eating too much and too little as 'bad' qualities. Another panel highlights the seemingly unforgivable crime committed by every girl alive: being in possession of breasts.
'A Bad Girl' went viral after user @Joylita tweeted it out on Wednesday.
Popular in the Community