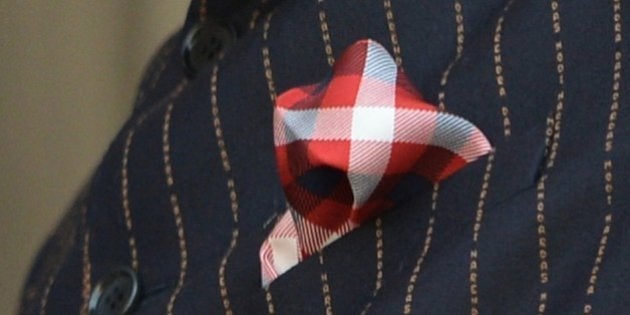 The bidding war over Prime Minister Narendra Modi's pinstriped suit, which carries his full name Narendra Damodardas Modi, crossed one crore on Wednesday. He wore the monogrammed black suit when the U.S. President Barack Obama visited India in January.
Suresh Agrawal, a textile businessman bid Rs.1 crore for the suit on Wednesday morning. Viral Chowksi, a Gujarati NRI took the bid up to Rs1.11 crore by afternoon. The bidding will continue till Friday evening.
Modi's suit is being sold at a three-day auction, along with 450 other gifts to the PM, to raise money for cleaning the river Ganga. Controversy has surrounded the monogrammed black suit, which was widely reported to have cost Rs.10 lakhs.
In an interview with ANI, Rameshkumar Bhikabhai, a businessman from Gujarat, revealed the origins of the suit that had the nation and the media talking. Bhikabhai said that he gifted the suit to Modi to wear on his son's wedding.
"I am from Gujarat. I presented this suit to him (Prime Minister Modi) when I attended the recent Vibrant Gujarat Summit. I gave it while extending an invitation to him to attend my son's wedding on January 26," Bhikabhai told the newswire.
"My son's name is Smit Virani. I gave this gift to my elder brother (Modi) on behalf of my son. My son had this idea of making this monogrammed suit. He said he wanted to give a surprise to Modiji," he said.
When pressed about whether suit cost Rs.10 lakhs, he said, "People can say anything. I can confirm that what is being said about its cost is not the correct amount. My son does not have the guts to spend that kind of money or that amount."
Perhaps Modi did not anticipate the political damage that the seemingly harmless gift would render to the the Bharatiya Janata Party in the Delhi elections. His political rivals from the Aam Aadmi Party and the Congress Party mocked the suit, and accused Modi of being in cahoots with big business. Arvind Kejriwal, chief of AAP, poised himself as the middle class saviour of the people, who was standing up against an elitist Modi. Rahul Gandhi, Vice President of the Congress Party, claimed that the suit was made in the United Kingdom.
Bhikabhai, an NRI businessman, said that his friendship with Modi went back four decades, and he had insisted that the prime minister attends his son's wedding "as an elder of the family."
"While accepting the suit as a gift, he told me that he (Prime Minister Modi) was very busy for the next two to three days, but promised to wear it. But he also said that he will give the suit to charity. I said that his accepting the suit from me was a big honour in itself, and it wasn't important for me as to what he did with it after wearing it," Bhikabhai said.
"The fact is that Modiji wore this on the day of my son's wedding on January 26. It was a blessing for us. There can be no price attached to this," he said.
Popular in the Community