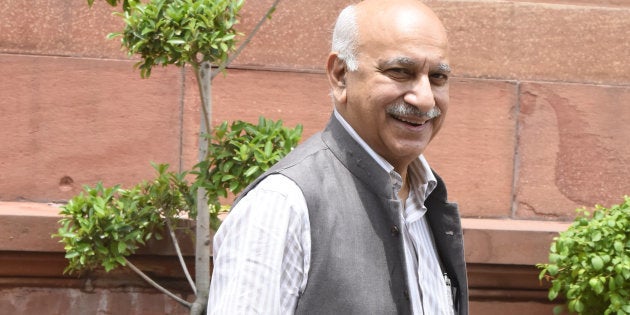 A day after Minister of State for External Affairs MJ Akbar filed a defamation case against journalist Priya Ramani, 19 former and current employees of The Asian Age wrote a petition asking New Delhi's Patiala House Court to consider their testimonies against the minister. The 20th woman who has signed the petition worked for Deccan Chronicle.
Akbar, a former journalist and editor, had launched The Asian Age in 1994. He filed a case against Ramani, who was one of the first women to call out Akbar on Twitter for his predatory behaviour during the #MeToo movement.
When Ms. Ramani spoke out against him in public, she spoke not only about her personal experience but also lifted the lid on the culture of casual misogyny, entitlement and sexual predation that Mr. Akbar engendered and presided over at The Asian Age.
Ms. Ramani is not alone in her fight. We would request the honourable court hearing the defamation case to also consider testimonies of sexual harassment of some of us at the hands of the petitioner, as also of the other signatories who bore witness to this harassment.
The women said in their petition that Akbar continued to enjoy power and "demonstrated through his legal actions... his refusal to introspect, acknowledge or atone for his actions".
According to a News18 report, this is the list of women who signed the petition:
1) Meenal Baghel (Asian Age 1993-1996)
2) Manisha Pande (Asian Age 1993-1998)
3) Tushita Patel (Asian Age 1993-2000)
4) Kanika Gahlaut (Asian Age 1995-1998)
5) Suparna Sharma (Asian Age 1993-1996)
6) Ramola Talwar Badam (Asian Age 1994-1995)
7) Kaniza Gazari (Asian Age 1995-1997)
8) Malavika Banerjee (Asian Age 1995-1998)
9) A.T. Jayanthi (Asian Age 1995-1996)
10) Hamida Parkar (Asian Age 1996-1999)
11) Jonali Buragohain (Asian Age)
12) Sanjari Chatterjee (Asian Age)
13) Meenakshi Kumar (Asian Age 1996-2000)
14) Sujata Dutta Sachdeva (Asian Age 1999-2000)
15) Hoihnu Hauzel (Asian Age 1999-2000)
16) Reshmi Chakraborty (Asian Age Mumbai staff 1996-1998)
17) Kushalrani Gulab (Asian age 1993-1997)
18) Aisha khan (Asian Age 1995-1998)
19) Kiran Manral (Asian Age 1993-1996)
20) Christina Francis (Deccan Chronicle 2004-2011)
Akbar on Monday filed a defamation suit against journalist Ramani after dismissing multiple allegations of sexual harassment against him on Sunday.
Akbar said that the "scandalous allegations leveled" by Ramani were "ex facie defamatory and have not only damaged his goodwill and reputation ...in his social circles and on the political stage, established after years of toil and hard work." The defamation plea said it also ruined Akbar's "personal reputation in the community, friends, family and colleagues, thereby causing him irreparable loss and tremendous distress".
Ramani stood by her allegations and said in a statement on the same day, "I am deeply disappointed that a union minister should dismiss the detailed allegations of several women as a political conspiracy," Ramani said.
"By instituting a case of criminal defamation against me, Mr Akbar has made it clear, rather than engage with the serious allegations that many women have made against him, he seeks to silence them through intimidation and harassment," she added.
Popular in the Community