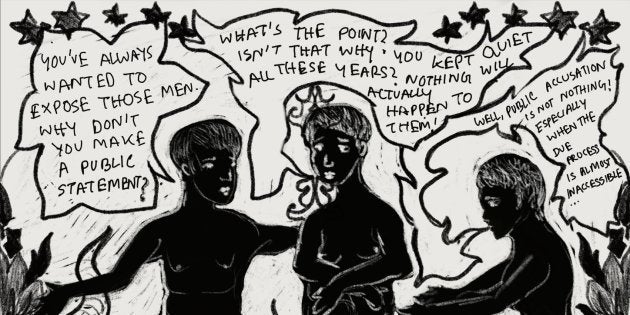 Trigger warning: This article contains accounts of abuse and rape.
Several years ago, as a teenager, 24-year-old Shromona Das was faced with the same oppressive dilemma as many other victims of sexual abuse—keep her trauma a secret and bear the burden of someone else's crime. A student of the arts and aesthetics school of JNU, Das told HuffPost India that she began drawing in pen and ink after her cousin's husband abused her. The cousin found text messages sent by the teenager to her counsellor that detailed the abuse and called Das's mother to tell her that no one in the family should ever come to know of the allegations.
"The white paper was my only friend—I was afraid of being betrayed similarly, that is, in terms of silencing my voice, by my family members. So I started channeling it all through my black Parker pen—for the longest time, I've never parted with that pen. That pen was my one true friend," Das told HuffPost India.
She has consented to her name being used in this story.
Das, who hails from Shantiniketan in West Bengal, said that she had always turned to painting as a way to cope with trauma. So when the #MeToo movement in India picked up pace on social media in the past month, she took to illustrating her experience of abuse and how she coped. The result is a series of 15 stunning panels of illustration, created by her.
Das's partner shared her paintings on Facebook since she herself isn't an active user of social media.
"For the largest part of my life, black and white became my language—all of these paintings were about domestic settings, everyday objects, toys and violence. I don't remember a single one that didn't talk about violence—and death," she said.
So finally, over the past few days, emboldened by many other women calling out their alleged oppressors, she gathered the courage to name the men who abused her. She phoned her mother and said that she has decided to put herself before the 'family', finally. She also warned her of the consequences—relatives could cut off ties with her family and ridicule them.
Her mother, said Das, has turned to books to cope with the situation. The family of her alleged abuser, closely related to her own has been quiet.
Das added that creating the panels this time was cathartic and she is finally starting to use colours in her paintings again.
HuffPost India is not publishing the panels which name Das's abusers after discussions with her, though they can be accessed on Facebook.