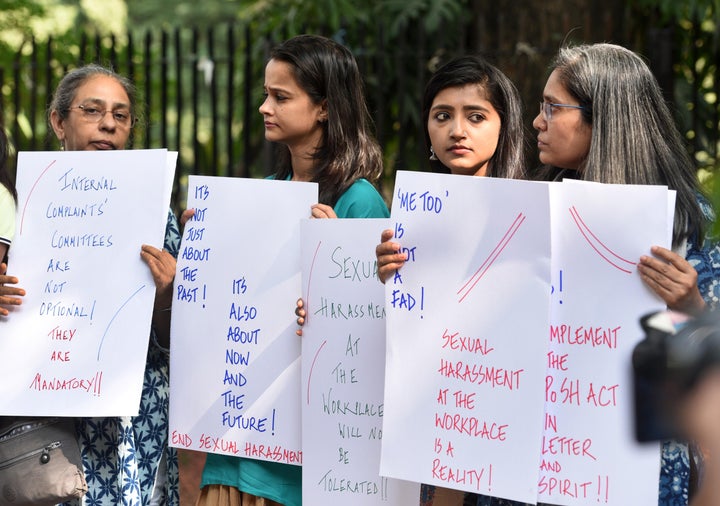 I was 25 when I tried to explain to my mother why I did not want to see A, my father's old friend, again. By then, it had been over 13 years since he cornered me in my own house while my grandparents slept peacefully in the next room. He grabbed me in an uncomfortably tight hug, his hand snaking down my lower back and then moving up, grazing the side of my breast, until I screamed and asked him to let me go. Terrified and ashamed, I had spent that entire week hanging out in the hot, smoky kitchen, much to my mother's amusement, and then stationed myself beside my grandfather on the corner of an old, creaking bed just to make sure A did not come anywhere near me.
"Maa, he hugged me really weirdly. And even touched me oddly," I told my mother in Bengali mixed with English. I remember using the word 'odd' to describe his touch.
"But he has known you since you were a baby. That's why he hugged you no?" my mother said.
"No Maa, it was not like that. It was very… weird," I insisted.
My mother looked at me, confused, and then said, "Forget it."
That was the last we spoke of him for nearly 10 years.
Then, earlier this year, I was packing to leave for a reporting trip to north Bengal when my father excitedly suggested that I stay at A's house there.
"No," I said, sounding mostly irritated.
"But why, it's going to be so much easier that way…."
"No Baba, I just do not want to stay there," I cut my father short.
As my father continued to protest, my mother who had been quietly listening, suddenly asked, "Eta ki MeToo? (Is this a MeToo thing?)"
Surprised, I nodded. The conversation ended with my father leaving the room mumbling, "Shey abar ki kawtha (What is that now)."
Twenty-two years after the incident took place, it seemed like my mother and I finally had a vocabulary about harassment that we both understood.
The language of kindness
One of the many triumphs of the #MeToo movement, especially in India, has been the birth of a language that indicates that no woman is alone in this ordeal. The words 'Me Too' can help fight the isolation and shame that survivors of harassment and abuse often feel.
Over the past year, as regional news headlines made references to MeToo, even if not very charitably, and dozens of posts appeared on social media, I had several discussions with my mother about what qualifies as harassment.
Often, over long video calls, my mother would describe a situation.
"So say, a man, X, who is related to this woman in a way, maybe on her in-laws' side, did this. Would that be a MeToo? This is all imaginary, okay?" she'd initially say.
As months passed, she slowly graduated to saying that it's 'someone we know, but who cares now' to ask if a male relative's behaviour should have been called out.
A colleague pointed out that the words MeToo can almost be considered a sanitized, 'family audience' level of vocabulary to signify harassment and sexual misconduct.
"Most of our families want to bury themselves at the very sound of the word 'sex'. 'MeToo' on the other hand, comes without the uneasiness associated with words like rape, sexual harassment and sexual abuse," she said.
It is not ideal, she said, "sort of beating around the bush", but we have to start somewhere.
"At least the implicit meaning is that we are talking about an incident of sexual violation," another friend pointed out. She added that it was easier to open up about the difficult details of harassment—groping, sleazy conversations, inappropriate photos, being cornered by drunk men, or assault—because the mention of MeToo at the beginning of a conversation often found an empathetic audience.
It spared her having to articulate exactly what she felt—shame, humiliation, anger and fear.
"People used to ask, 'oh, so were you pissed?' Now it's implicit that I may have felt one or all of those emotions," she said, recalling an incident when a colleague repeatedly grabbed her during an office party and later laughed that he was 'hammered' when she told him how he had made her uncomfortable.
It's a language of kindness, she added. "You don't have to scratch and dig old wounds if you don't want to, just to explain how it felt."
Earlier this year, the words 'MeToo' entered Australia's Macquarie Dictionary, and became its 2018 'word of the year'. The panelists concluded that the words had a 'rare emotional power'.
Reflecting on this, writer Van Badham wrote for The Guardian about how, after the Harvey Weinstein accusations, a phone conversation with a colleague she barely knew "devolved to a mutual series of repetitions of the phrase: me too, me too, me too … Less words than a chorus of earned and brutal yawps".
Coined by Tarana Burke, a Black activist, in 2006—she had thought of it as a "a kind of bat signal between survivors of sexual violence"—the words 'MeToo' give form to a range of experiences, unpleasant and often traumatic, that women are now learning shouldn't be their cross to bear.
"Words enter languages because there is an imperative to name something that has made itself distinct, and the intensity of MeToo's uptake suggests just how desperately this word was needed; that there is a specific sorority within surviving sexual misconduct that the world has finally been obliged to describe," Badham wrote.
Power and elitism
Last year, our domestic worker Jayanti got her daughter married, saying it was becoming impossible to 'keep the men away'. Seventeen-year-old Pooja, born and raised in Delhi, was packed off to a remote village in West Bengal where, she complained, young married women didn't wear 'dresses' like she was used to. Three years ago, her mother had landed at our doorstep at a late hour, wailing that her daughter had been abducted by a man from their neighbourhood. He was in his late 20s. The police, she said, wouldn't file a complaint because 'what if the girl had fled with the man?'.
"But she is 14! That's illegal!," my flatmate and I shrieked, almost at the same time.
She could only file a complaint after we convinced her that a 14-year-old is a minor and any sexual advance made towards her qualified as abuse. As word went out in the chawl that her parents had lodged a complaint with the police, the man's friends and family possibly alerted him and Pooja returned home two days after she went missing.
"I gave her a good thrashing," Jayanti said, adding she was not going to withdraw the case of abduction against the man though neighbours and police 'advised' her to.
Sometime last month, while discussing her daughter, I asked Jayanti what was the hurry to get her married.
"Didi, men followed her when she went to school. Then some send weird messages. Or call late at night. That incident happened no, now everybody thinks they can do all this. And think she is not a good girl. We work all day, how will we take care of her?" she said.
When I told her that there was a 'movement' started by women that was intended to help other women, she was nonplussed.
"How much will you help, we have to help ourselves," she said, adding that she had never heard the words 'MeToo' or any form of it in Hindi or Bengali.
Most Bengali newspapers I read spelt 'MeToo' out in the Bengali script, following it with a rough explanation of what it meant. For non-English speakers, the rough translations may not have resonated the same way.
"We don't do all this no? We just turn around and slap a boy if they are bothering us too much. But my daughter's case went way beyond that," she said.
The biggest limitation of #MeToo in India has been that it mostly reached women with a certain amount of access or privilege. Or at least women who were able to get in touch with other women who had some measure of privilege. One of the major barriers has been language. #MeToo is an English expression, immediately drawing class lines that alienate thousands of women. A majority of the helpful content on the Internet, where the movement has primarily played out, is in English.
Social media app TikTok, which counts many Indians from villages and small towns among its users, has very little domestic content on #MeToo. While the hashtags #MeToo and #MeTooChallenge have registered millions of views, most of the videos addressing harassment and abuse are created by non-Indians, mostly white people. The Indian videos that pop up when you type #MeToo are of young boys and girls lip-syncing to popular songs like Baby Doll or Chalti Hai Kya 9 se 11.
Of a few hundred, we came across a video posted by a woman who goes by the TikTok name 'Dusky' lip syncing to a Tamil song, with the caption saying that many people are abused as children. Among the flood of comments, nearly 20 people shared that they have been abused as children, with some even saying that they could not ever tell their parents about this. 'Dusky', whose real name is Kavya Yadav, responded to each comment, saying she was available to listen if anyone wanted to talk about their trauma. Again, most of these exchanges were in English, not the primary or preferred language on Indian TikTok.
Another video uploaded by a young girl who goes by the handle 'laughingsouls' has her lip-syncing to a Hindi song with the lyrics 'Duniya Chhoona Chahe Mujhko Yun, Jaise Unki Sari Ki Sari Main'. The caption goes: "She is not your property, every women is a daughter, a sister, a wife, a mther. Inspired #metoochallenge."
The comments on the video are mostly from men who have responded with the fire emoji or the heart-eyed emoji. One says in Malayalam, "Instead of singing, sister, slap his ears off".
Moving outside Twitter
In India, the terms and language of #MeToo have mostly been crafted by Twitter users who use the medium regularly and often belong to the creative field. This has meant that women outside the journalism-arts-advertising industries have sometimes been reluctant to engage with the movement. A friend who works in the pharma industry told me that there was no space to discuss harassment in her professional circles. Also, she said, she wasn't a regular Twitter user — which is where a lot of the action unfolded.
"There are strict rules about social media usage and commenting in our companies. We do not have a lot of space and flexibility that I think journalists have. It's not easy for women working here to throw due process in the air," she said.
Another friend, a human resources manager at a fintech company in Bangalore, seemed to echo her view. Again, she uses Twitter sparingly.
There are also multiple attempts by opponents of the movement to subvert the power of the word, through sleazy TV shows, distasteful WhatsApp jokes and cruel jibes.
"I'd hear snide remarks from older men that "this #Metoo is a circus" or "this is getting out of hand". Then there are the older women who say we all went through it without making a fuss, what's the big deal now?'," said a woman who had worked in advertising for nearly a decade before she quit to take charge of her family-run school.
Many men, she said, were merely feeling the heat of a social media movement instead of facing any real consequences for their actions.
In October 2018, a year after the Weinstein investigation opened a floodgate of stories in the US, writer Doreen St Felix pointed out in The New Yorker that the terms of #MeToo have been dictated by the "moneyed and the beautiful".
"In its first year, #MeToo, in its unprecedented, and embattled, expansion of the definition of sexual violence in American culture, captured the crisis ordinariness of one sector of society. The survival of #MeToo will depend on capturing many others, too," she wrote.
A year since the #MeToo wave swept across India, we are perhaps at a similar juncture—our language is kind but still somewhat exclusive, and most definitely elitist. While there are attempts to close the gap, it will require a long, sustained effort.