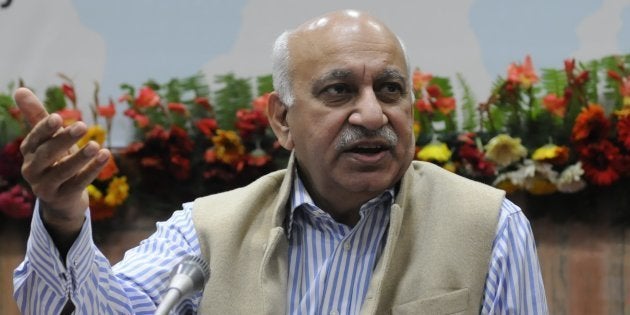 Minister of State for External Affairs MJ Akbar on Monday filed a defamation suit against journalist Priya Ramani, a day after he dismissed multiple allegations of sexual harassment against him.
ANI reported that Akbar filed the defamation case against Ramani in New Delhi's Patiala House court.
Ramani was one of the first women to have accused Akbar of sexual harassment.
"That, while admitting that the Complainant has never done anything to her, the accused has intentionally put forward malicious, fabricated, and salacious imputations to harm the reputation of the Complainant," Akbar said accusing Ramani.
Akbar said that the "scandalous allegations leveled" by Ramani were "ex facie defamatory and have not only damaged his goodwill and reputation ...in his social circles and on the political stage, established after years of toil and hard work." The defamation plea said it also ruined Akbar's "personal reputation of in the community, friends, family and colleagues, thereby causing him irreparable loss and tremendous distress."
After returning from his trip to Nigeria on Sunday, Akbar refuted the allegations against him, calling them baseless and false. He also alleged that the accusations were politically motivated.
"Priya Ramani began this campaign a year ago with a magazine article. She did not however name me as she knew it was an incorrect story. When asked recently why she had not named me, she replied, in a Tweet: "Never named him because he didn't 'do' anything."," Akbar said in his statement on Sunday.
Akbar also attacked journalist Ghazala Wahab, who had written an article for The Wire recounting her experience with him. He said, "Another accusation was made repeatedly by Ms Ghazala Wahab, in an effort to damage my reputation. She claimed that she had been molested in office, 21 years ago. This is 16 years before I entered public life, and when I was in media."
Ramani had written an article in Vogue titled To the Harvey Weinsteins of the world, where she recounted her first experience of workplace harassment. This was when the #MeToo movement was taking place in the United States last year.
Ramani hadn't named anyone in her account, but last week, she said on Twitter that she was referring to Akbar as the editor who interviewed her in his hotel room. She said in a tweet:
"Turns out you were as talented a predator as you were a writer. It was more date, less interview. You offered me a drink from the mini bar (I refused, you drank vodka), we sat on a small table for two that overlooked the Queen's Necklace (how romantic!) and you sang me old Hindi songs after inquiring after my musical preferences. You thought you were irresistible," Ramani had written in the Vogue article.
Meawhile, since Akbar's statement on Sunday, five women journalists—Ramani, Suparna Sharma, Shutapa Paul, Kanika Gahlaut and Majlie de Puy Kamp—have said they stand by their statements.
HuffPost India had interviewed de Puy Kamp, who said Akbar had forcibly kissed her in 2007, when she was an 18-year-old intern at The Asian Age, where he was the editor. HuffPost India also corroborated de Puy Kamp's account by reviewing emails between de Puy Kamp's father and Akbar, and through interviews with three people who spoke to her immediately after her ordeal.
Akbar, now a Member of Parliament in the Rajya Sabha, was the founding editor of The Telegraph, launched The Asian Age and has worked in several other media organisations.