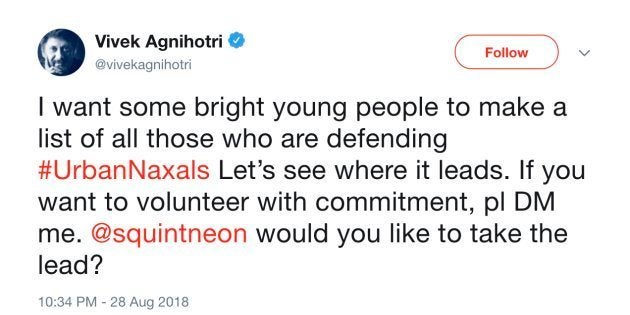 Amid widespread uproar over police action against several lawyers and activists including Sudha Bharadwaj and Anand Teltumbde on charges of being involved in the Bhima Koregaon violence, film maker Vivek Agnihotri took to Twitter calling "some young people" to make a list of "urban Naxals".
Agnihotri, who has written a book of the same name, is usually know to be a critic of anyone who questions activities of the Hindutva far right and the current BJP government. As many were condemning the treatment meted out to Bharadwaj and others, Agnihotri opined that those criticising police action must be "anti-nationals".
While Agnithotri continued to complain on Twitter calling people who are dissenting "intellectual liberal fools", Alt News founder Pratik Sinha came up with this idea:
Sinha's hashtag has since become one of the top trends on India Twitter with people volunteering to be on Agnihotri's list.
There were jokes galore about Agnihotri's ridiculous idea:
Agnihotri, however, was not happy with those volunteering to be a part of the list and periodically tweeted to those who he didn't like:
With a few hours Agnihotri had to reconcile to the idea that his list had been destroyed:
Popular in the Community