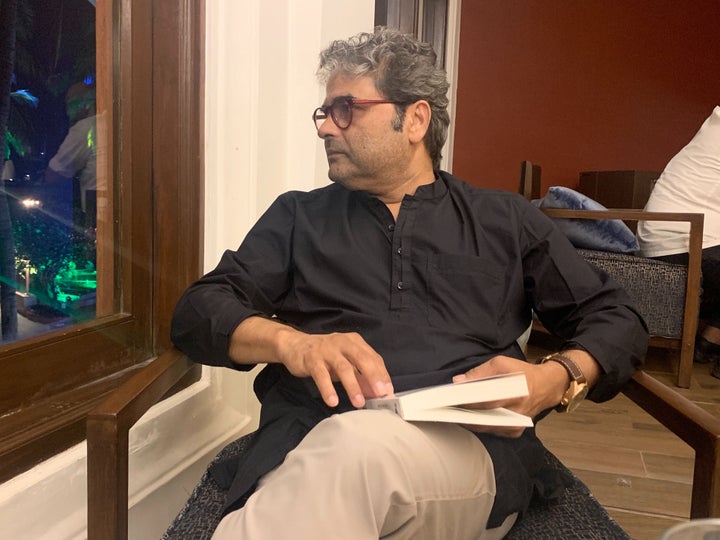 Vishal Bhardwaj's much-awaited adaptation of Salman Rushdie's Midnight's Children into a multi-part series for Netflix failed to kick off as the streaming giant couldn't agree on the budget Bhardwaj needed, the director told HuffPost India. The seven-time National Award-winning filmmaker had been tapped by Netflix as showrunner and director of the six-part series in November 2018. He was expected to directed three episodes while his long-time assistant, Aditya Nimbalkar would helm the other three.
Bhardwaj, HuffPost India has learnt, worked on the screenplay for nearly a year, had scouted for locations and was close to finalising his cast, but the scale at which he'd imagined the project warranted an enormous budget, given the special effects and VFX the adaptation would require.
In a conversation with HuffPost India, Bhardwaj said that the failure of Rangoon, his 2017 World War 2 drama starring Saif Ali Khan, Kangana Ranaut and Shahid Kapoor, had left him determined not to compromise on the quality of VFX in his subsequent films.
Among other things, Rangoon was criticised for its shoddy special effects.
"My experience of Rangoon came in handy during Midnight's Children. The budget became so much that it became impractical to go ahead with it. Had I not gone through with the bad VFX experience of Rangoon, I would have committed that mistake in Midnight's Children which would have been much worse because of how special that book is."
The filmmaker added that Netflix understood and respected the vision he had but agreed that to adapt it on the scale that he'd envisaged wouldn't be possible. "There was an emotional connection between Netflix and me and it continues to remain. I could very well understand their point of view. To be honest, I didn't want to go to any other platform. Maybe a few years later, we'll collaborate on Midnight's Children again."
Bhardwaj said he still shares a strong relationship with the team at Netflix, whom he called collaborative and respectful.
"You've to understand that once your show is made, it's going to be in the same window as The Crown and Narcos and so many others. We really need to up our VFX game as it's in a very poor state right now."
The director also mentioned that Rushdie himself was excited about the project and gave close feedback to Bhardwaj's screenplay. "Salman saab loved the script. And I had taken a lot of liberties. He was so encouraging, so collaborative, constantly giving new ideas. If it had gone through, it would have been quite something."
Although Bhardwaj refused to divulge specifics, sources from the company told HuffPost India that the difference between what was required versus what Netflix could sanction was nearly 7 crore per episode. For perspective, the budget of Sacred Games was between 5-6 crores per episode.
HuffPost India sent a questionnaire to Netflix, which didn't officially dispute the figure.
In its response, Netflix said, "We're disappointed to not move forward with Midnight's Children, one of the world's great novels. This was an inherently complex book to adapt and a really ambitious project and ultimately we couldn't bring the story to life in the scale and manner it deserved. We're grateful to Vishal Bhardwaj for his amazing vision and craft as we strove to adapt this pioneering work of literature. We look forward to working with him on other projects in the future."
The director, known for his critically and commercially successful Shakespearean adaptations (Macbeth, Hamlet, Othello), all of which he recontextualised to fit into an Indian socio-political milieu, was the ideal choice for Netflix to adapt Rushdie's book.
Simran Sethi, who was then the director of international originals, based out of Netflix's Los Angeles office, had said about Bhardwaj, "The scope and scale of Midnight's Children can only be translated by a creator with an expansive vision, depth of storytelling, and nuanced knowledge of bringing characters to life."
In March 2019, Bhardwaj told PTI, "All the adaptation and work I have done before is nothing compared to this. It is a beautiful piece of work and one of the best books I have ever read. I feel very blessed that I am given this chance but at the same time I am very scared. I hope I will be able to do justice to it."
Rushdie's epic novel, which begins with a child being born at the stroke of midnight on 15 August 1947, won the Booker prize in 1981 and the Best of the Booker prize twice. A movie adaptation directed by Deepa Mehta was released in 2013.
Popular in the Community