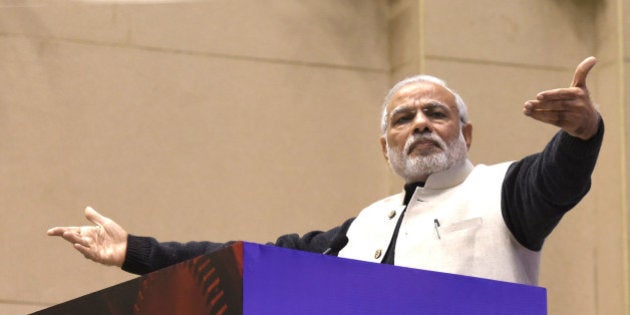 Chhapan inch ki chhaati. The 56-inch chest. This has been the idiom of political machismo that Narendra Modi has long used, mostly in campaigns before he became PM, but also on occasion afterwards. The idea that you need a big 56-inch chest to instil fear in the enemy and get things done holds appeal for his voters.
Mr Modi probably never had a 56-inch chest. That is the realm of an American politician--Arnold Schwarzenegger.
But now we know his actual chest measurement--it's 50 inches.
According to a report on The Times Of India, the measurements given for an achkan to be worn by the Prime Minister, say that his chest size now stands at 50 inches.
"Then Babasaheb Bhimrao Ambedkar University (BBAU) officials here were told to design an achkan for PM Narendra Modi to wear at Friday's convocation, authorities said they were given a 50-inch chest size to be conveyed to the tailor," the report states.
The 56-inch chest had become synonymous with Modi when in 2014, he had said this to Mulayam Singh Yadav: "Netaji has said Modi does not have what it takes to make another Gujarat out of UP. Do you know what making another Gujarat requires? ... It requires a chhappan inch ki chhati (56-inch chest)."
His detractors, however, didn't take to the flaunting of his vital statistics too kindly. Sonia Gandhi, during an election rally in Bihar, had taunted, "Ab jab sharhad par log mar rehen hain, kahan gaya 56-inch ka seena? (Where's his 56-inch chest, when people are dying at the LoC)."
She was not the only one in the Gandhi family who wasn't flattered by Modi's chest size. Rahul Gandhi had said in July, "Land Acquisition Bill will not be passed in the Parliament. We will not let BJP acquire even an inch of land. Modi ji's 56 inch chest will become 5.6 inch. You'll wait and watch."



Popular in the Community