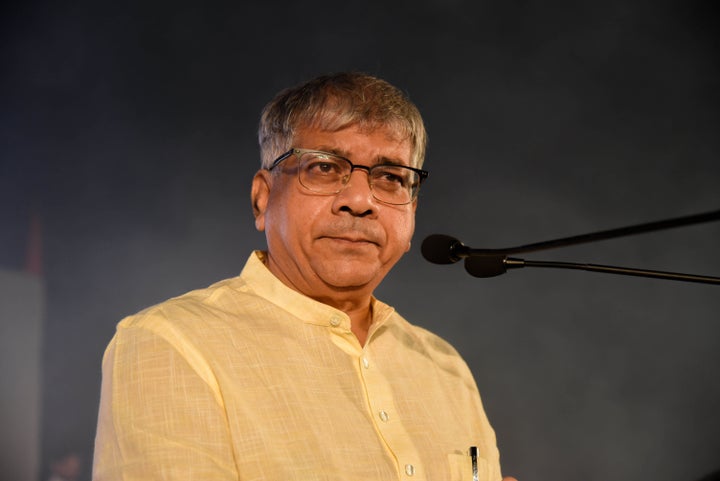 The Vanchit Bahujan Aghadi, as the BBM-AIMIM alliance was called, proved its doubters wrong when the AIMIM's Imtiyaz Jaleel won the Aurangabad Lok Sabha seat. The alliance also hurt the Congress and Nationalist Congress Party in more than 12 seats.
Owaisi dissolved the alliance months before Maharashtra's assembly elections, scheduled for October 21, 2019. But Ambedkar has pressed ahead by nominating candidates from every seat.
In an interview with HuffPost India, Ambedkar reveals the reasons why the alliance dissolved so quickly after tasting success, his plans for the elections, and the privilege and responsibility of carrying the famous Ambedkar surname.
Many called you 'B team of the BJP' in the 2019 elections. You and the AIMIM emerged as a strong alliance that marred the Congress-NCP chances in many seats. But why has the AIMIM left the Vanchit Bahujan Aghadi?
The AIMIM was there with us as a social force. We wanted to help out the left-out class in the country. So it was not a political alliance. Assaduddin Owaisi made it very clear that we will not play vote bank politics nor will we play with seat politics. It was a social alliance.
We had been openly speaking against the BJP-Shiv Sena alliance. One week after the parliamentary elections, in which Assaduddin and Imtiyaz got elected, there was a local body election to elect an MLC in Maharashtra. In this election, the corporators of the AIMIM voted for Shiv Sena which disturbed us and Assauddin Owaisi as well.
The AIMIM was unable to explain why this had happened. If Shiv Sena-BJP is our main enemy then you have to tolerate the lesser enemy. Congress is also evil but its a lesser evil who can be tolerated.
Then all of a sudden you have the AIMIM asking for 100 assembly seats. Talks continued but before anything could be finalized, the Maharashtra unit of AIMIM said we are not going to continue with the talks. They announced that the alliance has broken. We do not know what happened in the Maharashtra unit of AIMIM.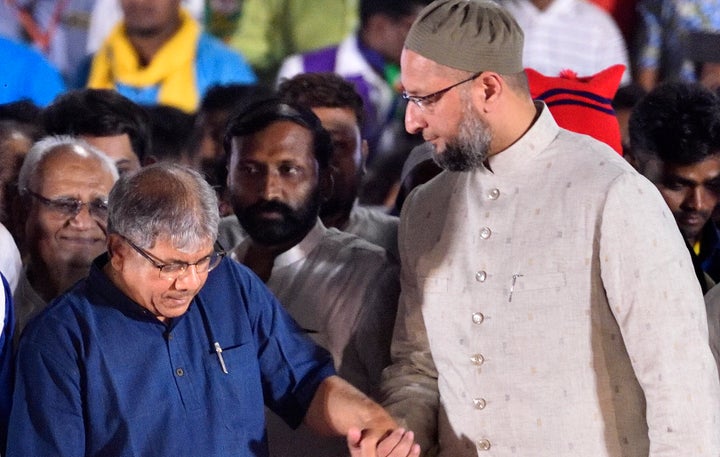 Imtiyaz Jaleel said that you offered them only eight seats.
Eight seats or ten seats is not the issue. The issue is basically that in the midst of the discussion, you break away. You go public and say this was what offered. That creates new doubts. In your home state [Telangana], you don't contest more than eight seats. The Muslims themselves started questioning. We proposed: let's fix how many Muslim candidates will contest. After finalizing that we would decide on how many of these seats will be contested by the AIMIM and the VBA. That was our formula.
When Jaleel announced the AIMIM had walked out of VBA, you kept saying this was not Owaisi's decision.
After a long period of time, there was a Muslim organization that has national recognition and two members of parliaments. What they were saying to me was that keeping the national status was also important. I could understand the hints between the lines which is why I was open for the alliance until the last moment.
But you had already declared candidates?
We had declared candidates only for non- Muslim constituencies. But we made it clear that where we had announced candidates, those seats became non-negotiable.
The AIMIM has declared their candidates. They claim they have put up more Scheduled Caste candidates than any other party.
Nothing is going to make a difference now.
Are the negotiations still going on for some sort of understanding?
Now there is a complete breakdown. We have kept our negotiating team alive. Whenever they think that talks should take place, it can always be switched on.
Jaleel said that you are being surrounded by RSS people.
While addressing public meetings [with me] you didn't find the RSS people. After getting elected with these votes, you find it. Therefore, there was a very violent reaction to his statement. People told him that if you say that we are all RSS, then you resign and see how many votes you get again.
Did you feel betrayed by the AIMIM? They got an MP and you lost from both seats you contested.
I feel betrayed. Only twice in the past, Muslim politics moved out of clergy control. The first was in 1979 and the second in 1989. In both these instances, they failed to build a Muslim leadership in this country. Somewhere we were seeing the AIMIM as a party that speaks within the constitutional framework, even sometimes chiding the Muslims that this is your limit and you can't cross it. So there was one political organization that was redefining Indian Muslim politics.
"AIMIM doesn't have a presence, let me tell you. Even in Aurangabad, four assembly segments were controlled by us... It was only Assaduddin Owaisi's name and his charisma that was working with the Muslims"
But AIMIM also carried this perception of being an orthodox Muslim outfit.
You have Hindu orthodox also, so you can't say that only Muslims are orthodox. Orthodoxy is grounded in this country. It is within the soil. But the AIMIM orthodoxy is a genuine orthodoxy. It is not religiously grounded. Had it been religiously grounded, you would have had foot soldiers like RSS.
You offered Congress 144 seats and 8 seats to AIMIM. Are you not being unrealistic of your strength?
No. AIMIM doesn't have a presence, let me tell you. Even in Aurangabad, four assembly segments were controlled by us. It was the VBA that worked from booth level to the top.The AIMIM doesn't have the infrastructure. It was only Assaduddin Owaisi's name and his charisma that was working with the Muslims.
So when it comes to a clash between the Muslim clergy and AIMIM political leaders, it is the Muslim clergy who have more clout than AIMIM leaders. The AIMIM doesn't have a dedicated cadre. Their cadre is opportunistic. When we say the AIMIM has won so many seats, politically it doesn't make sense. What we were insisting with the Maharashtra unit of AIMIM was to ground your philosophy within the Muslims. AIMIM today is a cadre less party.
How many seats are you contesting in the 2019 assembly elections?
We are contesting all 288 seats. Organizationally, even the BJP doesn't match us. They have to borrow candidates to complete 288. We don't have to do that. One of the fallouts of this alliance politics is wherever the BJP contests, the Shiv Sena is weak and wherever the Shiv Sena is contesting, the BJP is weak. Same is the situation of Congress-NCP. So organisationally we are the strongest in this state and therefore we are able to put up candidates at the earliest.
How many of these candidates have strong winnability?
See, everybody failed to assess our performance in Lok Sabha and even now they are failing. We got support from marginalised sections of the OBCs. Then we speak of Marathas, Jats, Reddys. They constitute anything between 12 to 20 percent of the population [of Maharashtra] and we feel that this is a vote bank. These marginalised OBCs range from 25 to 40% in every constituency. These are the largest chunk and all these forward caste parties have neglected them, deprived them and left them out. So this urge to be recognized, to be reflected is much larger.
Is the Vanchit Bahujan Aghadi now essentially only one party, the Bharipa Bahujan Mahasangh?
Vanchit Bahujan Aghadi now is a defunct organization. But we don't have the time to merge VBA and BBM now. After the election, the merger of VBA and BBM will take place.
How do you look at the current political situation in the state? We have a Congress-NCP opposition that is weak. You damaged them in Lok Sabha but could not emerge as an opposition.
I would put it the other way around. The Congress-NCP dented our 12 seats. Within their vote share, 20 percent is a non-Muslim vote and 80 percent is Muslim vote. Today, a large number of Muslim vote has shifted towards us. Even the Muslim clergies. The All India Ulema Board held a press conference and supported us. We are now looking at an 80 percent shift of Muslims vote towards us.
Are you saying that you are going to emerge stronger than Congress-NCP in this election?
We might form the government. Nobody took us seriously in the parliamentary election. Now too, many are saying that it is a one-sided election. But surprises are in store for them.
The Chief Minister recently made a sarcastic remark that you would emerge as the lead opposition party in the state.
It was a realistic remark when he started his tour. We might be the single largest party who will claim to form the government.
Muslims are not going to vote for BJP and Shiv Sena. Then you have religious minorities like Christians. Then you have a whole lot of scheduled castes who don't want the constitution to be tinkered. This is the class where the BJP is not going to make a dent. This is about 25 % of the population.
We are not going to make any dent in the hardcore Hindutva vote of 20 to 22 %. So if you take it percentage-wise, we are three percent ahead of them. There is still an underlying current of Mahatma Gandhi versus Nathuram Godse, who many have not taken note of. There is still 10 to 12 percent of Gandhian vote, who deeply feel that the father of the nation should be Mahatma Gandhi and not Nathuram Godse. We see a part of this vote towards our side. So we are in a better position than the BJP. Therefore we are saying that we are ahead of BJP and this vote analysis has been given to the Chief Minister. His remarks may be sarcastic but he spoke the reality.
We have a prime minister who claims to be a bhakt of Dr. B.R. Ambedkar. But then we also see unrest, lynchings, and the arrogance of ruling political class. How do you look at it?
If I have to analyze the PM, earlier he was projecting his aura nationally. Now he is projecting his aura internationally. So there is this aura hype that is being created that he is likely to emerge as a global leader. This aura will not last long. The RSS and BJP will pay the price for it.
Your surname is Ambedkar, which is a powerful surname. Were you not able to do justice with this surname because at the age of 65, you have not been an established political force? Lok Sabha 2019 was the first time people saw your strength.
No no. People don't know my history. This was not the first time that I was noticed. In 1984, I was the first person who could turn the wave after Indira Gandhi's assassination. I lost only by 4000 votes. But then also the Congress and BJP joined hands to defeat me. We could do the same in 1995. It takes me ten years to build a wave because financially marginalised OBSs are not strong. I did this in the 1990s with VP Singh, in 1995 again.
The Ambedkarite groups seem to be in disarray. Some are with BJP some with Congress.
That is what would happen. They (the BJP and Congress) would use all these groups against me. People have realized that these are purchasable commodities, and they are not allowing the real force to be unleashed and therefore they have been sidelined.
Is there a possibility of you bringing these groups together?
Ignoring them is much better. It is not a question of their support base, but of their attitude and ideology. You have to broaden your ideology, you have to be accommodative, you have to make yourself acceptable, you have to be seen to be ready to sacrifice. These qualities are not there [with other Ambedkarite groups], therefore they have become leaders of only their own factions, rather than the society. When you don't have a goal then personal ambition becomes your goal.
Is this government trying to pressurize you through the case against your brother in law Anand Teltumbde?
Anand told me not to worry about the case against him. He asked me not to bargain with this government for his freedom. Whatever they want to do let them do it. So we both have a very clear understanding. Neither of us is afraid of these tactics and as a family, we have decided to take it head-on. Let them defame us. But society must also realize why there is Maoism in this country.