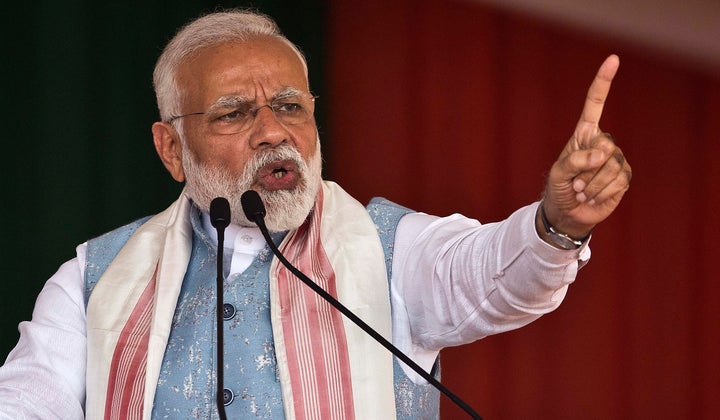 NEW DELHI — On Thursday, the Modi government announced that India was stopping its share of water that flowed into Pakistan, and it planned to divert water from the Eastern Rivers — Ravi, Beas and Sutlej — to the states of Jammu and Kashmir and Punjab.
Union Minister Nitin Gadkari said that the Shahpur-Kandi and UJH water projects in the Ravi river basin will divert the water into Jammu and Kashmir and other basin states.
India currently uses 93-94 percent of the Eastern Rivers while six-seven percent flows into Pakistan, according to some sources.
This announcement is seen as a fallout of the deadly attack that killed at least 40 soldiers in Kashmir on 14 February. A 19-year-old Kashmiri, who was working for the Pakistan-based militant group, Jaish-e-Mohammed, rammed a vehicle filled with explosives into a convoy of security personnel stationed in Pulwama district. India has blamed Pakistan's Inter-Services Intelligence (ISI) for the attack.
Pakistan has denied involvement.
To understand how the Modi government intends to punish Pakistan, HuffPost India spoke with two water experts — Himanshu Thakkar, who is the coordinator of the South Asia Network on Dams, Rivers and People, and Shripad Dharmadhikary, who runs Manthan Adhyayan Kendra, a research centre for water and energy issues.
Both experts said that Gadkari's announcement was misleading.
First, under the Indus Water Treaty, India had unrestricted access to the Eastern Rivers and can use the water of Sutlej, Beas and Ravi howsoever it deems fit.
"What he is saying is that some of that water is going into Pakistan because we have not fully been able to utilise it. These two projects, the Kandi and the UJH projects, will help reduce that water flow into Pakistan," said Thakkar. "This is not a violation of the treaty."
"They have not announced any project that would achieve hurting the water flow to Pakistan," he said.
Second, while it is true that some water from the Eastern Rivers is flowing into Pakistan, this isn't a lot and blocking it won't impact Pakistan.
"This is like saying there is some residual benefit to Pakistan and we are going to put an end to it," said Dharmadhikary. "If this is a pressure tactic, it really is not going to make any difference to Pakistan."
Third, it could take decades for India to complete the projects which would stop the flow of water into Pakistan.
"Remember, the Kandi project for example is going on for decades and decades," said Thakkar.
All been said before
There is nothing factually incorrect with Gadkari's remarks. What is misleading is how the Modi government is projecting this as a tough new measure against Pakistan.
In 2016, a week after 19 Indian soldiers were killed in a deadly attack carried out by heavily armed militants, Prime Minister Narendra Modi had famously declared, "Blood and water cannot flow together."
At the time, bilateral talks on the Indus Water Treaty were suspended, and it was decided that river water could be stopped with the Shahpur-Kandi project and the Ujh dam.
"When you look at the fine print, he was talking about the same projects," Thakkar said.
In August 2018, India and Pakistan resumed bilateral talks on the Indus Water Treaty.
The Western Rivers
Under the Indus Water Treaty, which was signed by India and Pakistan in 1960, India has unfettered access to the Eastern Rivers — Ravi, Beas and Sutlej — and Pakistan has "unrestricted" access to the Western Rivers — Indus, Chenab and Jhelum.
Under the treaty, Thakkar explained, India has the right to use a certain amount of water (3.6 Million Acre Feet) from the Western Rivers as well. So far, however, India has not been able to fully utilize its share.
Thakkar's point is that only after India exceeds its own share can it even think about restricting Pakistan's access to the Western Rivers. While this could hurt Pakistan, it would also be in violation of the treaty.
"We are no where near that. We don't have any plans. We don't have any projects," he said. "It would take decades even if you start thinking about it now."
Who ends up getting hurt?
While restricting Pakistan's flow of water might appeal to some, it is worth pointing out that water projects like the Kandi and UGH also have adverse impacts, socially and environmentally.
Thakkar argues if and when these projects come up in India, it is the Kashmiris living on the Indian side who will suffer.
"In the name of threatening Pakistan, even if we were to do that, we would be inflicting further adverse impacts on the people of Kashmir. That is also a factor to remember," he said.
Is there a way to punish Pakistan?
There is a way but it violates international law, Thakkar says.
The water expert says it could only work if there is a dam close to the border.
"If you suddenly release water or silt then you would inflict flood damage in the downstream area. But if the dam is not close to the border, then its first impact would be within India," he said.
Thakkar said that attempting this with the Salal Dam, which is on Chenab River, or the Uri Dam, which is on the Jhelum River, would only hurt India.
Popular in the Community