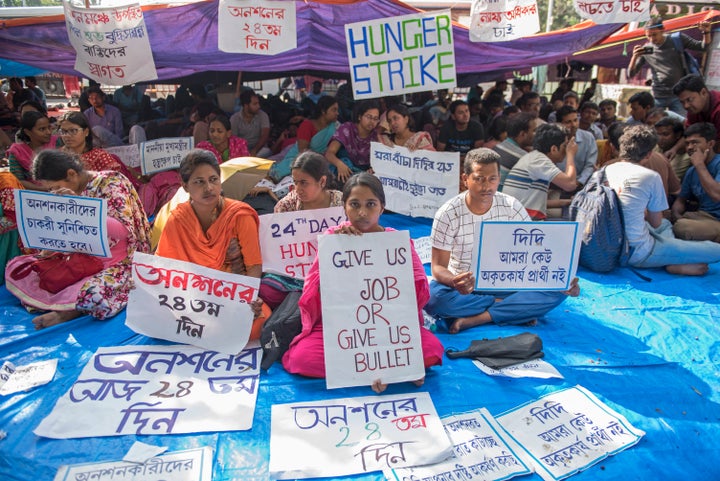 NEW DELHI—Employment creation and disclosure of credible data about jobs are among the key issues pertaining to the economy that the Narendra Modi government must urgently address in its new term, say economists.
The most recent data about employment and unemployment, released by the Centre for Monitoring of Indian Economy (CMIE) this week, lends urgency to the concerns about high unemployment expressed by independent economists while speaking with HuffPost India.
On Tuesday, CMIE released data for its most recent household and employment-unemployment survey, which revealed that India's unemployment rate for the first four months of 2019 (January-April) was around 7%. In fact, according to the data, the national unemployment rate has been around that number for the past six months, including May.
In absolute terms, this has brought the total number of estimated unemployed people in India to 29.8 million by the end of April 2019, up from 11 million in December 2018.
Recent reports indicate that the government may announce some measures about jobs data, with a probable restructuring of the national statistics system within the first 100 days.
If these changes are implemented they will be significant because, towards the end of its first term, the Modi government had been accused of suppressing unfavourable jobs reports by the National Sample Survey Office, which may now be merged into a National Statistical Office. A Business Standard story based on the report said that India's unemployment rate was at a 45-year high in 2017-18.
HuffPost India asked independent economists what specific policy measures the Modi government should pursue in its second term to address the challenge of employment creation. This is what they said:
Reetika Khera, Associate Professor (Economics), IIM Ahmedabad
Restoring faith in the statistical machinery, and improving our data infrastructure all round, but especially for employment figures, should be a top priority. Without this is it is very difficult to have a sensible discussion on the economy and jobs. And by the way, there are vacancies in the NSSO itself, which need to be urgently filled up.
Most people think of government jobs and the private sector when discussing the jobs situation—those sectors are certainly important. But there is also a class of workers for whom NREGA remains an important bandaid during times of distress (e.g., droughts). More than paying lip service (e.g., by raising the maximum guarantee to 150 days), it is important for the government to urgently look into reports of delayed payments and misdirected or rejected payments.
Going ahead, there is also a need to have a serious discussion on the role of Artificial Intelligence (AI) and its impact on automation and job losses. Until recently, the discussions tended to be euphoric, but as a labour-abundant economy, one needs to think in which sectors are such interventions advisable (e.g. manual scavenging could be replaced with automation) and which sectors are not.
Laveesh Bhandari, Economist and Director of Indicus Foundation:
First, the govt will need to accept some salient facts. The employment conditions are very poor for all levels of educated and uneducated. The NDA govt is not responsible, neither is the UPA. There is a global structural shift happening which is very fast and destroying old jobs even while new ones are not fully developed yet. Analysing and studying the job market requires the govt to release the jobs survey raw data for people to better know what's happening. They also need access to consumption data that also needs to be released. More jobs requires reducing transactions cost of hiring labour, setting up new small and large units, inspector Raj elimination, tax mechanism to be very simple, and low cost of funds. This in turn requires the government to spend less on subsidies and invest more, free the public sector from bureaucratic control, remove hurdles to internal trade and external trade. Finally, the urban informal sector requires freedom. From police, inspectors and municipal authorities by adequate access to space in urban areas.
Professor R. Ramakumar, Tata Institute of Social Sciences:
Expanded capitalist development across the world, accelerated by neo-liberal policies, has led to an onslaught on labour. India is no different. The quantum of employment generation every year is falling. We have an unemployment rate that is at a 45-year-high. Real wages are stagnating. Women in particular are the most acutely affected section in this regard; along with children, they are seen as a cheap source of labour power in the production process. It is a race to the bottom. The quality of jobs generated is increasingly poor. Job security is becoming rare; casualisation is the rule everywhere.
Unfortunately, this fluidity of labour makes collectivisation of labour difficult. As a result, the balance of power is shifting more and more away from labour.
Government legislations also increasingly tilt the balance of power in favour of the capitalists. In the name of ease of doing business, legislations legitimise the casualisation process and weaken the presence of multiple legal provisions that provide job security to workers.
The new government has its task cut out here. To begin with, it has to admit that unemployment rose under its earlier tenure. It should bring transparency to the sphere of employment statistics. NSSO's PLFS data should be released to the public.
The government should then also appreciate that it needs to generate skilled and unskilled forms of employment. MGNREGS should be expanded to legally assure 150 days of employment for a rural household. The guidelines of the scheme need a revisit to allow more forms of asset-creating and non-asset-creating jobs under its ambit. Public investment in the productive and infrastructure sectors should be stepped up, as this will drive employment generation. Skill generation programmes at present are just a drop in the ocean. They need to be massively scaled up. More thought needs to be put into designing them too.
"Employing more women in economy is a macro-critical issue to make India grow faster, more equal and inclusive. The new government should focus on bringing more women into the economy by creating a 'Status of Women' Office in the PMO to tackle this, as a matter of highest priority in our country: Lekha Chakraborty, Professor. NIPFP"
Lekha Chakraborty, Professor, National Institute Of Public Finance and Policy:
Employing more women in economy is a macro-critical issue to make India grow faster, more equal and inclusive. The new government should focus on bringing more women into the economy by creating a 'Status of Women' Office in the PMO to tackle this, as a matter of highest priority in our country.
The gender budgeting initiatives should focus more on economic empowerment of women, with sufficient supportive budgetary allocation to create jobs for women. Applying a strong 'gender lens' to infrastructure sectors, especially energy sector and transport sector, is crucial to strengthen women's economic participation. Mobility of women fearlessly to workplace is something which we have undermined so far, which otherwise is a significant determinant for increasing female labour force participation in India.
The existing 'employer of last resort' policy (MGNREGA) showed that mere employment policies could not lead to more women in economic activity. The unfinished business to increase women in economy is to create the "care economy infrastructure" to enable them to come out of their 'time poverty' and take up jobs and earn income. Hope the new government takes initiatives to support the statistically invisible 'care economy' to remove the 'unfreedom' of women and bring them to economy with dignity and power.
Prof. Amit Basole, Azim Premji University
I propose a 10 point employment agenda for the new government. It must include the following: 1) Strengthen MGNREGA 2) Extend employment guarantee to urban areas. 3) Create good jobs via universal basic services. 4) Formulate a new strategic and coordinated industrial-trade policy. 5) Leverage culture and heritage for job creation. 6) Tap into existing skilling ecosystem and expand it. 7) Improve social protection and job security. 8) Attack labour market discrimination along gender, caste, and religious lines. 9) Encourage mass entrepreneurship of workable scale. 10) Make fiscal policy employment focused, not deficit-driven.